Shopping Day development is on the good way. It's being a really long development for a short free game (in my initial thoughs), I'm working on this game since the end of the past Spring. I'm making Shopping Day completely alone for now and I want to do the best work I can, so I am surprised but this is not unexpected, all is in the correct road without any unexpected or serious problems.
In the moment that I'm writing this article the level design (the longest portion of the development in terms of time) is almost complete. The game situation happens in a shopping street, with a lot of shops full of details. It's amazing how you could wach all the scene at a glance, so is complicate to understand how much work it has. All the work to create this scene has been really complex, even if I have not created the props, beacuse I'm using both Unreal Engine Marketplace content and free content, or Royalty Free or CC Attribution. It's something that, I think, just can understand people with a creative profession.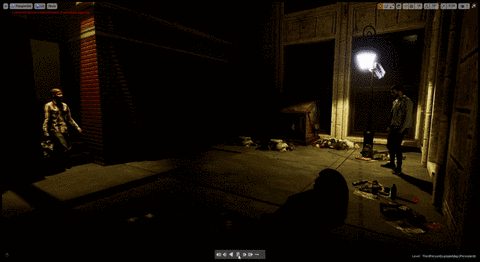 I've also added some of the events that I call "people interactions", the npc's animations and events that happens without the player active participation, this won't be only a background but also tells small stories, as the beatiful relationship between two girlfriends or homeless searching in a supermarket dumpster.
The last thing that I'm making is the User Interface, a smartphone, that will be a active part of gameplay with a map and a realistic screenshot system with a "camera", and yes, you can take selfies and share them in social networks.
That's everithing for now, if I fulfill my expectations I would like that a alpha of Shopping Day be released on October. If you have any doubts or proposals, just share in coments.
Thanks for all! See you soon!