Dear Renovators!
We have some great news for you. The much-requested 4-players split keyboard has been added to the game. And for those of you who are not fond of time pressure when designing apartments, we have implemented the No Time Limit Mode!
A bunch of meaningful fixes and improvements has also been implemented based on your suggestions and reports. Your continued support is greatly appreciated. Don't stop being awesome!
4-player Split Keyboard Support
Thanks to this new control method, you can now play locally with up to three other players on a single keyboard! You can also attach another keyboard to make it more comfortable (recommended, unless you all have really small hands). You can enable the Split Keyboards Support in the Settings Menu.
Dibbs on WASD!
Note: Due to hardware limitations, it might be impossible for some keyboards to maintain the number of inputs required for 4 players on a single keyboard.
This method works for Steam Remote Play Together as well. You can play with other players who own keyboards. How cool is that!
Join our Discord server and find other people willing to play online!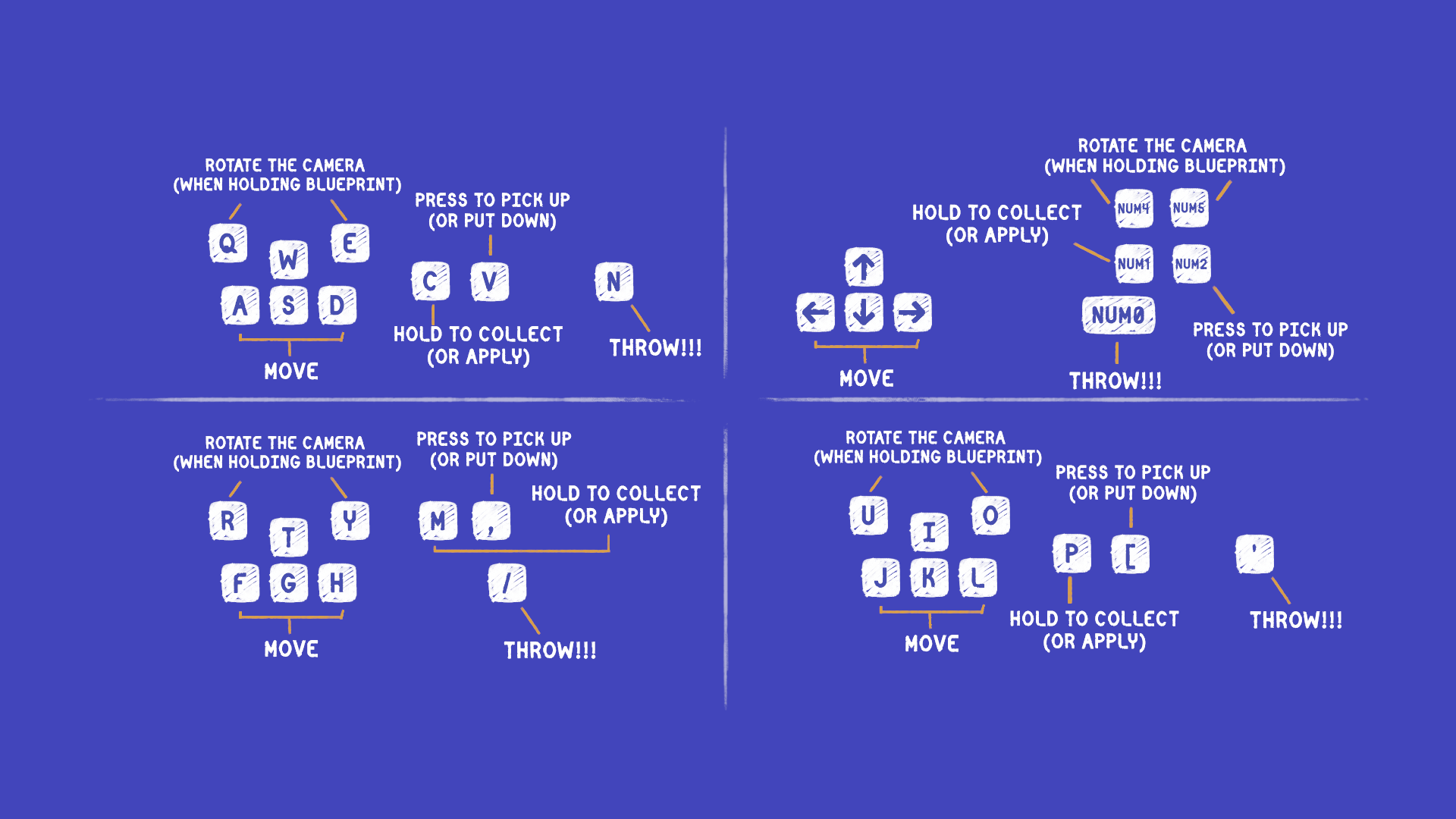 No Time Limit Mode
An alternative campaign mode in which you collect points for stars without time pressure. To finish the level you must either complete all tasks and clean up, or quit the level from the pause menu. You can select this mode when starting a new campaign.
Take your time and create stunning interiors while waiting for the delivery man who's always late.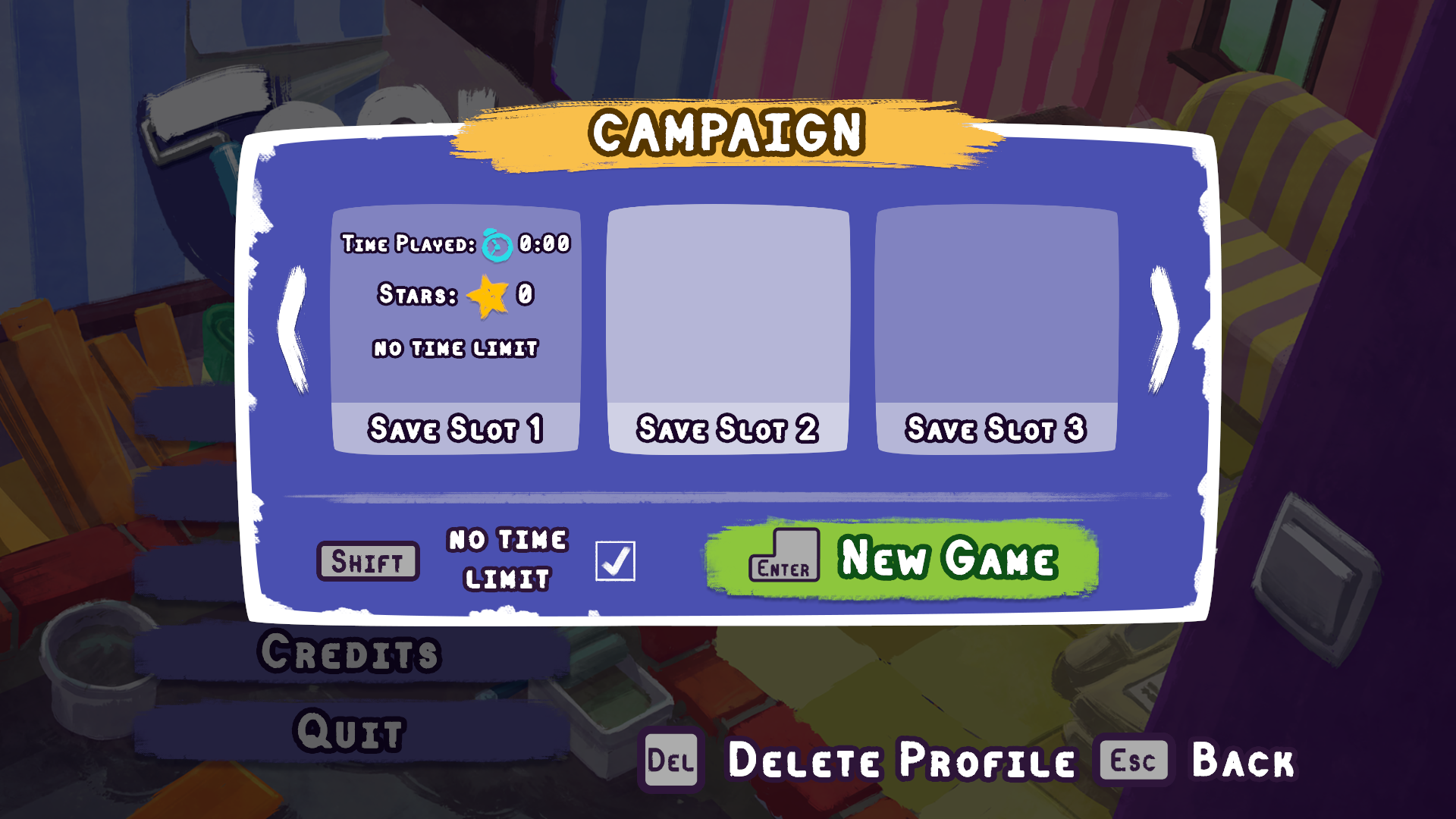 List of changes
⭐ Features:
Added 4-player Split Keyboard Support (described above)

Added a new game mode: No Time Limit Mode (described above)
⚙ Updates:
New wall building method—you no longer need to perform the object targeting action. From now on, just press the action button and the character will automatically place the first layer of the wall in the direction in which he or she (or it!) is facing.

Improved tutorial tooltips when actions are performed out of order.

Added a caption after completing a blueprint task

Players no longer lose stars in the Party Mode if they achieve a lower score than before

The delivery man now delivers materials after you tear down a wall, even if it's not the required wall

Unified Win and Fail score screens
🔧 Fixes:
Players can now correctly scoop from a fallen container (bucket or paint) but they cannot put the item back unless the container has been picked up

If there's a spot under furniture, a player who's approaching the furniture won't slip over the spot

Characters who step on spilled paint while carrying furniture now return to a neutral animation correctly

Reduced the number of cases when it's possible to put blueprints inside a wall

Trash and materials can now be put back with the Pick Up / Put Down action rather than the Apply action

It is no longer possible to block input by choosing characters and levels in the Party Mode

Fixed an issue with registering points incorrectly on the level with two blueprints

When climbing down a ladder to the water, players will no longer be blocked by passing objects

Fixed misleading blueprint instructions on level 10

Fixed various level 25 issues

Fixed an issue with overlapping textures on level 9

Fixed an issue with blocking a character's input on level 26 upon falling off the bridge after slipping

Fixed an issue whereby a character who was carried by another player would be teleported back upon falling off the bridge on level 26 instead of being delivered by a delivery man

Fixed an issue with a water field which was treated as an apartment field on level 6

Fixed a visual issue of trash and paint spots on lava

Fixed various UI issues in the Options and Controls menus
If you like the changes, please consider dropping us a review on Steam so we can continue to grow!
As always, if you have any ideas or suggestions, don't hesitate to let us know. We look forward to hearing from you on Steam and Discord. Also, we don't bite!