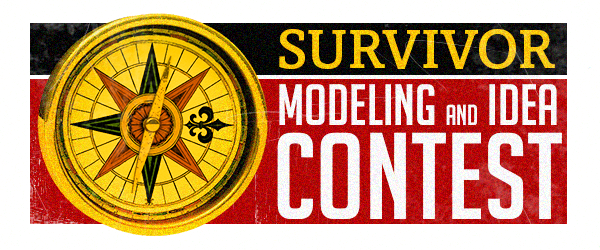 Hello Followers and Visitors!
First, here are a couple of things we did in the last, a couple of weapons to play with,
and some GUI Elements, not so many images this time for the sake of the contest.
As always there were many other things done in terms of code, animation, modeling,
design and whatnot, and we are getting pretty close to something truly playable.
You will have the chance to contribute something directly with our contest,
and anyone can participate - No game-development knowledge needed at all!
But have a look at some pictures first :)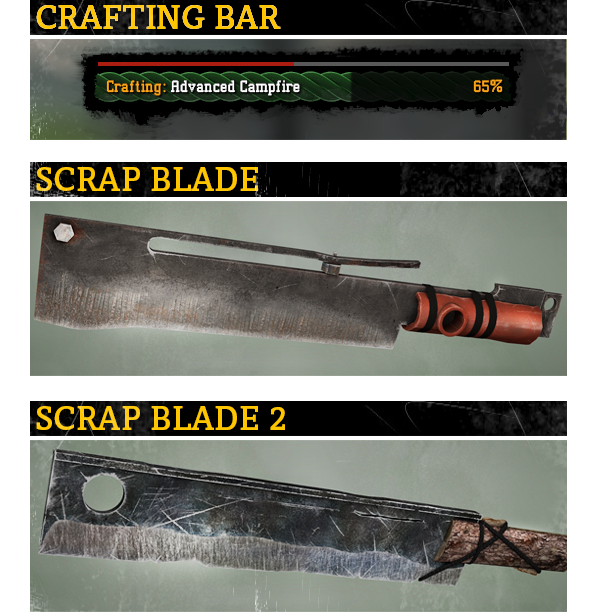 A simple bar which is beeing used in crafting and similar tasks,
and 2 more scrap-weapons you can create are added to the arsenal.
The Map Selection Ui speaks for itself. Right now we work on the first semi-world,
but we plan for the future and add slots for new content to come,
from us and from the community (UE3 moddability for the win)

Here is another of the more rare leftover-weapons:

And finally some progress on the plant / vegetation creation, please notice that the game
won't look like this fast mock-up later. Now we started creating all kinds of rocks
and cliffs to make the landscape look as good as possible.

We had our 1-year-since-creation anniversary 2 weeks ago, and we wanted to do something
special aside from the usual news blog update, so here it is, the Idea & Modeling Contest.
The best about it, is that everyone profits from it. You give us cool Ideas for possible
content you would like to see (or even create some!) and we can make a better and
more interesting game for everyone.

But what is the task? you may ask. Well we didnt want to go for something as simple
as a simple prop / weapon / whatever - modeling contest, so we decided upon something
more creative and fun. The theme: Special places

What is it ? Its simple, its just a small set of objects you can find or interact with.
The definition sounds boring, but it is really cool ingame. It can be anything,
from a riddle with paper pages, slenderman style, to a bear cave with enemies and loot.
(There are more examples in the linked text)
Also for the ideas, remember that things need to be made with manpower and resources,
give us all your good ideas, but think more in small & interesting over big & eyecandy.

Just make sure it is not too abstract,
miraculous
is Ok, but no magic or really
unrealistic things, we try to stay reasonable in a 1980 setting.
> You can use German and Japanese WW2 leftovers (1940),
> Trading route ship things (1600-1800 - like pirates just without pirates)
> Tribe-related things, and things from the plane crash out of 1980.
> Things from the Island and its past (like stone carvings p.ex.)
> other reasonable things we maybe forgot to mention

Click on both red buttons to view both descriptions!
You can either send us your ideas, or model the set of your imagination.
There can be multiple winners for the most creative and cool stuff for
both areas [Idea as Text (+Image)] and [3D Modeling + description]!
Send them to Shrikegfx and Alvarofer0021 through indie DB.

So whats in for you ?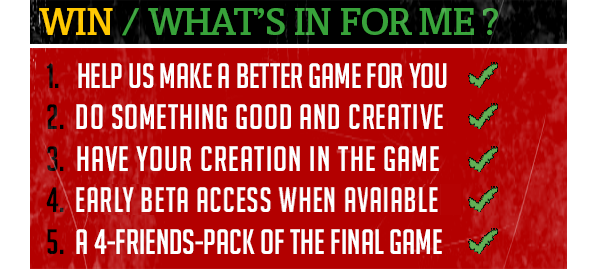 Thank you for looking into here, also check out our image section and our features
section for more information!
Please comment on our work, tell us what you like and what you think needs improvement,
we are happy to read about your opinion, and we can do a better game with your input.
Link to the game page:
Indiedb.com
Follow us, if you like what we do, thanks for your time and good luck!