Over here at AstroNaughty Games, we've been working to get our demo out by the end of this year. Due to COVID, the holidays, and more, we've been heads down in development anytime we could and haven't been able to post any updates in a while. But, we've finally reached an important milestone: We are now at tier zero implementation of our Vertical Slice Demo! Here are some quick updates of the things we can share.
Rigard Station
Our enormous space station that's been underdevelopment is finally complete! And it has a name: Rigard Station.
Rigard Station has been the largest undertaking our team has done to date. The station is absolutely massive and functions as the main technology and housing facility for the Outer Ring Mining Corporation's executive level officers and scientists. There will be a number of interactions with the station and it was integral to the game's storyline to get to a completed state of functionality and beauty.
Repair 'n Refuel
A new ship has been added to the fleet: the Repair 'n Refuel ship known as the RnR (pronounced "Runner"). This ships will be able to repair your own player ship as well and scrounge around to collect salvage for resource consumption through your journeys in the Grimmstar universe. They will not be able to defend themselves, so make sure you call for their services wisely. Also, they can be quite a dangerous ship to be around if they happen to explode, so keep your distance from them in battle!
The RnR is undergoing final art passes before we add the mechanical arms that will be animated to perform its necessary functions in-game. But for now, enjoy a quick peek of the ship in its current state!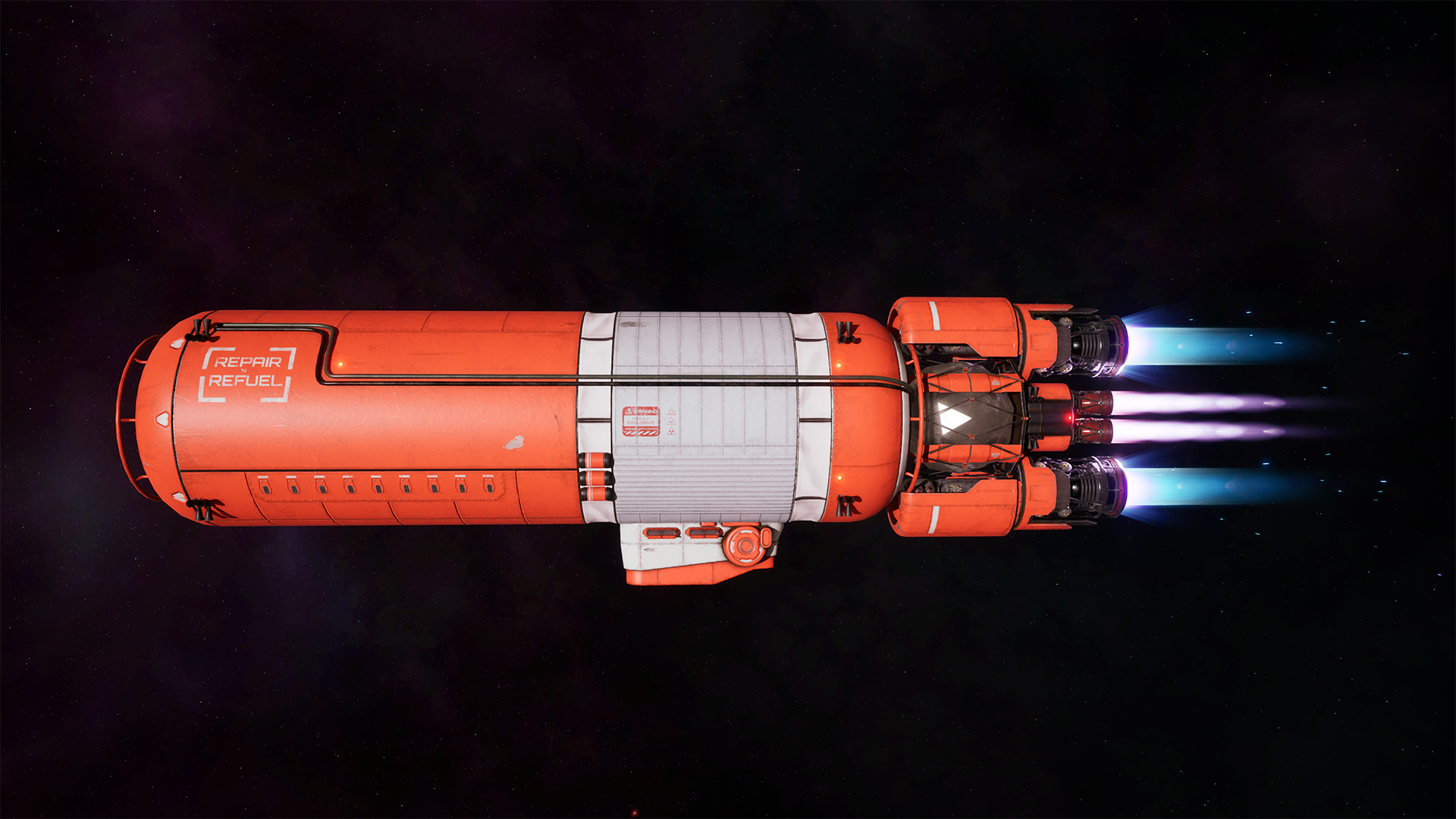 Thrusters
You may have noticed that the thrusters of the RnR have undergone a visual change, separating it from our other ship's VFX. Well, it's not the only ship that got some much needed attention in the rear. Every ship in the game has been updated with brand new VFX and lighting for the thrusters, bringing them all up to our gold standard for visual fidelity.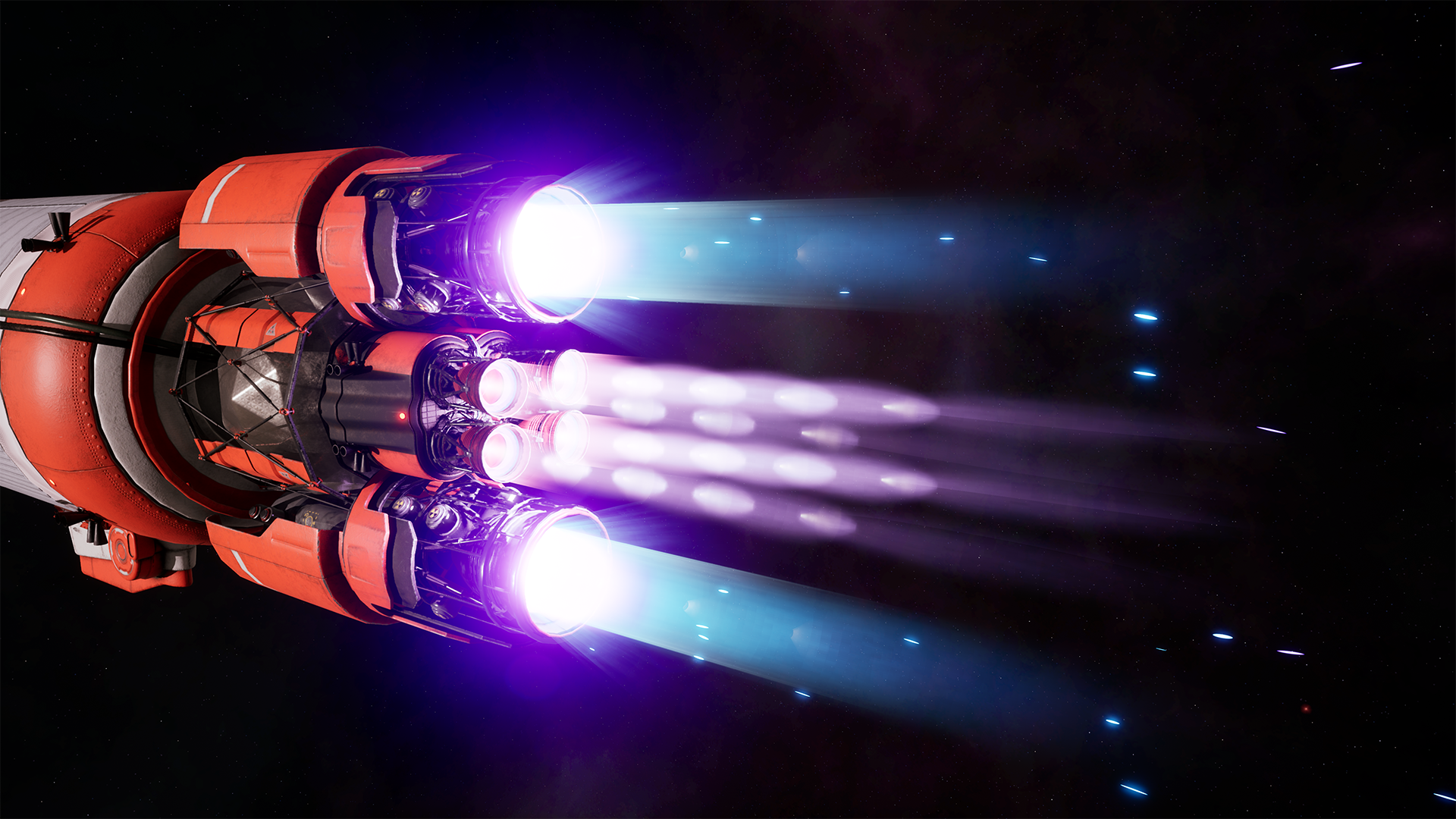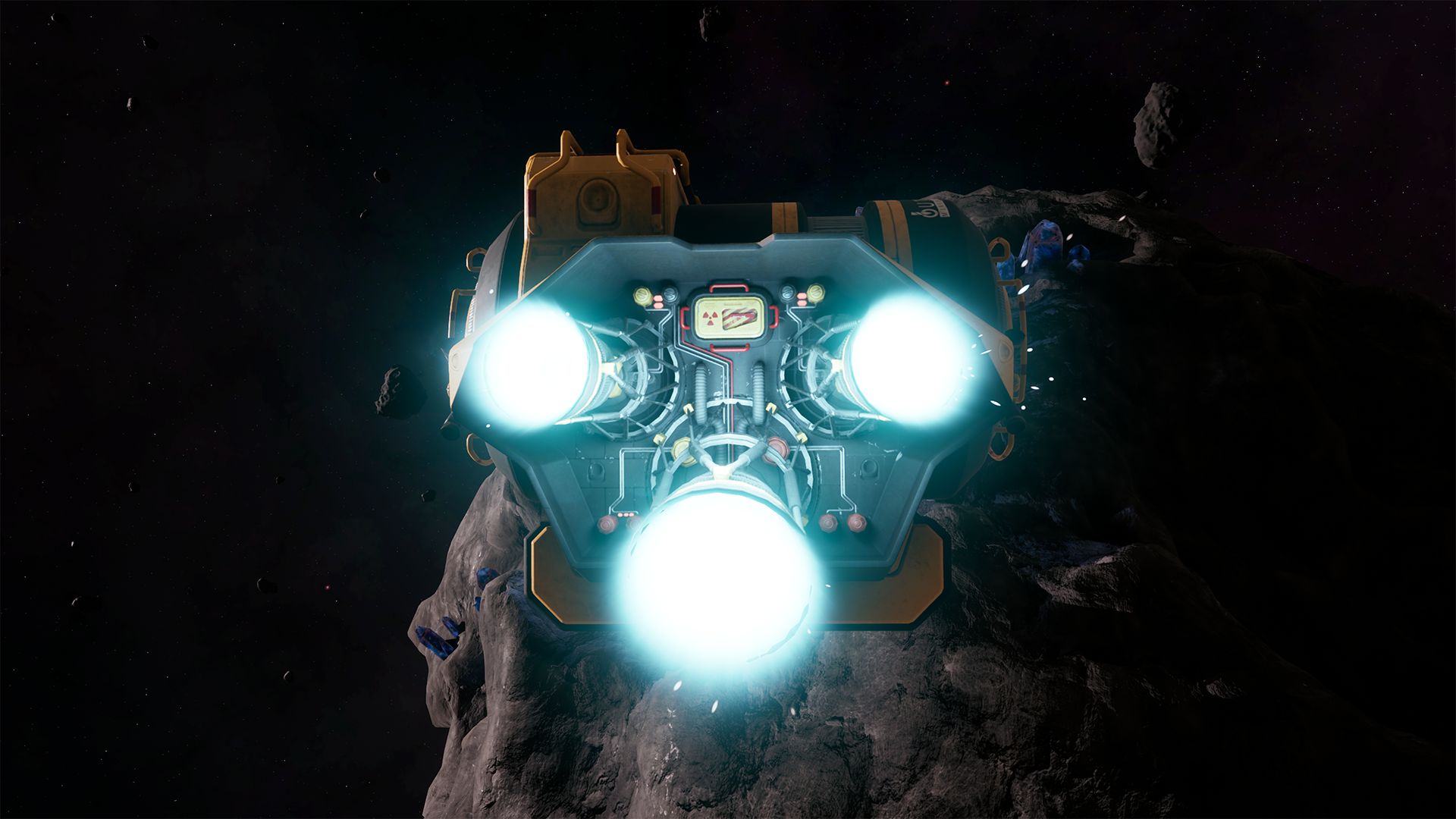 New Player Ship
Big announcement: the player ship for Grimmstar is undergoing a complete redesign. Since we have been implementing the modular component system for the player ship, we saw a wonderful opportunity to create a new player ship from the ground up to work with this modular system. This allows many new functions and features for the ship while we update the visual styling to be more in line with the game's intended look.
Now... we can't show you what that ship looks like yet. We're waiting until the first iteration of ship components are all completed to show you a totally finished ship. What we can say is that it is looking absolutely magnificent so far and it will surely be a treat to see in the game.
What we can show as a little sneak peek is the new player engine component being developed. It's in its early white box phase (geometry being blocked out), so no textures are on it, but it should give you a better idea as to the new direction we're going with the ship. It was also the spark of a new thruster VFX journey as well, so you can see those in action too!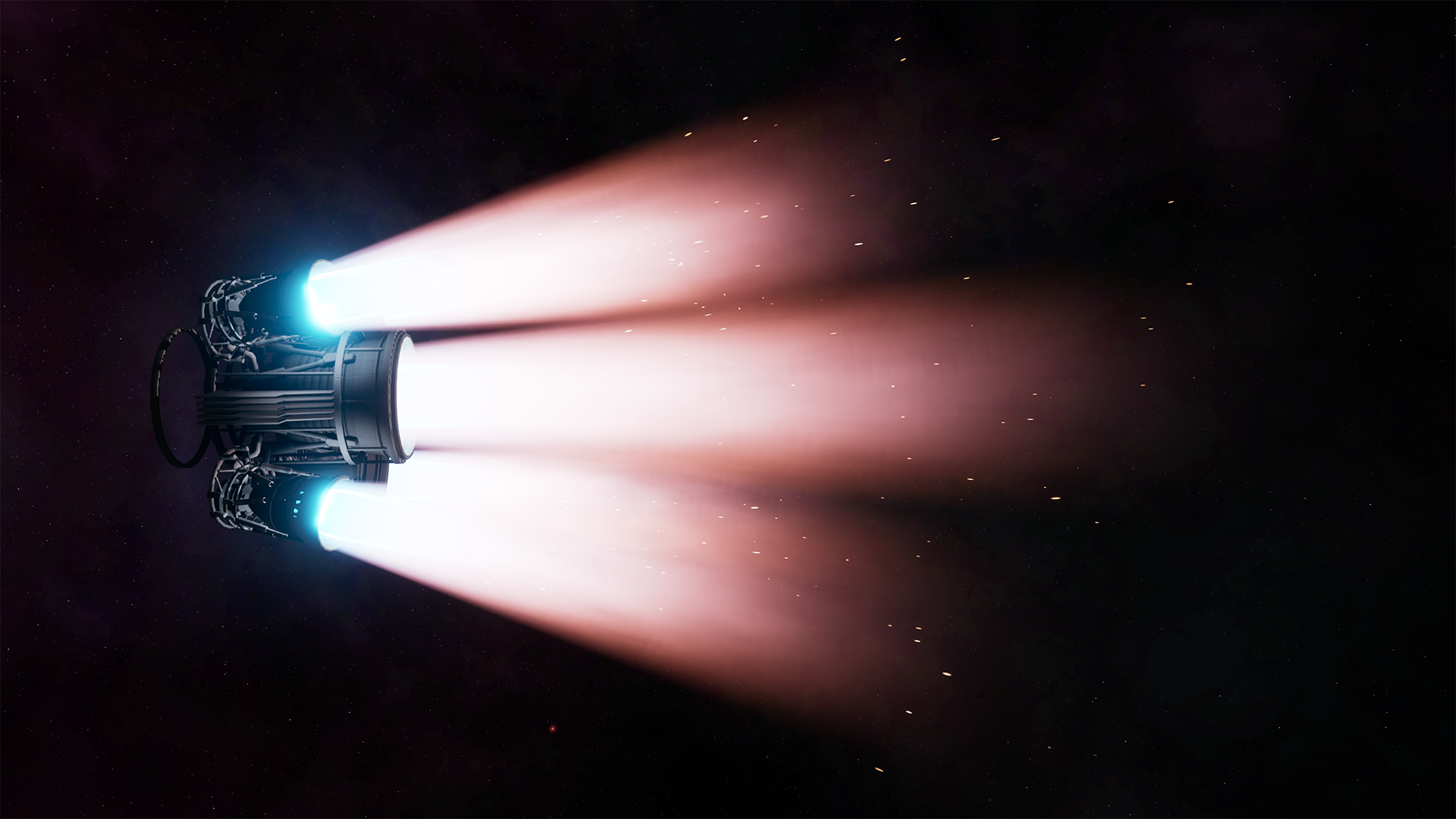 Under the Hood
Grimmstar's mission system has been rehauled to be more modular and simplified to allow quicker implementation of mission systems and actions within the game. This has been a pretty big undertaking, as it turns out that it's quite difficult to write a mission system for an entire solar system. Who would've thought?
This new mission system allows us to do things we haven't been able to before, as well as fixes some world position location errors that were causing some issues, specifically with cinematics. Now that these issues have been resolved, we've begun work on some of the NPCs that you'll be engaging with in the universe. Our character artists have been undergoing concept art and basic blockouts for these characters, combining different suits with different character busts.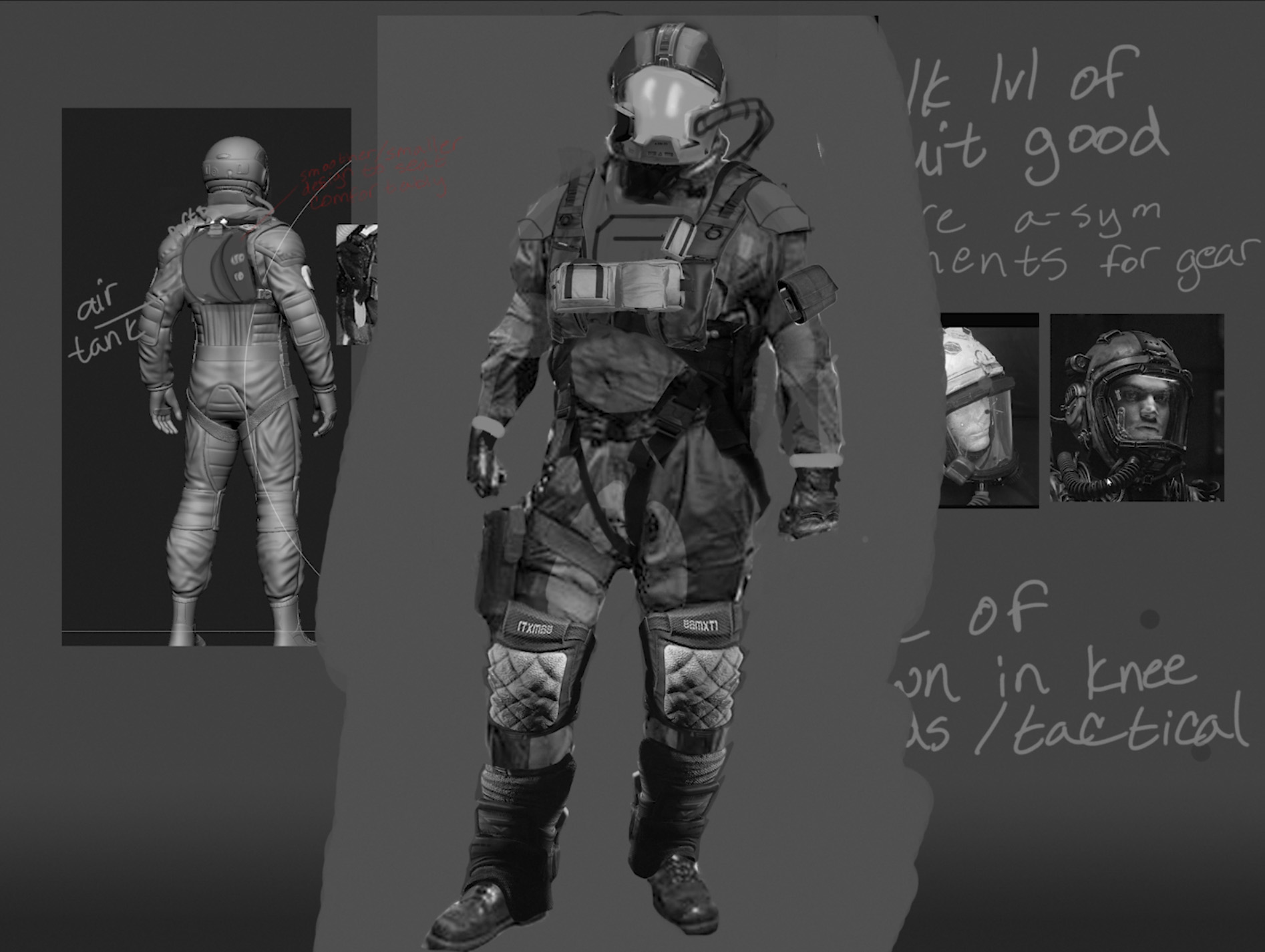 Final Words
We're going to have Steam Page soon! Keep your eyes out for that so you can wishlist Grimmstar and have easy access to our vertical slice demo once it's available!
Apart from that, we're continuing our work to deliver the demo as soon as possible. We know it's taking some time, but it will be time well spent!
Looking forward, we'll be showing off the new player ship rather shortly and, now that we're at tier zero of our vertical slice, we'll be able to share some hints revolving around the story and lore of Grimmstar's universe, so stay on the look out!