Dear fellow survivors,

this is the first time, we are releasing a dev blog on a few topics, we think need some explanation. We'll try to keep this short and on the spot, so you don't get crushed by a wall of text (for the changelog of Pre-Alpha 3.7 just scroll down).

Nearly three months have passed since we published the results of our first survey. In the meantime, a lot has happened. POI and resources are now seeded procedural. Blocks and functions have been added, aliens and pesky drones are trying to hunt you down and not until short, we introduced our first and very early prototype of a techtree.

Disclaimer for you to always keep in mind: everything we release in this pre-alpha does NOT represent a final product by any means. Changes ARE expected to happen in order to pave the way up to a great gaming experience. And we want YOU to help us create and shape this experience! ​
What are the next milestones?

Creating a first version of dedicated servers to improve your multiplayer experience is our top priority for Version 4.0 and the solar system is the next big milestone.

But we also want to make the techtree more worthwile. We are receiving a lot of positive feedback, great suggestions and ideas on how we could improve and evolve the current placeholder-style item-unlock system. Thanks a LOT for that! Rest assured, we are reading and discussing every single one of them, because that's part of what we had in mind when releasing this (and any other) early Pre-Alpha feature.

As a side note: you may suspect some progress towards dedicated Servers or the Solar System had been sacrificed because of this or any other in-between-features. Rest assured this is not the case at all. ​
While the basic leveling mechanics of the techtree have proven to work as expected (despite the balancing needs and a slew of other changes!) we feel – and read – the need to have some details of the level progression changed right now.

Upcoming next.

As a first step, we are pulling down several basic shapes and blocks from their higher tiers, making them available just when you need them: right from the start and at no (unlock) cost at most.

With v3.7 you will have anything ready for starting your base, while building a fully functional shelter: Cubic and round shapes, specialized shape blocks like interior walls or armor plates as well as windows and other building blocks will get unlocked automatically. The same is true for the small generator, small fuel tank, large constructor, food processor, light and automatic door. You do not need to spend precious unlock points on them anymore.

So everything that defines the basic structure, shape and functionality of any given base is within reach of 20 minutes of standard playtime (at max!). Even the first automatic turret (Cannon) will lend you a hand defending your base early on - now on level 3 (previously lvl 5). Of course the more complex machinery, for example like the large generator or the advanced constructor will still stay in place, waiting for you to unlock their full potential.

Please keep in mind: this is not the final balancing, but just a few quick changes to give you back more control on how to build your stuff in the early game phase. More ongoing and in-depth changes of the techtree will happen in the future!​
Please keep on sending us your feedback, on how you think at which level each of the items should be unlocked at!

Hold on! There is more! Ready for a new beginning?

Besides some new items, balancing and customization features, update 3.7 will change the way on how you arrive on a planet.

Currently, you were spawning on the planet with an "escape pod" – which, technically, was designed as a broken, but fully functional SV.

The new game start in v3.7 is a lot closer to the scenario we wanted to create in the first place - and much close to a real escape situation from space and the aftermath, when having survived the landing.

But why talking .. check out our video!


Supporting the new game-start, we have introduced a new functional block: the survival constructor. It can be placed on terrain. You do not need a base. Just grab it from the escape pods inventory and you are good to go. You also do not need to power it with fuel packs. It's run by integrated solar cells.

Note: Due to the design of the new escape pod, not offering a O2 station, we recommend only experienced Empyrion players to start on Omicron (non-breathable atmosphere). It is doable but you must be well organized.

Finally, we want to thank you for your patience & hope you have a lot of fun with the upcoming update! Be prepared for dedicated servers…soon ;-)

Have any feedback on this first dev blog? Go play version 3.7 tonight or write us your thoughts right now!

Yours,

Empyrion Dev Crew


CHANGELOG for Pre-Alpha 3.7
​
Features:
- New Start setting: you start in an Escape Pod in the sky and crash land on the planet
- Added Troop Transport
- Added Survival Constructor
- Added new insect NPC on Akua (replaced Triceraptos)
- Added large Asteroid field
- Better player customization (full color picker) for skin, hair and armor
- Added new fuel tank models
- Added new core block model
- Added more tooltips for devices

The new troop transport that brings enemy NPC reinforcement if you attack certain POIs: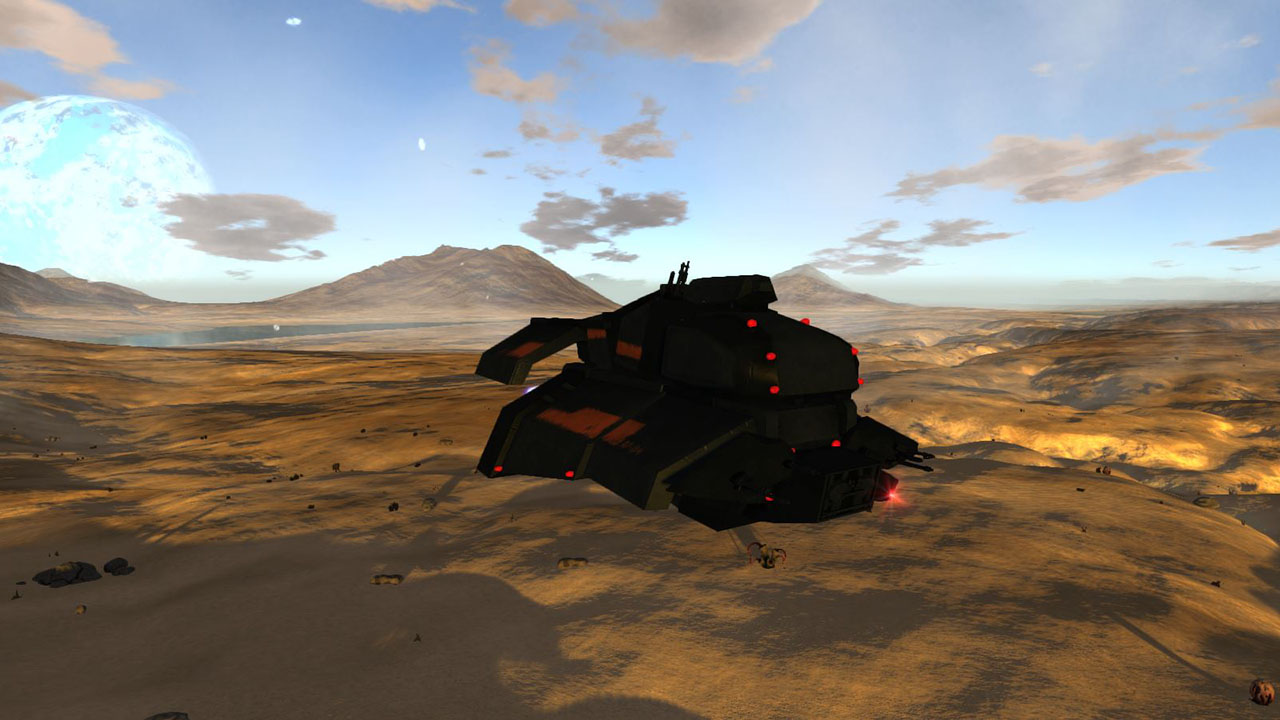 Changes / Improvements:
- Balancing of tech tree (e.g., many blocks for base are now automatically unlocked at lvl 1)
- Move XP display from center of HUD to lower left corner
- Improved chat window
- Added passenger count to ship info window
- Balanced weapon: reduce weapon range of drones, increased damage
- Slightly increased health of Crawler
- Player / HV / SV do not collide with plant Pixie Stalks anymore
- Improved headlines of GUI panels

The new large asteroid field with more than 1500 asteroids: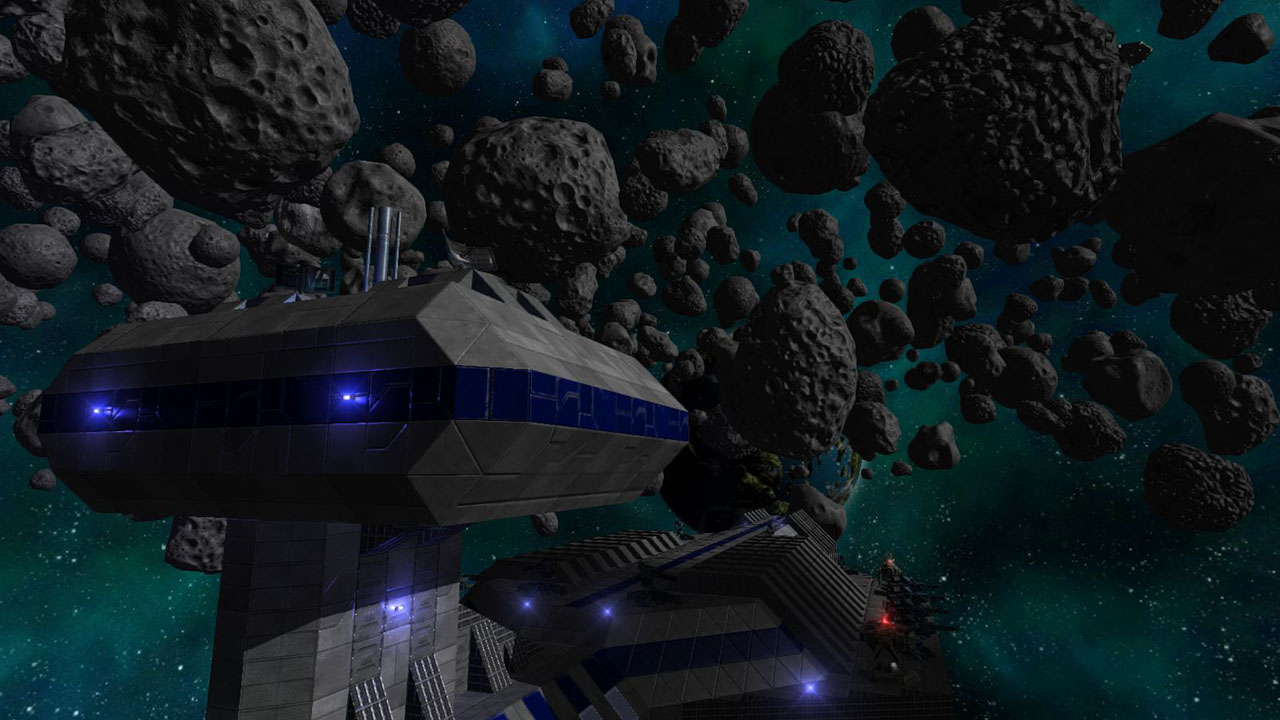 Bug Fixes:
- Fixed shooting through terrain bug in Multiplayer (Client side)
- Fixed suffocation bug: before player continued to suffocate in breathable atmosphere even without helmet once suffocation status was triggered
- Fixed bug that drones are sometimes stuck in mid-air
- Fixed problem with animation of Megalonops (dino) on Akua when hit
- Fixed collider problem on wheat
- Fixed that all containers had the same content name
- Fixed size of "alien plants" in prefabs
- Fixed screenshots not working as client by moving the screenshot folder under 'Saves'