Ensign-1 has had a few updates lately: a few sound engine and cosmetic upgrades, and a few minor gameplay changes.
New HUD
---
On the cosmetic side, the HUD has been improved to provide players with information on their speed, pitch and heading. It's made of of scroll wheels that adjust in real time. In the future, I might add information on markers to nearby friendly and enemy capital ships.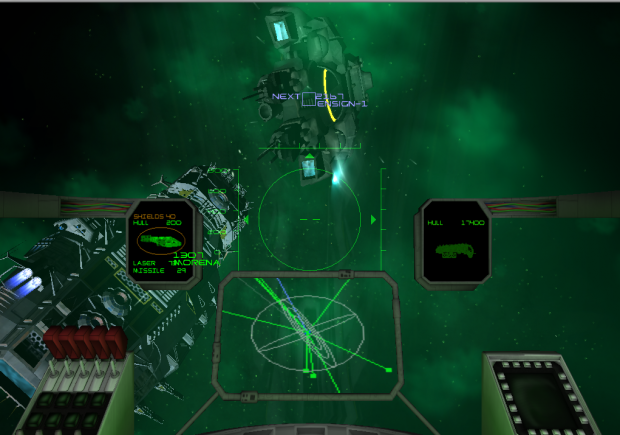 New Sounds
---
Let me know what you guys think of this one. I've changed the sounds used for homing lock on slightly. Let me know if you prefer the change or would like it to be reverted. Here, give this a listen and be the judge...
I've also added a drone sound as ships are nearby, and you may also hear the occasional laser whiz by as well.
Gameplay Changes
---
Now to the good stuff. You'll now have a limited afterburner, or turbo, that you can use in game. This will give you a temporary speed advantage over your enemies making it much easier to catch them and shoot them down with your lasers. It also helps greatly when dodging missiles, which brings me to my next point....
If you sit around too long, you may find yourself the target of enemy missiles. That's right! It's not just you that are the predator now. Both allied wingmen and enemies alike have added homing missiles to their repertoire. Enjoy!
New Mission
---
There's also a new mission in the game involving the player stealing an alien ship to acquire some intel.
And another where you attack the pirate base.