Besides tweaking some things, improving the auto-updater and fixing bugs we have now a completely NEW SERVERS BROWSER!
Includes:
pinging (sorting closest server)
map preview (check and see what is going on the server before joining)
sorting by map size
better view of locked and full servers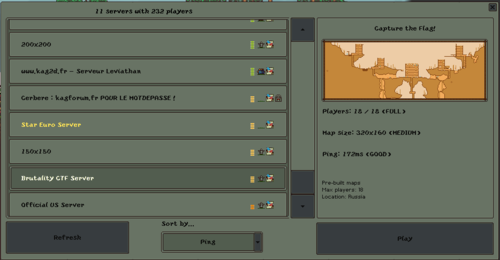 Attention knights! You can't destroy now castle backgrounds with a normal hit and you can't destroy your teams open doors. This is to prevent random damage when fighting inside your castle. You'll need a full slash to destroy the castle back wall.
Changes 142-151:
- new server browser
- server pinging
- server minimap preview
- optimized GUI rendering
- max server name length added
- server info limited to 144 chars
- client disconnects with message when trying to enter full server
- autoupdater reads another download URL if first one fails
- precache.txt doesn't update in autoupdater
- block cursor always shows for archer & knight
- knight can't destroy team open door
- knight can destroy castle background only with slash
- changed default team switch button to ALT