As promised, a first screenshot of Cytroid Red as he will be seen in the game. Also I updated the explosion of the enemies as you can see on the second screenshot. One last new thing: I added some spotlights in the background.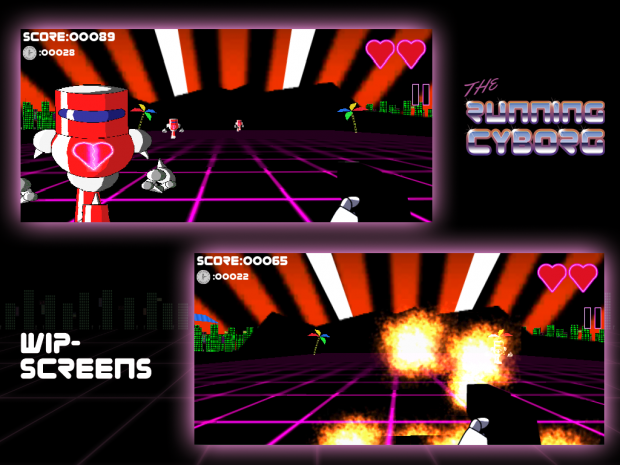 Now for the important part:
As you can see I want to make this game for android devices since I think it would fit the style off a mobile game quite nicely. However with every new feature I add it gets harder to fit it all into android limits. One bug after another is showing its ugly face even so I fixed them a few weeks ago.
I thought by using Unity I could dodge all these android problems but I was wrong. Oh and don't let me start on the resolution problems!
Also I realized that with every new feature or gameplay change the game feels better while testing it on PC. Don't get me wrong: I still think it fits Android perfectly but since it becomes more and more fun to play on PC(during testing) I am now toying around with the idea of porting it for PC as well.
The current situation for indiegames on the Androidmarket is another good reason to consider a PC version.
Nothing is set in stone just yet but I would love to hear some opinions if a game like this (FPS - Endless Runner - Highscorehunt) would be enjoyable on PC?
Oh and did I mention that, since it is made with Unity3D, the game could also simply be ported over to Linux and Mac?