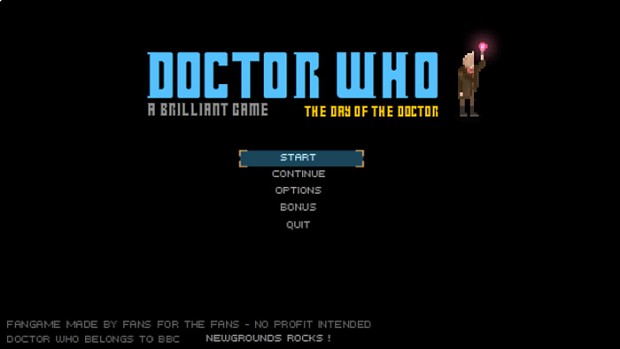 We are fans of Doctor Who since 5 years, and creating a game about it is particularly exciting for the reasons that we do not planned to make a huge game where we can't see the end. This is a particularly fast project to produce. But we're still gonna update it after the first release of course.
Since we didn't see almost no fan-game at all on Doctor Who (apart from very very basic flash games), we decided to make that one, but for delay reasons, we are according ourselves to concentrate only on a few scenes.
The choice of doing pixel art is about time (less time than big HD screen panoramas), immersion (less is better) and look (we assume some retro vibe in the game).
As an example in this upgraded first scene, it will include Clara going into the Tardis on a motorbike, depending on a QTE where you have to push a button at the right time, you will crash on the doors or there will open, like in the movie.
This kind of choices will lead to a new scene where the doctor complains about what happened, etc.. That's the kind of new narrative segments we like to include.
Concepts :
In the same idea, here is an early wip of a place (a famous sculptor that, of course, the doctor will know) that do not appear in the movie but where we can experiments some new dialogs and character.