Greetings NuVerians,
We are very excited to release the new website mail system. At first glance it may not appear too much different then the existing system, but there are some great new features.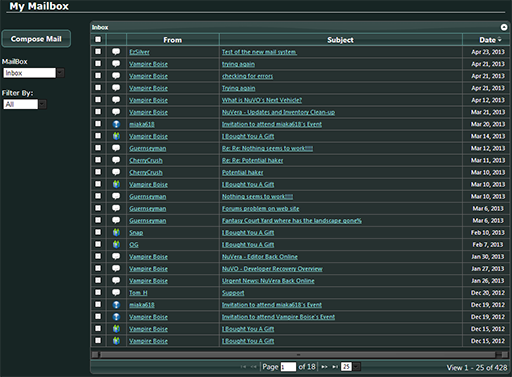 The core reason for the re-creation of the mail system was to build something that was available both on the website and in world. We will be releasing the in world mail very soon, but in the mean time we wanted to get it going on the website. The other goal of the new mail system was to simplify how mails are viewed and organized.
Mail Message Types
The previous system was broken down in a less than friendly, or obvious, way. We completely restructured the categories mail messages are in.
Social: These are regular user to user messages. If you send someone a mail message than it is in the Social category.
Invitations: If you invite another user to be your friend than these are invitation messages. Additional invitation messages will be added as we continue to build new abilities for events and other systems.
Gifts: If you send someone some NuVO Notes or gift them a product from the catalog then it's a gift message
Sales: This has been a much requested category from our developers. Any product sales messages go under the sales message type.
Notices: This type is for general system notices such as public area notices, product review pass/fail notices and more.
The new mail system makes it easy to filter these new message types. Each mail type also has a visible icon graphic which makes quickly identifying mail message types easy.
Composing Mail
The compose mail interface has been completely changed and now allows for multiple recipients as well as the ability to send a message to anyone and not just users on your friends list. This makes communicating and making new friends a lot easier.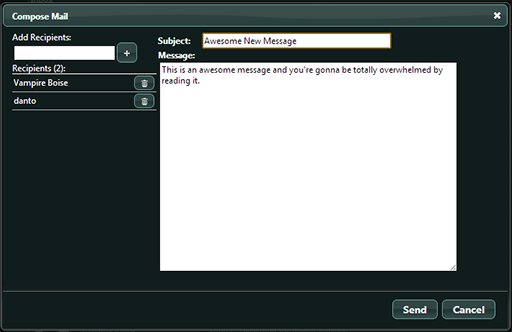 We are very happy with the result of the new mail system as it greatly simplifies the process and allows users to communicate more openly to any other member.
Keep an eye out for the next version release of the client which will allow users to manage, send and view mail right in world.