Hi everyone !
We have been working slowly during the last months, but we have a few things to show you !
First, level 1-3 is ready and polished, I uploaded a few screenshots in the gallery, here are 4 of them for you :
As you can see, this is more of an underground/underwater level.
Speaking of water, we also added an animated distorsion effect to it (as shown in the previous screenshots).
We also updated the jump feature to make it more precise, it is now pressure sensitive, and it allows us to create level design pattern that require more measurement skills. Here is a gif to show you how it works :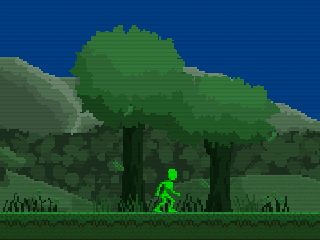 We are planning on changing the name of the game, but we still aren't sure what it will be, it has to be something that feels retro, and that also reminds of the speedrun mechanics that we are using.
We will keep you updated about that :-)