What we've got here is some of my handy work. Lightly inspired by Sword Art Online, I thought of a simple Black and Square / Octagon temporary theme for the GUI on our menus. To reiterate, this is temporary and meant to be a simple but nice looking GUI. Unless this GUI becomes well beloved by our testers, and during public releases, loved by the community, it won't be used forever.
NOTE: None of this is actually in game. I have to give the cut out and remade images to Aravind so he'll have the tools to rebuild it in game.
---
Main Menu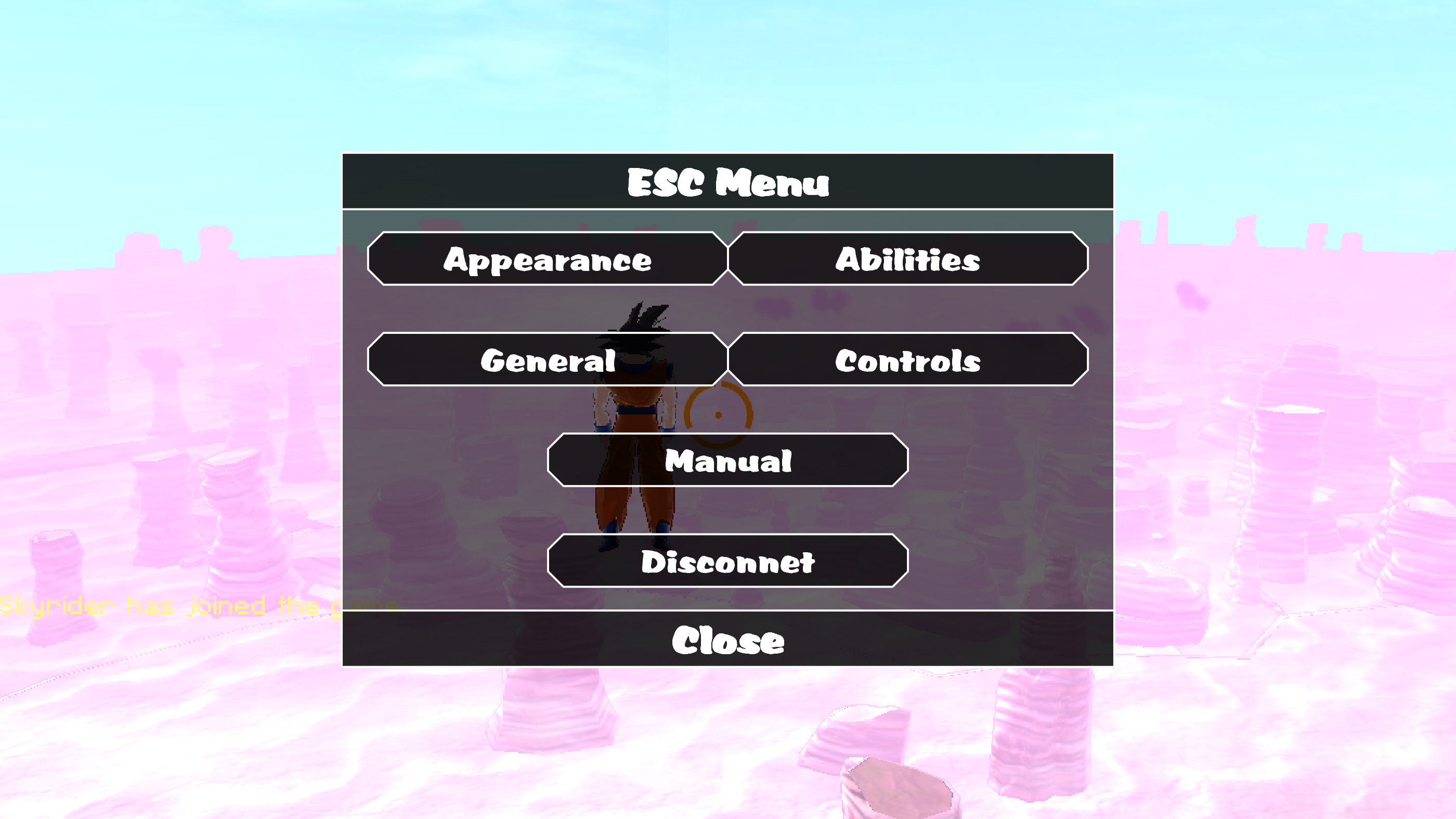 This is the Main Menu. Some of these buttons will expand when you click on them; demonstrated in the next image.
Main Menu (Expanded)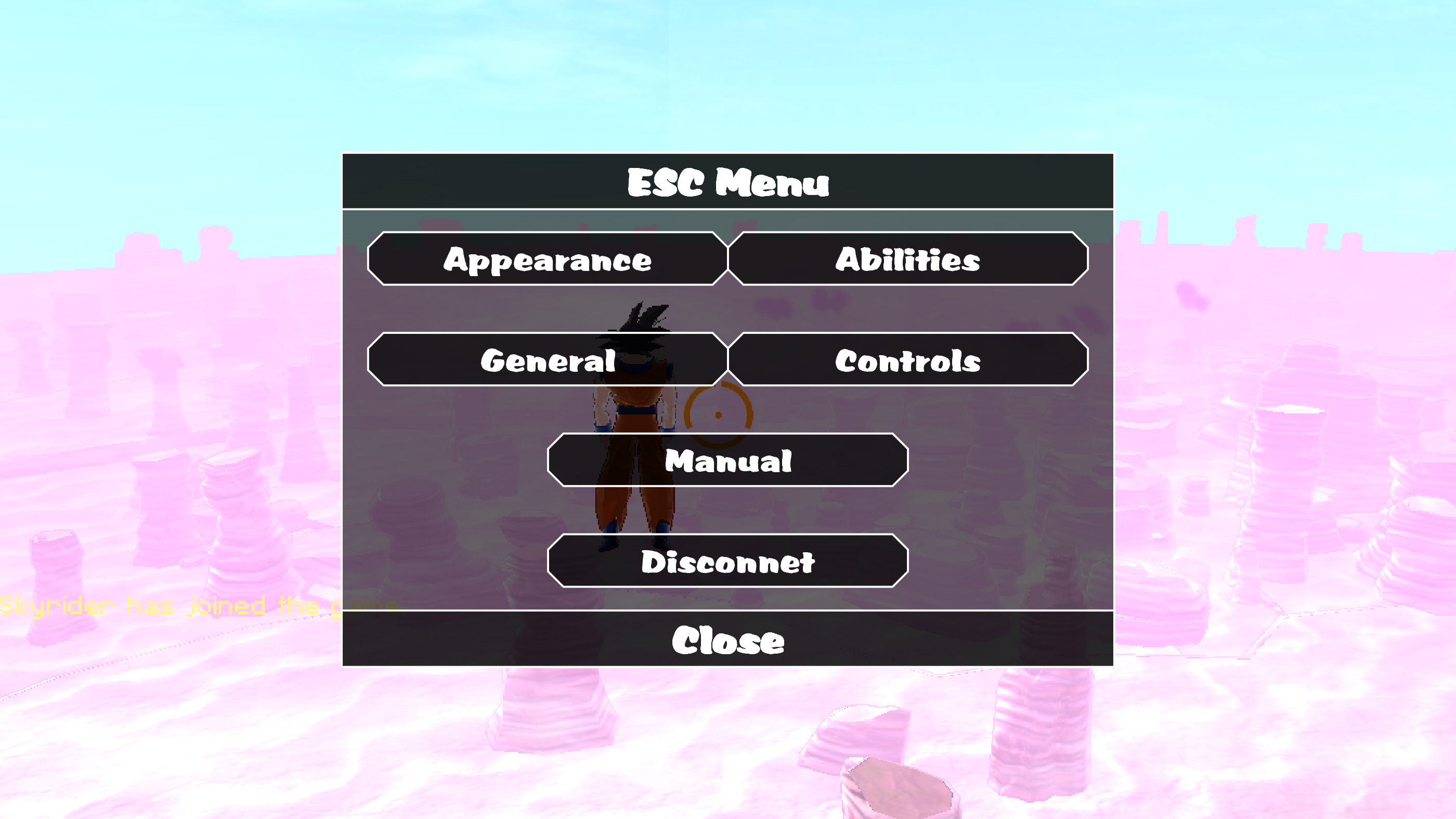 They don't actually expand all at once. But I'm not going to export 6 other images to show off each one individually.
Options: General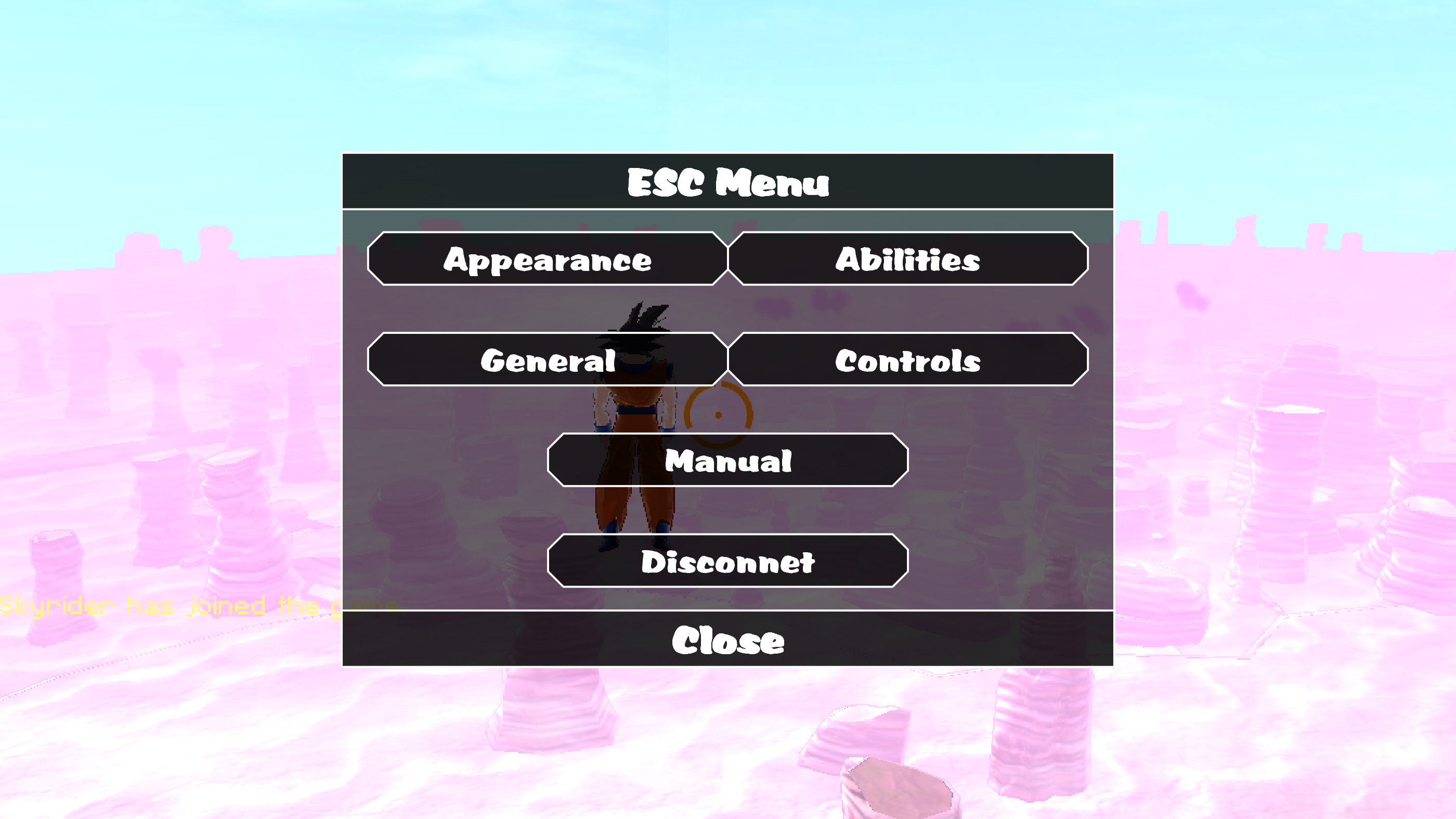 I can't think of many items that need to be added into this list this early on in the game, nor can I think of anything else at all.
Options: Controls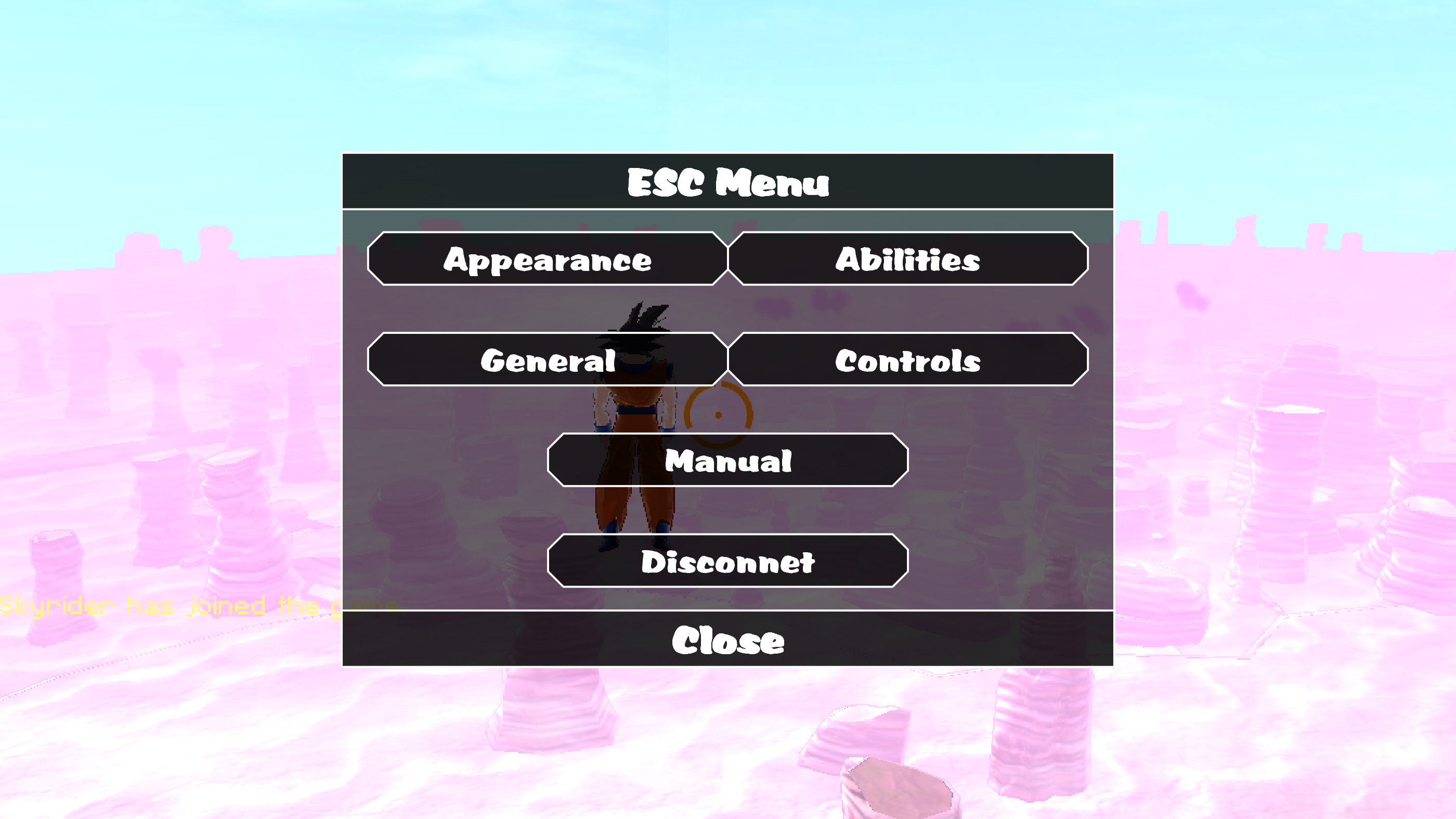 We will of course find more items for the list or reorganize this.
Avatar Customization: Appearance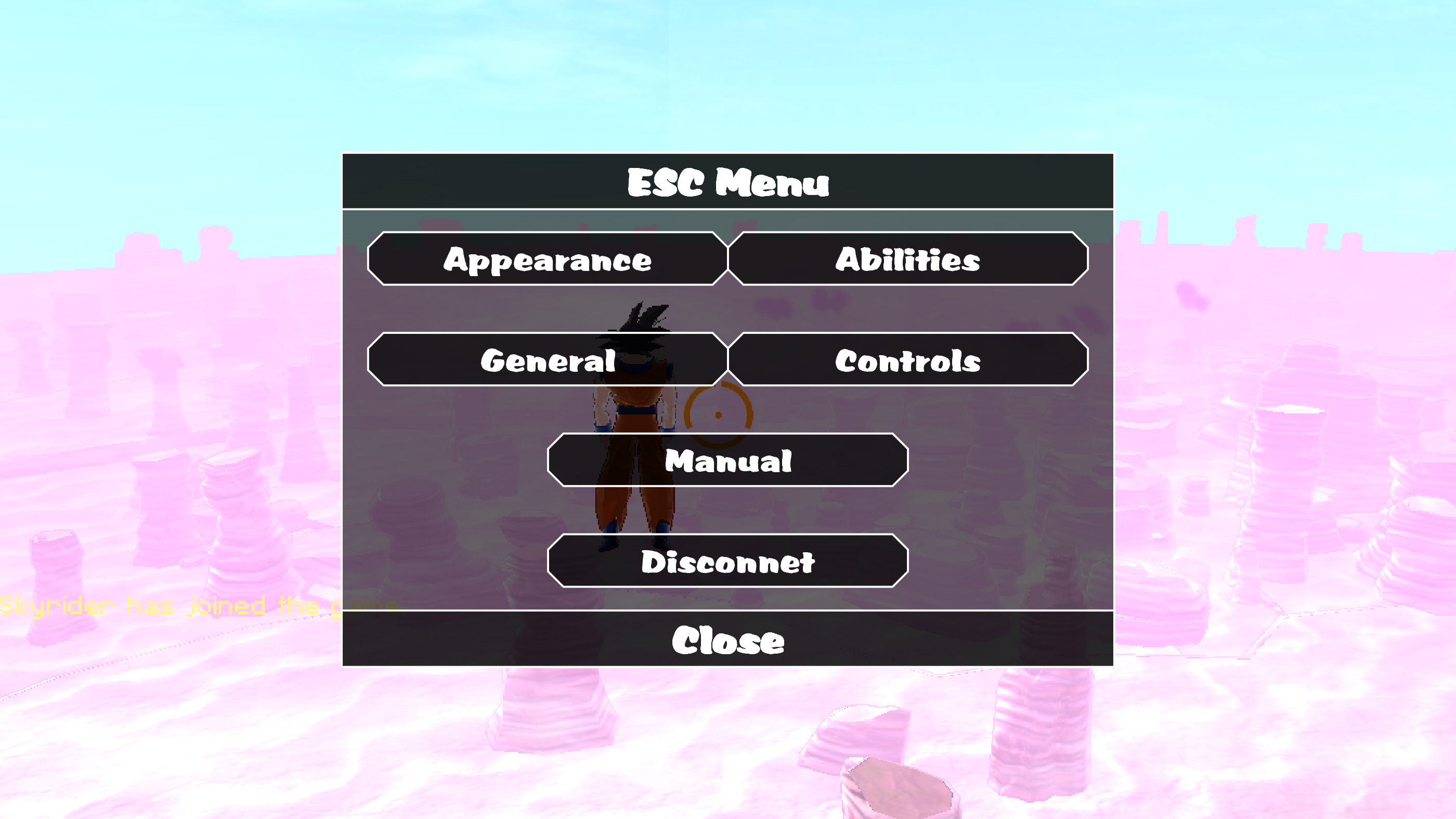 There's more to be done here and to be adjusted. It doesn't really have to do with the Goku that still has the white box around him though. But it is one of the things to be done
Avatar Customization: Abilities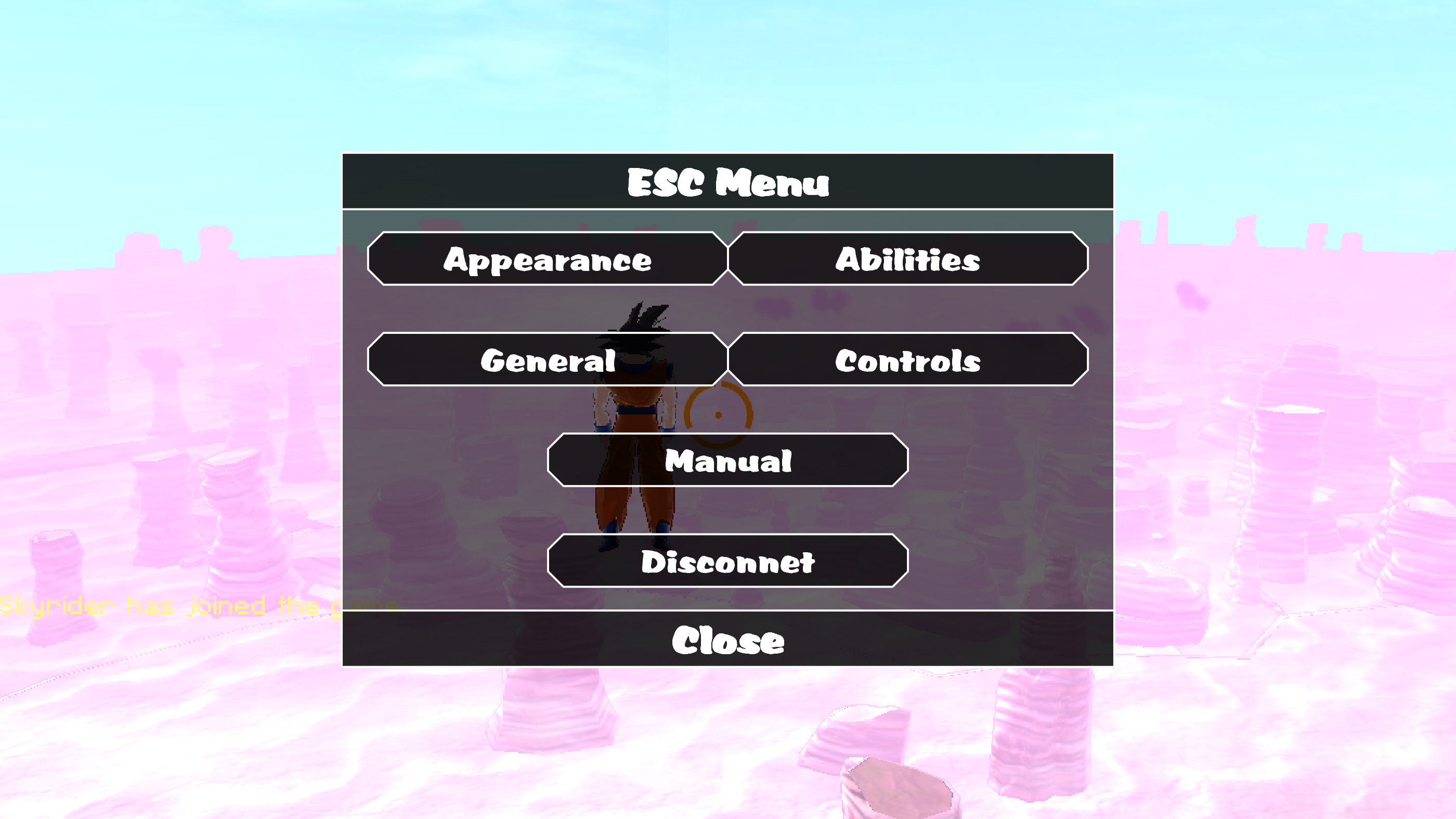 Annnnd this is where you can change out your abilities.
Join Server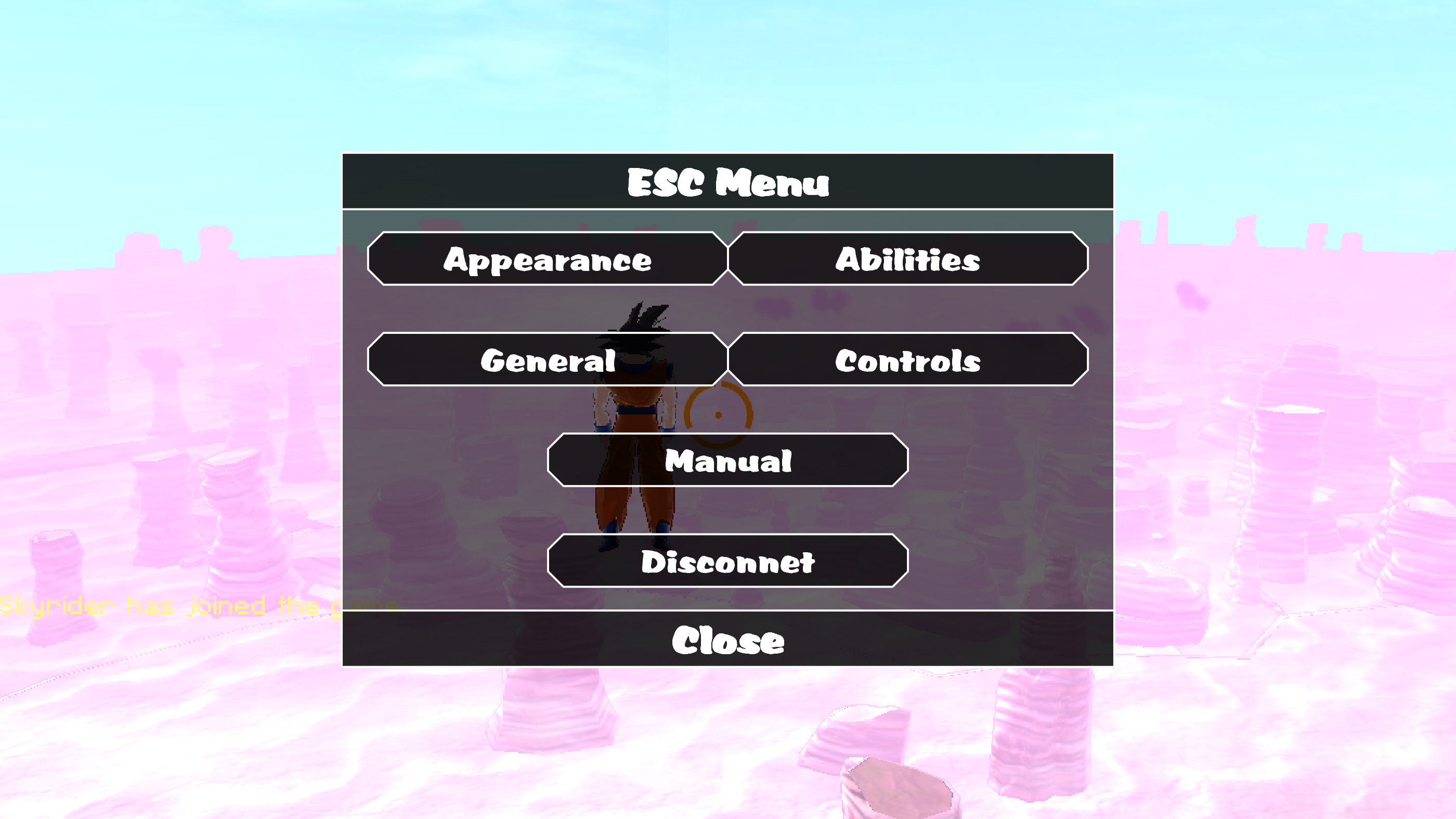 This where you join servers.
Create Server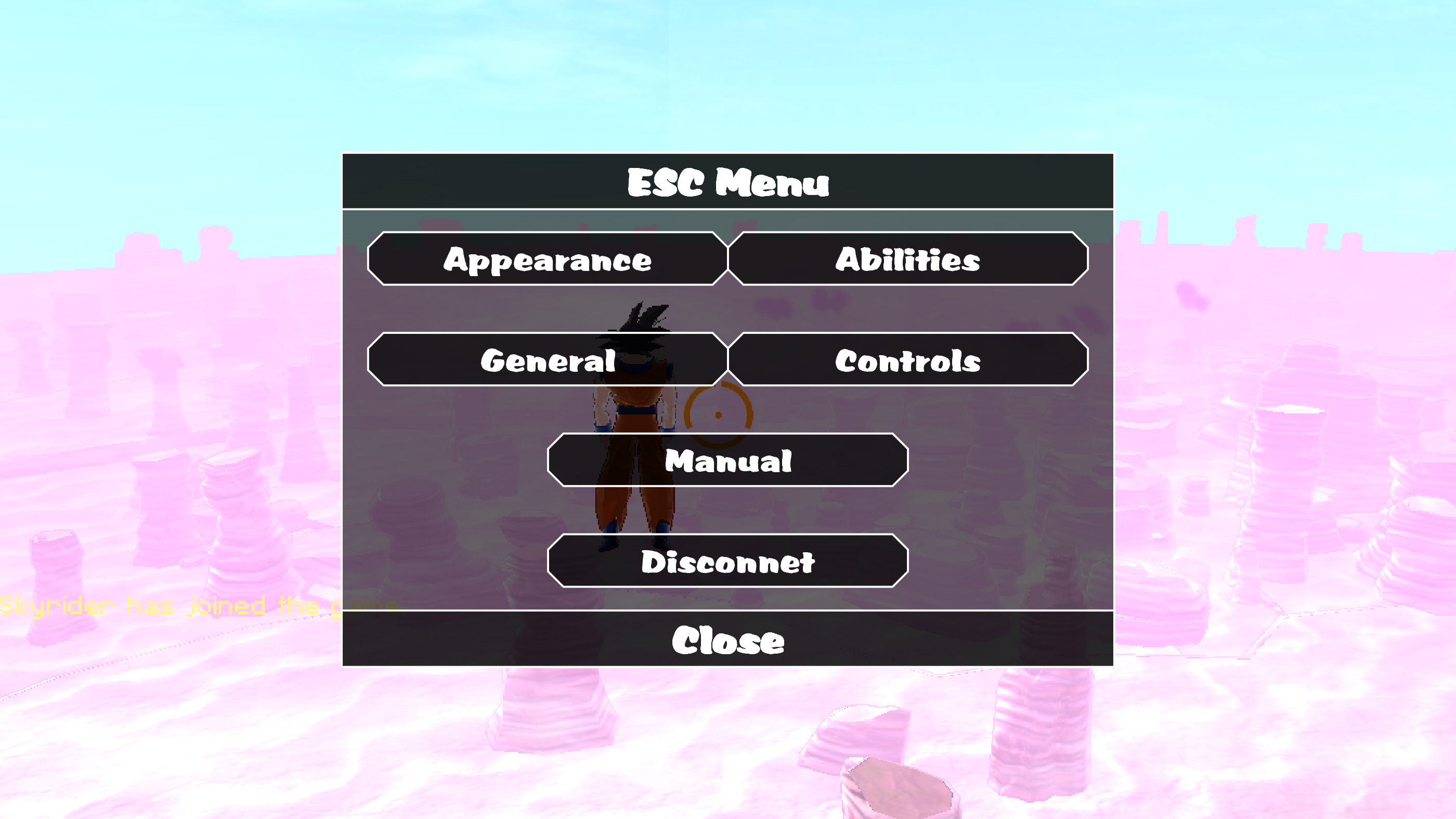 Currently, the "Extra Options" menu does exist. I 'would' export the version with it opened up. But it has no items in it. *ahem* Upon starting server creation, you can change your main options (more will be added in time). The name, map, port, max players, and soon to be more. Then in the extra options menu, you can configure all of the more minor options that you normally don't see. I thought of this from ZEQ2-Lite. In ZEQ2-Lite, you can configure your main options and then create your server. But there are what feels like hundreds of other options you can configure within the console, as well as a plethora of other commands to be discovered. So we're gonna make all the options visible in the game and easy to find, as well as making using and finding commands easy.
ESC Menu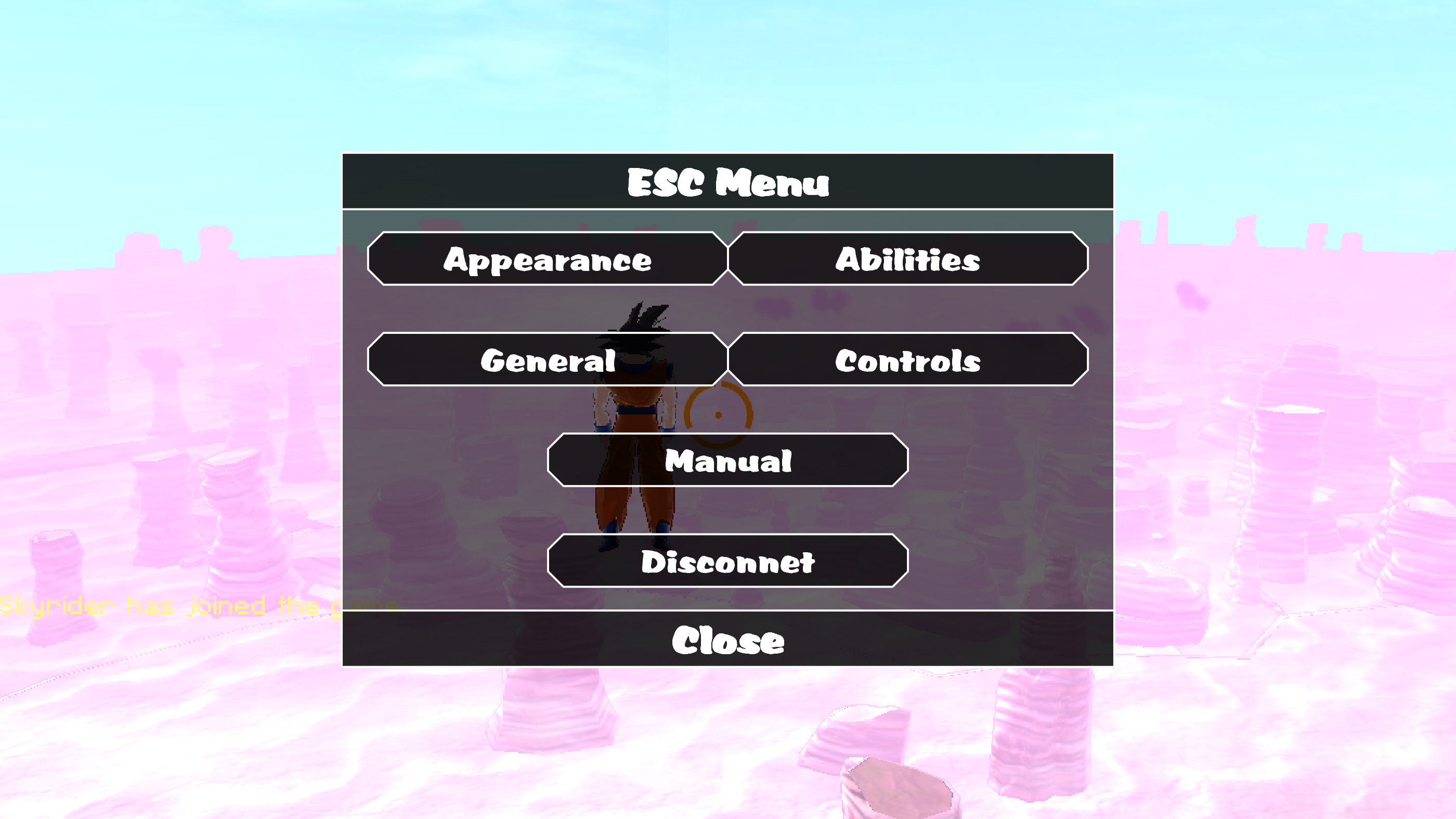 As the name says, this is the ESC Menu. It 'also' has buttons that expand when you press them.
ESC Menu (Expanded)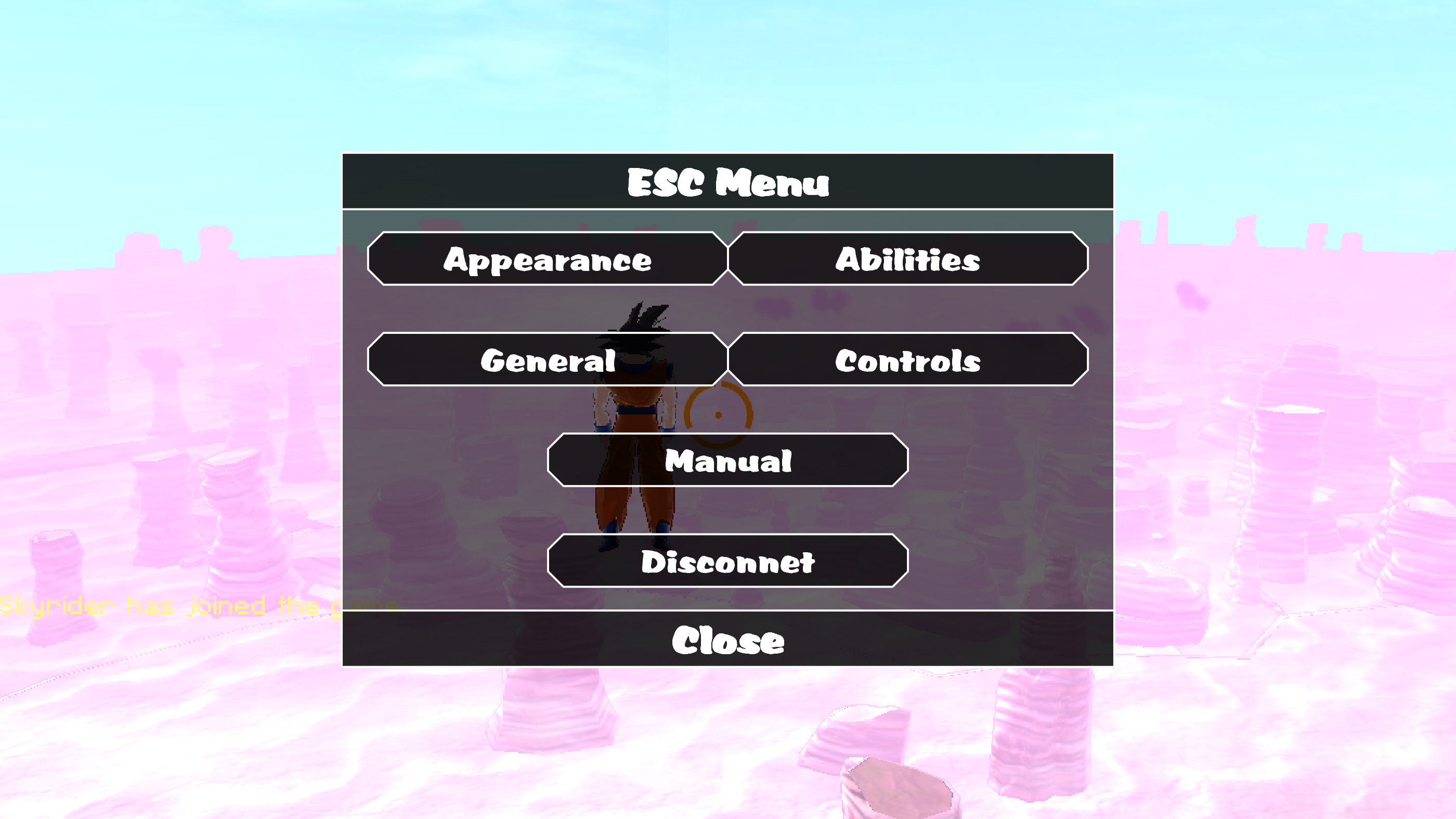 That's the last of the images.
As with any of these images, they are subject to change, removal, or complete overhaul. None of these images are actually in game. Not even the ESC Menu. I took a screen shot in game, scaled it to fit a 1920x1080 window, and then made the GUI.