New Gameplay Video!
---
The Road Ahead
This has been a very... interesting year. With the world falling apart around us, you think it'd spell death for the project. Instead, it's driven us to go even further. Azure Domain has been in development for 1 year now. In that time, we have grown from a team of 4 to over 30 people. That's insane. It's certainly made managing things harder for me, but no matter how hard it gets I welcome the opportunity to make us stronger.
Azure Domain still has a while to go. Back in Feburary, I quit my day job (after 'rona drama) to work on the game full time. My father has kindly supported me up to today, but unfortunately he's started to run dry so I've had to get other work. Bit of a bummer, but no big deal. If anything, it might actually wind up helping the project in the long run. To that end, we've decided to open a Patreon. We aren't expecting much from it, but whatever we do get is going to be very important to us. So, if you'd like to lend a hand by supporting us, here's the link to our Patreon page.
---
What to expect from v0.2
We've got some big changes planned for the next update.
Environmental System
First and foremost is the environmental system we currently have in place. It hasn't really lived up to our expectations and has introduced some severe performance problems. We're working on another solution and should have it ready to deploy in the coming weeks.
3D Model Updates
So far, only the Larken and Bayonet have received visual updates. The Viscount is currently being re-done, with the Viceroy carrier and the other playable aircraft up next. Our main 3D artist has been busy and unable to help us recently (which I happily accept considering his skill level) so we've onboarded some new talent whom is quickly proving themselves. We expect most, if not all, of this to be done by the v0.2 release.
SFX Updates
Our Audio team has grown explosively, and between new things I've learned and new sound designers we're making our next update sound better than ever. We have a license for WWise, and we intend to take advantage of it!
VFX Updates
We're working on new visuals to go along with everything. It is unsatisfying to say the least, when a conduit on the Viceroy is destroyed. Yeah, we're fixing that. We'll also be tweaking the contrails from aircraft, especially in the case of the player. The exhaust can blind you in maneuvers, so we need to address it. We might as well polish up a few other things while we're at it.
HUD Rework
That old AC3-styled HUD has to go.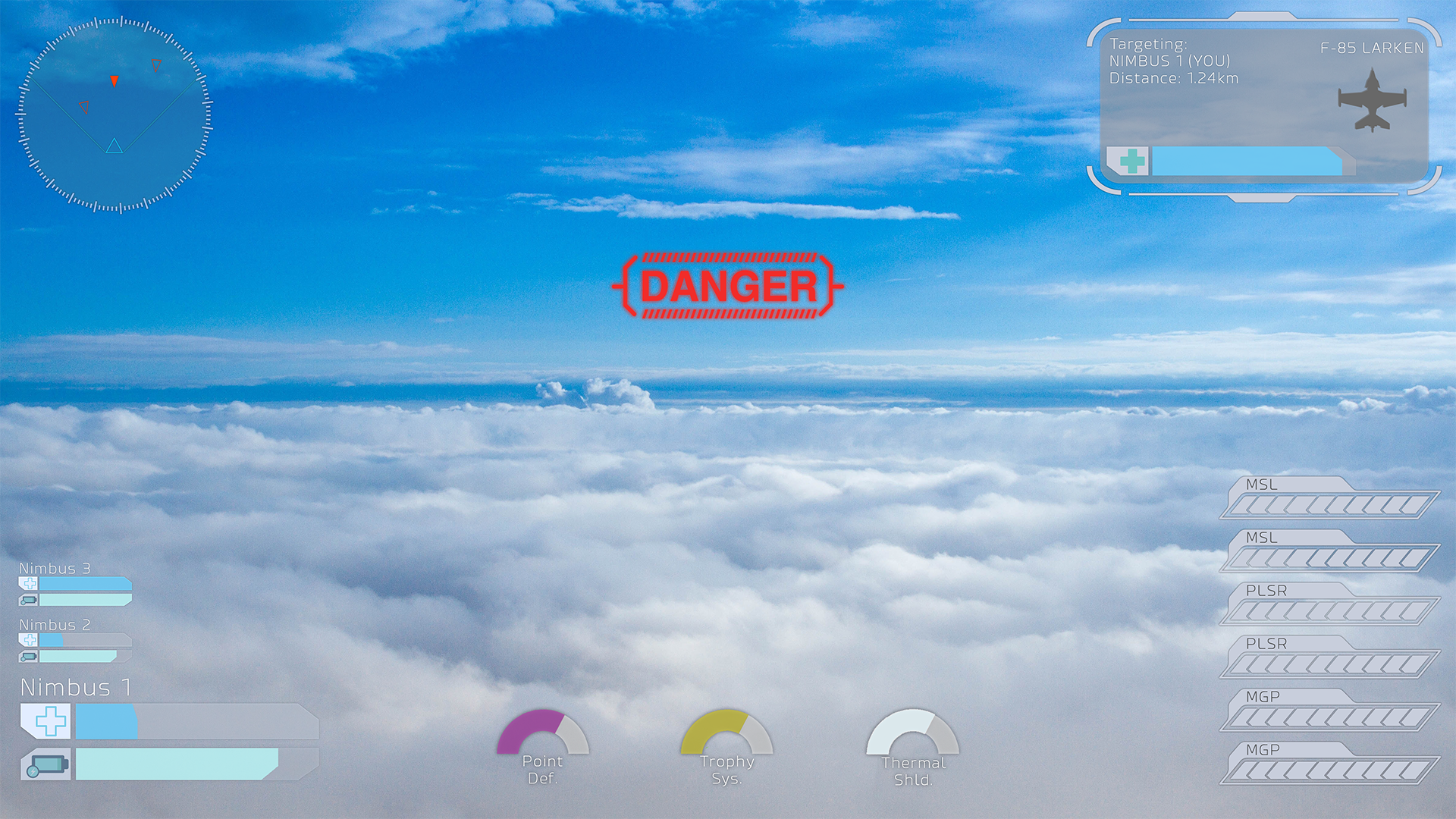 Behold! This is a prototype of our upcoming HUD rework. There is still a fair few things to figure out, but it's on the way and is the other big bullet point on v0.2. We really needed something cleaner, able to scale across resolutions, convey more information more succinctly, and be customizable.
We couldn't decide on a color scheme at first, when we realized: "Hey, why don't we just let the player pick the color?" And we're running with it. Hope it doesn't bite us in the ass!
Bug Fixes and Design Updates
There are bugs aplenty that require squashing, so we'll be addressing all we can. We're also finally going to fix the end, where it'll simply return you to the menu rather than starting from the splash screens. There's that annoying caption bug, too. We'll get 'em.
Hub Areas
Oh snap! That's right, we're finally working on getting our hub areas integrated. Right now it's in the earliest stages, but it will be coming. In case you aren't aware, the player will be able to walk around in 3rd person between missions. In these hub areas, players can talk to NPCs, visit shops, unravel the story and prepare for sorties.


So, there we are. This turned into way more of a dev update than I anticipated, but since I'm harping it along with the Gameplay video, I won't consider it as such. There is a bright future for us, and I hope you guys will join us in that new horizon. Thank you all so much for the help and support.
Here's to another year of Azure Domain!
-Eric
OUR DISCORD SERVER: Discord.gg
OUR PATREON PAGE: Patreon.com