The last few weeks we have been updating Hero Defender with a variety of new features including daily shared weather changes and events that affect gameplay in a variety of ways.

Features Added:
*Added a survival mode (Accessed through the skirmish menu)
* Added an option to enable or disable the device's power saving options
* Remade and added more graphical elements and improved unit sprites
*Added a new enemy to world 3 (The Bloat)
*Added more skirmish and survival mode options
*New World Added!
*Optionally retrieve data from our server at start-up for daily events and weather changes in-game
* Weather that affect's enemy's
* Daily events such as finding random power-ups on the battlefield or gaining extra gold

Along with many bug fixes and more feature alongside these. We have even more features lined up including new worlds, weather effects and events.
Below you can see the new daily Events and Weather changes. Receiving Events and Weather changes is completely optional and can be turned off completely in the options however these events can often be fun and bring new elements to the field of battle. Everyone playing will experience the same weather and events going on in the Hero Defender world.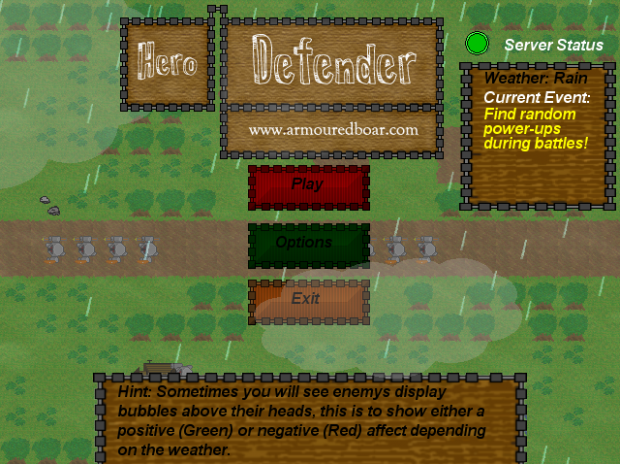 Like our games? have a suggestion? Follow us on fb: Facebook.com
or visit our site: Armouredboar.com