Welcome to the weekly update- January has probably been the busiest month of development since the earlier months in the project. In line with this shift in work being done there has, as you could expect been a large amount of progress made. We have ironed out a large amount of known issues,
refactored tremendous amounts of code and got a decent battle system working!
Battle System Upgrades
The original design for the battle system was quite a static feature with a log of what's happened being printed out, however we now have a visual live representation of the battle occurring, ranks, health bars, different unit icons and more! The battle system really is something good. NinjaNye originally came up with an idea which acted as the base of the system with units meeting each other on the battlefield, and the battle system has evolved from there to include all our new features.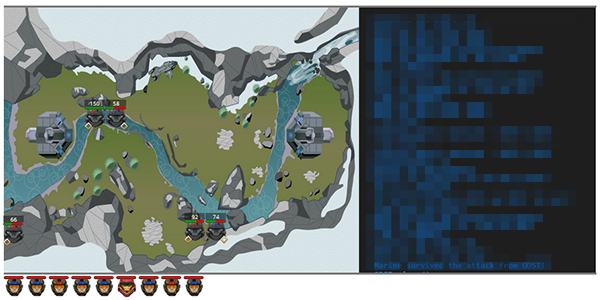 In addition to this, we have been working on optimising and improving the functionality of various areas of the site from the fleet page, which will act as a leader board of all players to the upgrade area - and with all these changes, there is a greater possibility for more features.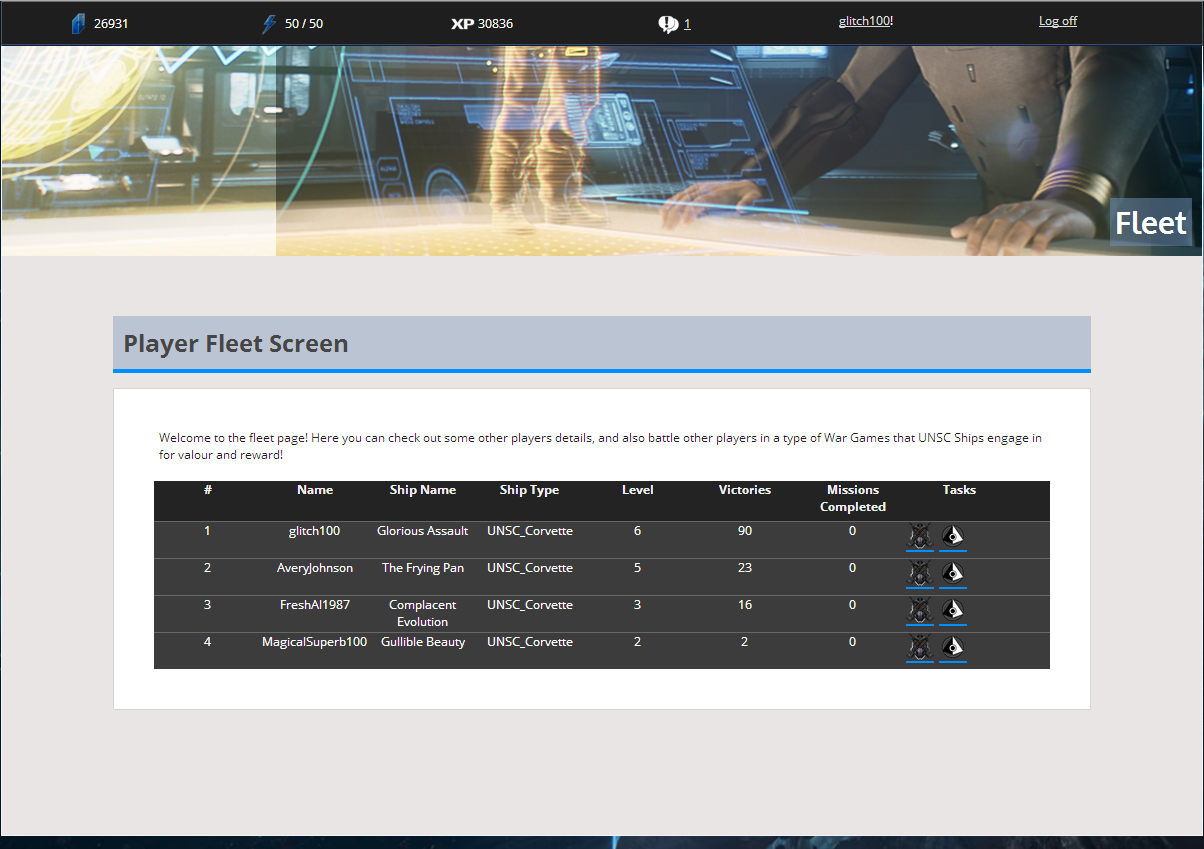 Community Question Time
If you have been paying attention to our weekly updates or even our twitter feed you will know that we have been putting questions to the Halo community to help balance the games units during testing, and as such we created a variety of generic scenarios to let users give their feedback on how they think the scenarios would pan out. We asked here, on our site, twitter, waypoint and also took to reddit which generated more interest in the game, so thanks for all the feedback. If you still want to contribute go here.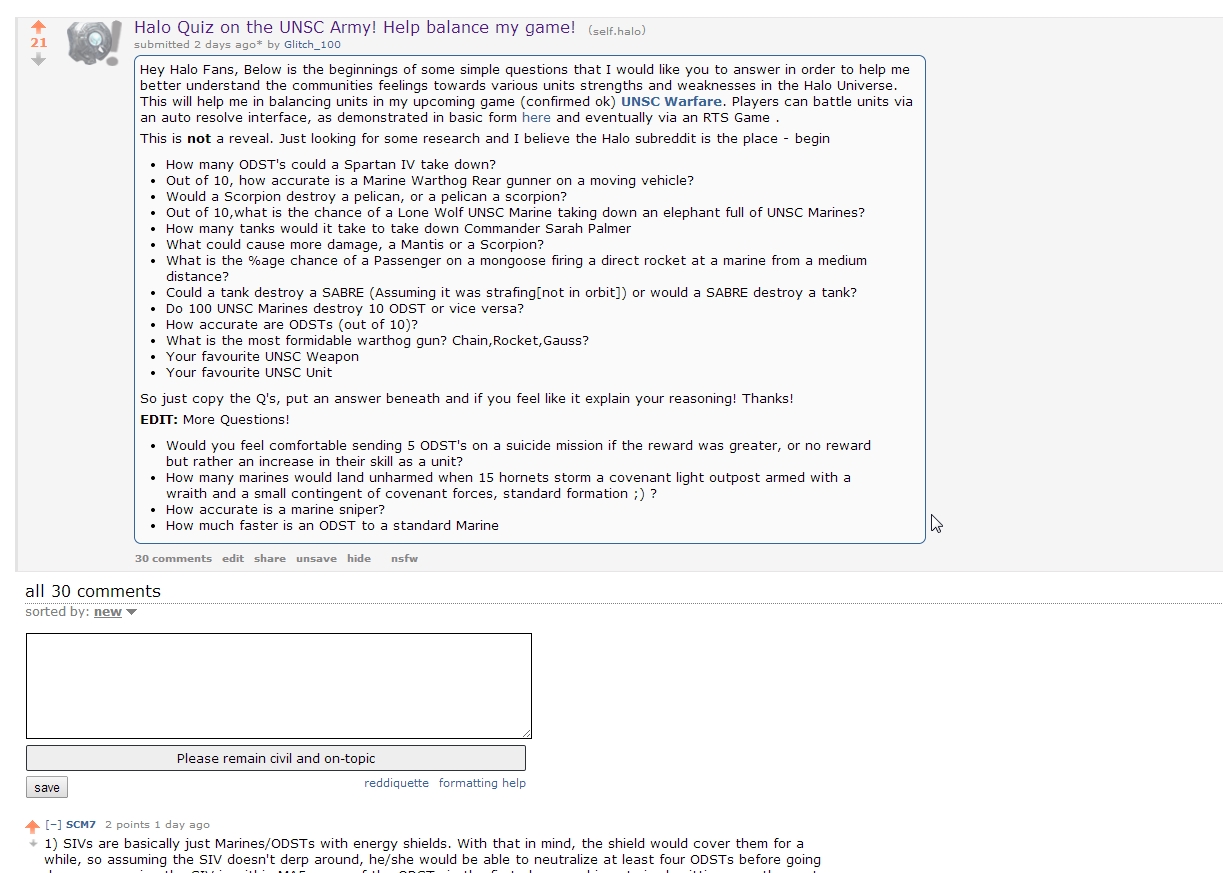 This gave great insight into how differently players thought certain military units in the Halo Universe were. As such, these scenarios will help shape the statistics each unit has and will in turn give a better feel of halo-realism to the game.
ID @ Xbox - Indie Game and Xbox One
For those that aren't aware, Microsoft has been slowly bringing developers into its ID@Xbox programme which is for indie developers to gettheir games onto the One. We have stated in previous updates that we are hoping to bring UNSC Warfare onto the Xbox One and with it a great amount of Halo fun for the community. Recently developers that signed up received more information regarding the version of Unity to develop on etc. This, paired with some current deliberations has led us to the possible decision of splitting development.
As avid readers will know development was meant to be 50% for the web based game; combining strategy, competitive gameplay, social features and more, which you have seen mostly in our recent updates, and 50% for the Unity Game to connect to.
The unity game that the web based component could link to would allow players to complete missions through an RTS Based game inspired by Halo Wars and various other strategy games. However recent developments have created an opportunity for us and we might just take it. We had originally split the development into two separate projects; however now under this new plan the web based game will be expanded to be a standalone over time and the Unity Game can be a fully-fledged enjoyable Halo experience with a campaign, skirmishes and more! It will be everything we envisioned and more. Of course this isn't final but this is a big possibility and in many respects would make more sense. We will base the decision of off active feedback from testers. Which brings us to the next point - what's included in testing and when does it start!
Testing Time and Included Features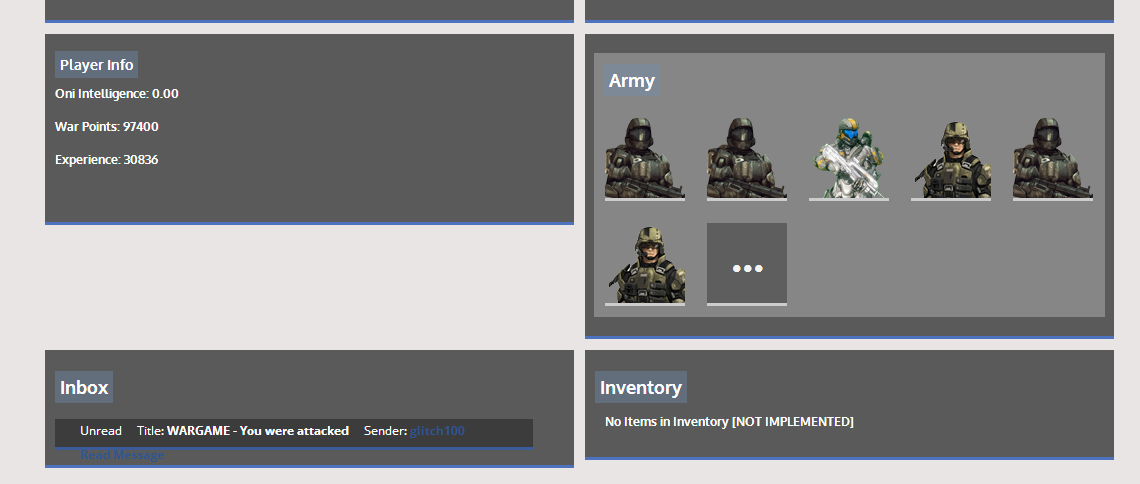 We are approaching February, the month that our testing is scheduled to start and boy, are we excited! The project has been ticking and moving along for some time now, and I can't wait to start getting some realistic feedback from what we have done and finally see it in action. You may be wondering what you will be testing, so let me it outline all current features that are in the web game for you magnificent people to test:
Included Features:
Buying Units: See that as a player you can buy Units of various types unheeded.
Interaction with Other Players: The ability to message other players from their screen, delete messages sent to you, reply to messages, view stats of other players and use the chatbox without error.
Interact via the Fleet: Start battles with other players, view their profile page and more via the fleet page.
Battle other Players: The BIG Daddy - the ability to battle other players armies with your army, to the end and be rewarded.
The Battle Player: Where the visuals are for the battle, that it works as expected and displays a correct representation of what is actually going on.
Modification of Units: Once units are purchased they can be accessed and individually upgraded with a variety of different weapons which increase the stats of your units.
Units can gain Rank: Throughout battles, your unit's can Rank up, which in turn will improve their stats in battle. There are currently 8 ranks for units and achieving the highest will be EXTREMELY Difficult. The system to determine a rank is based off of the units overall statistics. They
only have the opportunity to rank up from battles they survive.
Recharge of Energy and Currency use: Ensuring that as you do actions, energy is subtracted and over time recharges. Also that currency can be used to purchase entities in game.
Last Minute Features (may not be included):
Ship Size Limitations, Player Levelling, Armour Upgrades, One Time Items, Item Store etc
Planned Features:
Squad Based battles, Battle Group (clan) integration, Various Store Types, Additional Upgrades, Ship Upgrades and more.
Overview
As you can see there is a lot to test and as such when you log in, I would appreciate it if you could give feedback via our 'Report Bugs' section, the chat will also be monitored at various times however contacting us would be your best bet! Currently as already stated the features testing aren't necessarily finished and are undergoing constant improvement, as such in the instance of the Store, not all the Halo Units will be there. Furthermore I ask that you be patient with it - the features included are just the tip of the iceberg in terms of what we want included so be patient and help us to test it so we can get more features out, quicker and resolve existing problems.
Testing should start within the first week of February and we will inform everyone a day before, so make sure you have signed up! Be sure to follow all our social outlets to keep up to date on everything.
Finally the more helpful players will be the first invited to test the 3D Component when it finally comes about, so some incentive there. A reminder to all players that this is a pre-alpha test and as such you are playing a shell of what the game will become. We are more than happy to hear out all possible ideas for the game, but let me tell you the list is already long and we hope to add as many features as possible to make it the number one web based game and an enjoyable experience for all players, halo fans and regular gamers alike!
Prepare to Launch
That's the end of this long update - we hope you are excited to test the game and see what's been made, and we look forward to having you on UNSC Warfare.