Lots of great progress in the last few weeks, but I wanted to briefly reveal a new feature that is now in Isomer - the supply ship. Every few minutes (the exact time between ships and how long they stick around for are randomly generated for each new ship) friendly and neutral supply ships enter beaming range of the player's dropship. Each supply ship offers a variety of trading options ranging from unit reinforcements to resource exchanges.
With resource exchanges, you can exchange an excess of some resources for others (if the supply ship is interested in such a trade) meaning the collection of even common resources (i.e. dirt, sand etc) can be as important as the rarer minerals.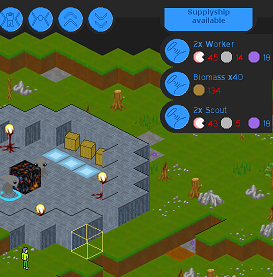 Reinforcement units are also periodically available to purchase from supply ships including the starting worker unit as well as basic scouts, engineers and warriors. This is the quickest (if most expensive) way to get new units in Isomer, the other way is via the building of unit spawners although I'll explain how this mechanic works in a future new news item once it has been finished.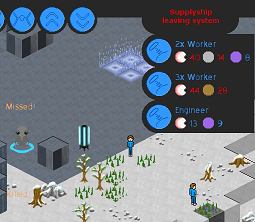 To vary things more, different trades will cost varying amounts between supply ships, some will be a bargain and some will be much more expensive and only worth considering if you are about to be overrun by enemy troops.
That's it for this mini-news item. Please remember to keep watching our devlog over on the TIGSource forums for more frequent and detailed development updates! :)