We want to give you a lot of depth and variety to choose from in Cannon Brawl. In addition to all the different weapons and defenses you can pick, we're adding unique Airship Pilots!
Each pilot will come with his own distinct airship AND will have a different automatic power that will affect the way you play.
You'll get to unlock these pilots as you progress through the campaign and they'll help tell the story.
First, here's my programmer art mockups of some of our new pilots. Forgive the silly arms out poses and other artistic failings, I'm only the programmer! Soon Theresa will take an art pass on them and transform them into awesomeness, but for now here they are: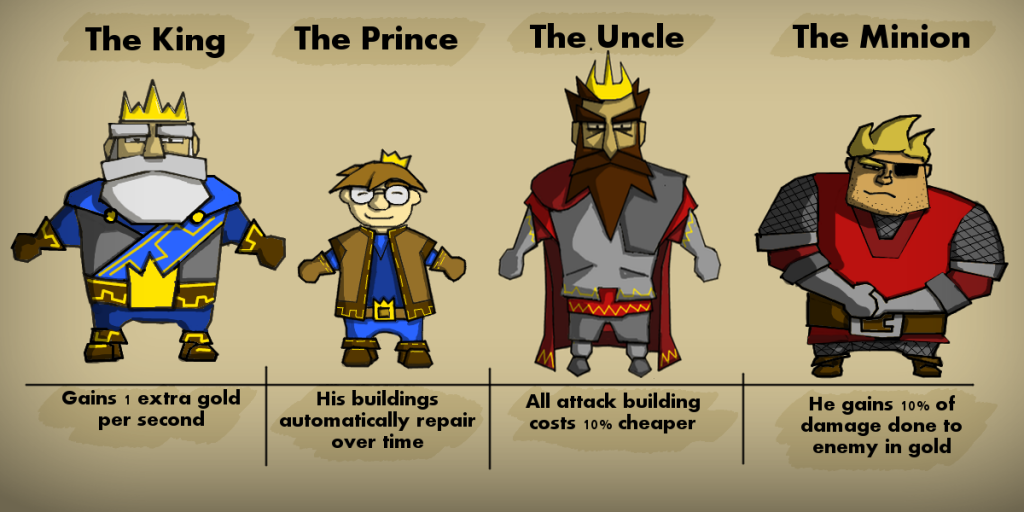 How do these pilots affect a battle?
Maybe you like to play aggressive and do lots of structure damage on battlefield, you might want to try the Grunt pilot given that he gains gold from damage done! Or maybe you want to be more defensive and protect and invest in what you build. If that's you, the Prince could be a good choice given his buildings will slowly repair themselves over time. Or maybe you like a high economy game, perhaps try the king - he gets extra gold! We're also working on more pilots with other abilities coming up soon.

If you've got an ideas for new pilot abilities, leave them in comments!