Reworked Crafting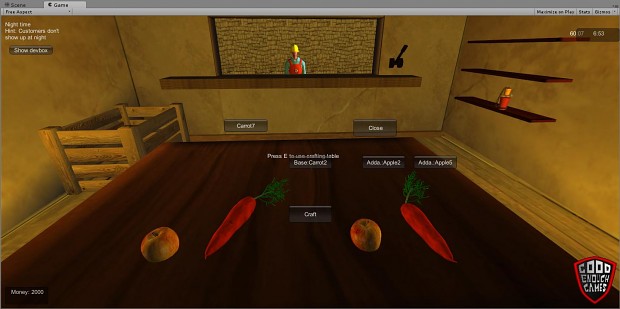 This new (very W.I.P) brewing menu is the brain child of Igor, our creative guy. What's changed is basically everything about brewing. You used to be able to mix any ingredients together, and get potions with stats based on those ingredients. But we quickly found many floors with this, for example, what would happen if a potion had the same healing factor and poison factor? Would it cancel? So we decided we needed something new. So, here we have it; our new brewing mechanics. You still have ingredients and you still have to put them on the table etc. etc... Except now, you have bases and additives. The base is what the potion will be, for example Strongman's Root is the base for a weak strength potion, and Hemlock is the base for a weak poison (there are others as well). Each potion can only have one base, which makes sense, because you can't have a poison-strength potion. But a potion can now have additives, these increase things like the taste and value of the potion (thus, making it sell better). To start off with, on a completely unupgraded table, you can only have one base and one additive per potion, on a more upgraded table you can start using two or three additives. So the more you upgraded your table the more complex potions you make. Thus the more money you can make.
Reworked Order board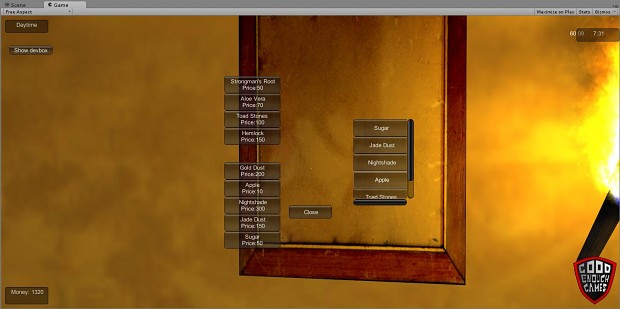 This new order board allows ingredients to be unlocked, and it was done in about 400 lines less of code. The bases are the buttons on the top and the additives are the ones on the bottom, the menu to the right are the items that will arrive at the delivery time (night-time).
New ingredients
As already discussed, the idea of how the brewing works has changed, so the ingredients needed a change. We now have fewer ingredients, but they have tiers. The additives will always stay the same, you may be able to unlock more but they won't change a great deal. The bases however, have different tiers, for example, if you wanted to make a strength potion, you would use Strongman's Root as a base. But as you progress in the game, you'll be able to unlock Strongman's Branch, which has a higher strength factor so you can make a more powerful strength potion.
So, in summary:
New ingredients,

new brewing mechanics,

a great deal more fps (did quite a few optimisations),

new shop (read last weeks dev-update),

AI no longer recognise the stats of a potion (need to set them up for the new brewing system).



-Tom