Intro
As promised, this news explains how you can create your own artistic movements. There are historical ones appearing at their correct date: Impressionism, for example, comes up in 1873 when Manet paints "Impression, Sunrise", and you can paint in that style if you want. But you can also create your own painting style and try to make it as famous as Impressionism, if not more.
New Artistic Movement
To create an artistic movement, you select which is considered the most important skill to the movement, then how each skill is viewed. Skills can be "valued", "unimportant" or "rejected".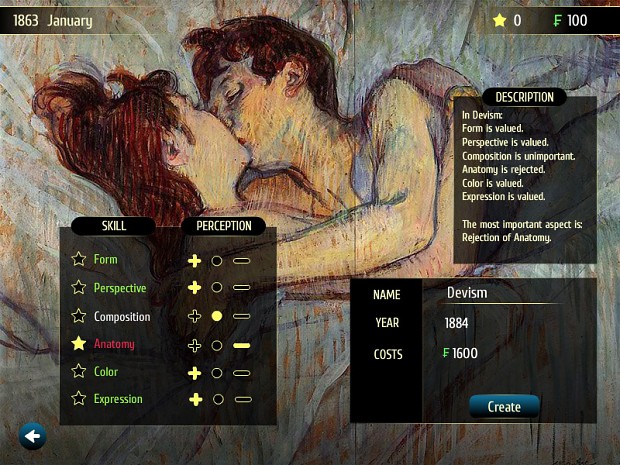 The gameplay impact of this is that when you create a painting in this style, the quality will depend on the player's skills, but also on how the style you're painting in views each skill. For example, if you're painting a Realist landscape, the more skilled you are at form, the better the result will be. If it's an Abstract landscape, high skill points will get in the way and work against you.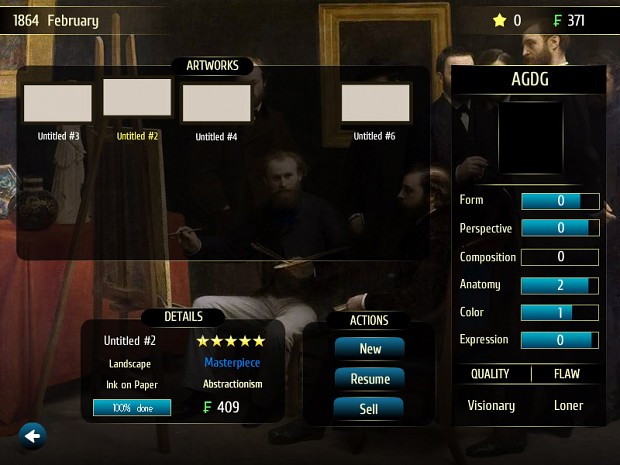 The real movements you can paint in work in the same way. In Impressionism, Color is the most important and Form is unimportant.
In Cubism, Perspective is rejected and is also the most important skill - making the rejection of perspective the defining aspect.
Next in Avant-Garde
There's still the Salon de Paris to cover and how your paintings can be accepted, refused or win you medals. And we have yet to cover depression and suicide, which should be implemented soon.