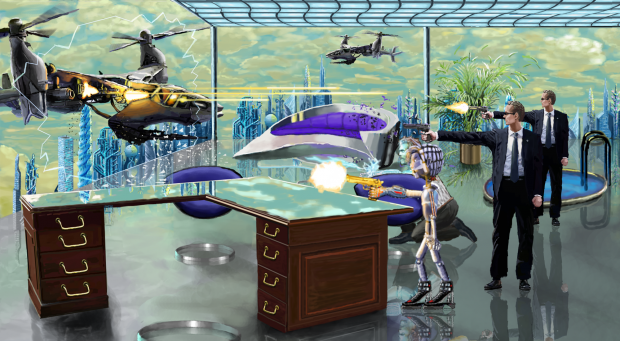 Neofeud: a 90's adventure game, hostile takeover of the present! (spot all the references and win a free virtual kung fu lesson. ;)
The big news: Neofeud gets a major crowdfunding facelift with a brand spanking new Patreon site!
While Neofeud is a work of passion, I continue to be a one-guy-developer with a family, so continued work on the game is always contingent on support of the family. With new freelance work and a writing gig, I can cover our basic expenses, but that also means that I can only devote a certain percentage of my time and energy to Neofeud. Not only does this slow development, it also ultimately can decrease the scope and quality of mental energy I can put into the game. Eight hours of work and playing tag with a two year old and four year old will take it out of you! So any amount you can pitch in will make a difference.
A big, big thank you to everyone who has supported the development of the game so far, in particular Bill Meikle and Xenophile AKA Ian Ruotsala -- without you, the game would definitely not be completed!
As a case in point: without the additional funding, the awesome "showdown scene" hinted at above would've been entirely cut from the game as I would've had to ship in March, and much of the voice acting and music would be left out as well!

If you become a Neofeudal Royal Patron ($50 level), you will be immortalized as a character in the game, with a few lines of dialog!

If you contribute at the $20 level, I will personally paint your portrait, which will be added to the wall of a palace throne room in-game! The portrait will also be in the credits and displayed on the website. Plus, you will get inside info and exclusive behind-the-scenes game dev files and more!

Yes, your very own visage, painted by your personal artist, my lord or lady, like Michelangelo himself! (Although I draw the line at lying on my back on the inside of a chapel!)

Keep in mind, these perks are only available now! Once the game launches, these awards go away. So if you were planning to buy the game anyway, why not get some of these extra bonuses?
EDIT: UPDATE 7/16/16
If you're considering backing Neofeud and want your own personal portrait painted by yours truly and added to the game, do it soon as I'm going to be changing Patreon rewards regarding the portrait once I finish the game. (Can't really add more paintings to the palace walls after game is shipped! Hehe)

Patreon.com
Now, more eye candy for all you lovely ladies, and lords!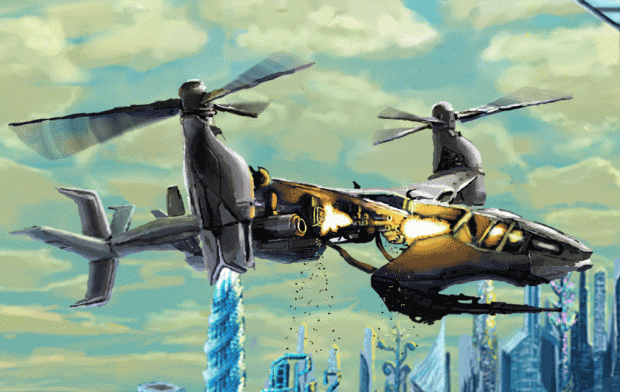 Renowned for its uses in coup d'etats of liberal progressive democracies across the world, the CJ-74 Archangel manned/unmanned attack drone AKA 'The Overthrower' is the final word in over-the-top firepower and military-industrial overreach. Manufactured by the Coch-Jobbs military dynasty, it was used to put down anti-authoritarian populist uprisings uniting human, robot, and transgenic resistance movements with deadly efficacy.
Its GX-M235 miniguns will tear through even the toughest of bullet proof armors and humanoid warbot chassis, and its thermion-tipped usurper missiles will clear any skyscraper board room or palace hall of your rival Neofeudal lords and ladies. The Overthrower is sure to leave undesired rulers dead, and their thrones, real estate, resources, and women, ripe for the taking.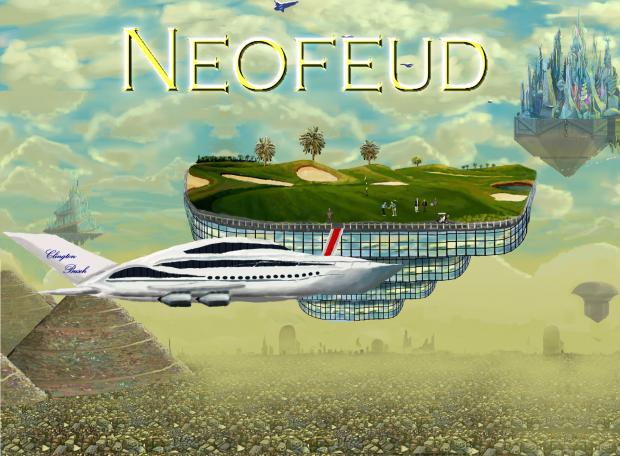 300-Foot 250-person luxury Zep-yacht with built-in superintelligence-run drone-airforce and missile defense system: 2.3 billion dollars.
Private Geosynchronous Sky-Island with android-maintained self-irrigating golf-course, 10 spas, zero-G racketball room, V-MAX VR movie theater and 300 million square feet of office space: 10.6 billion dollars.
Shaking hands with Chief-Executive-Monarch Warren Clington Busch of the largest Transplanetary Empire and knowing he has your back: PRICELESS*
(*Infinity Dollars)