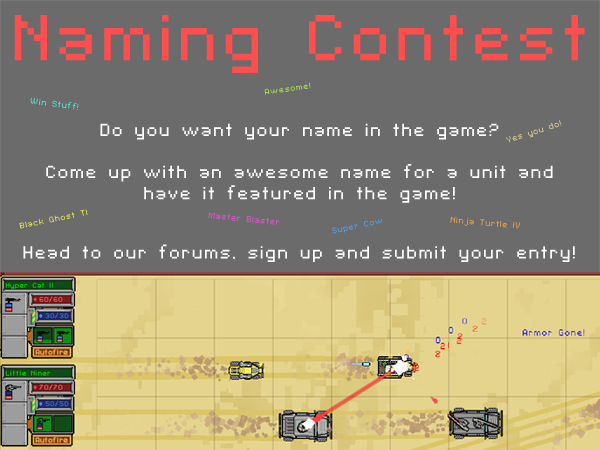 In the screenshots we've shown so far, your units are represented in the UI on the left side of the screen (The UI will change in the future, but that's for another blog). Each unit has a random generated name. Names consist of a [prefix], [name], and sometimes a [suffix] which are chosen from list of names. The game chooses a prefix at random from the list, then adds a random name. Then, it sometimes chooses an suffix.
The "sometimes" comes from the fact that names can be at most 14 characters long, including spaces. Else it won't fit on the screen. Most affixes are short, being either (roman) numerals or pseudo-military designations.
An example: [Hyper], [Cat], [II] – Total 12 characters
Another example: [Hot], [Crocodile], [] – Total 13 characters

Contest Rules
We've already created an extensive list of possible names, but we'd like to give you the opportunity to contribute as well!
You get the chance to have your best idea being featured in the game, as well as have your name in the credits! All you need to do is come up with some cool names, and post them on our forum.
Your entries will both be added to the random generator, as well as to a list of their own. A unit in the game may thus contain a part of your entry, or have the whole entry.
Please do take note of the following rules:
- Entries must contain a [prefix] and [name].
- Entries may contain an [suffix]
- Entries cannot be longer than 14 characters total, including spaces!
- Use to following format: [prefix], [name], [suffix]
- Names can contain only letters. Affix may contain numbers!
- Names cannot contain profanity/racism/abusive language
We (the devs) ultimately decide if something doesn't fit these rules.
All entries must be in before Friday, December 20th 2013. Winners will be announced before December 31st 2013. Winners will be contacted through DM on our forums.
To submit, head to our forums, create an account, and post your entry!