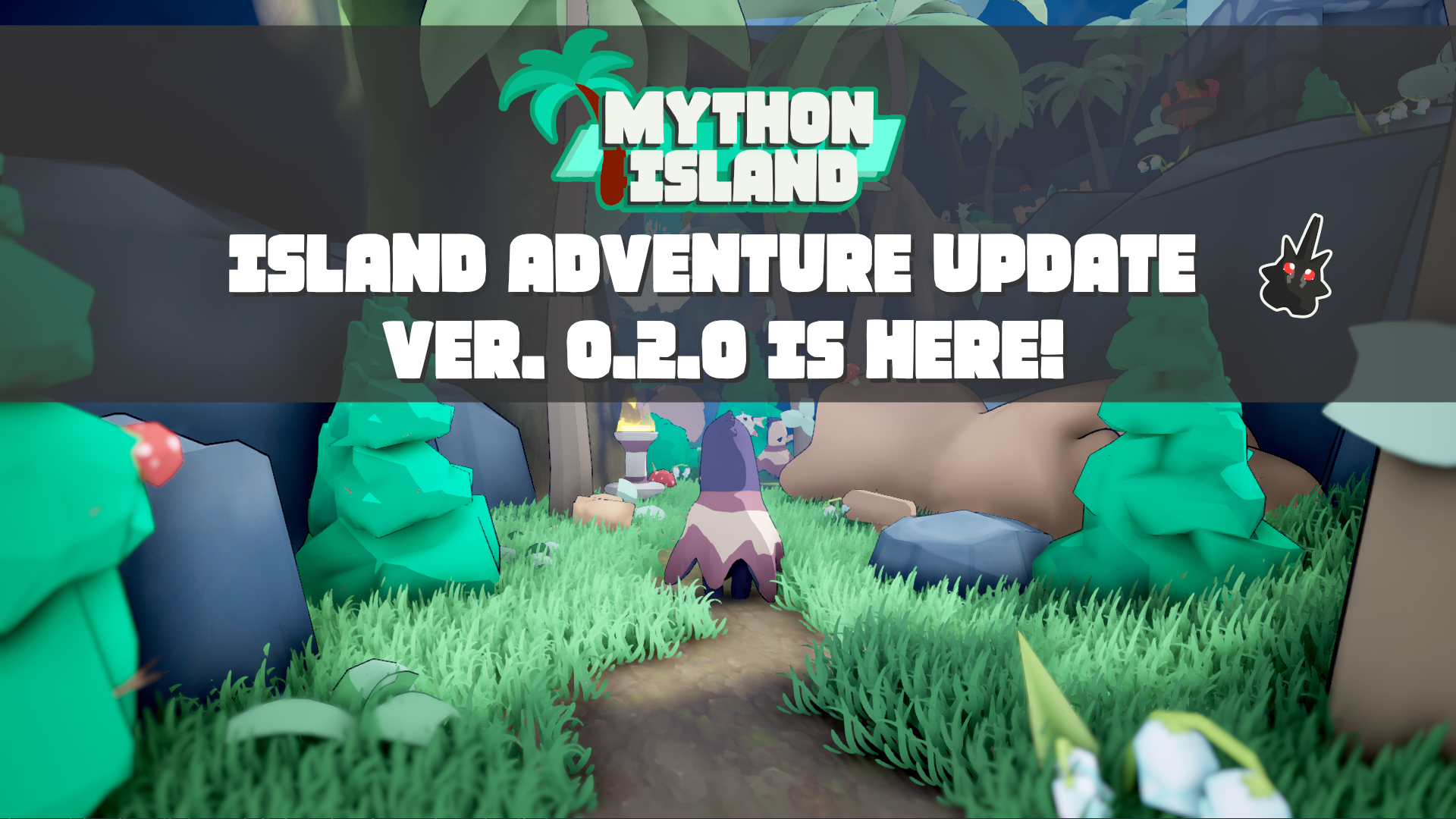 Hello everyone! Visionstead Studio here happy to announce that I've completed everything necessary to launch version 0.2.0 of Mython Island and it is now live! Otherwise known as the Island Adventure update this update is what I've been hard at work on over the past year or so. Adding in a large Open Island Adventure, new Survival game modes, updated Lighting and Post Processing, new Mython, Skills, Items, Balance Adjustments, a completely brand new OST, 40 Steam Achievements and much more that you can find below. If you want a simple list of changes you can find it at the bottom of this post!
I also want to thank every single person who has given the game a try so far and that I appreciate your patience with waiting for this update. Let's find out what has changed!
Island Adventure mode is introduced as part of this update. This game mode includes a full length RPG story and gameplay. You'll be tasked by a Traveler on the island to dispatch of the void threat. This task can be accomplished in any order you wish as NPC battles will scale in level as you make story progression. Additionally custom difficulty settings are available in the first village. Options like Easy, Normal and Hard modes along with Permadeath toggles and Experience toggles are available making the game available to play the way you want.
Explore a big island map full of over 100 Mython to discover, NPCs to meet, battles to encounter, side quests to take on, and secrets to find as you set out to eliminate the threat of the void!
A few big gameplay features have been added. The first of which is Mython Storage. This feature available within the Island Adventure mode allows you to swap out any Mython that currently won't fit within your party size. Any Mython that you bond with out in the Island will be sent here if your party is full! Additionally you may release any Mython you have bonded here too.
In addition to managing more Mython with this storage system, the ability has now also been added to rearrange your party leader outside of battle. This heavily requested feature is now included in both the Island Adventure mode as well as the Survival game modes!
If battles are taking a bit too long for your liking you now have the option using the new Fast Forward feature. In battle you may toggle this on or off to speed up any battle you are in. This feature is available within Island Adventure as well as the Survival modes.
If you wish to traverse the island adventure mode quickly be sure to unlock the Teleporter points scattered across the island! Upon unlocking you will be able to travel by teleport system to any previously unlocked teleport point!
The Mython Log has been introduced as part of this update! This feature will be available within the Island Adventure mode and Survival modes! Accessing it will allow you to view information on any Mython you have previously bonded with. You are also able to get a closer look at the Mython!
You may filter the Mython Log by element or choose to view them simply all at once!
Upon completing a certain quest on the island you will have access to Mython Fishing! Find any of the fishing points on the map and complete the event for a chance at a Mython Encounter. Each fishing point will have access to different Mython so be sure to check them all!
Radiant Forms have been added for each Mython! These radiant forms have a chance to be encountered in all game modes. Each Radiant appears as a different color than it's original form and also have access to an exclusive skill!
Survival modes have been updated and added as well! The biggest addition is Draft Mode. This game mode will let you choose how you want to play a run of the Survival mode! You can pick your entire team, choose your run settings (permadeath, captures on, story cutscenes) and have access to any items you may want for the run. This provides the ability for players to set the difficulty to settings that they feel they wish to play with. Of course the other roguelike modes will still exist and have received updates as well.
The main story for the roguelike mode has been updated to allow you not only your starting Mython but also an additional choice of a second Mython from a small group of Mython. This allows for a better flow of gameplay early on in the random survival game modes.
These old modes have also all been updated with the wide variety of new Mython, new Skills, and new Items that have been introduced so you will have a lot more options!
In addition to all of this a lot of other changes have been made to refining certain skill animations, redoing certain models, refining calculation of battle damage, rebalancing skills and status effects, adjusting sound levels, and overall making the game a more polished experience.

The game is going to be heading towards a full release in the next couple weeks so I hope you will look forward to it. I want to say thank you again to anyone who has supported me thus far. And I hope that you will enjoy the update!
I also now have a Discord Channel! Come join the community!

Otherwise if you wish to follow please check out Twitter.
Below you will find the overall list of what has changed too!
- Visionstead Studio
So What's Changed?

- Island Adventure Mode Added
- Draft Mode Added
- 26 New Mython Added
- 35 New Skills Added
- 50 New Items Added
- 40 Steam Achievements Added
- Completely Redone OST
- Adjusted Lighting across entire Game
- Adjusted Post Processing across entire Game
- Added Title Cards for all UI Menus
- Adjusted UI within Survival Modes for better Navigation
- Added Mython Log Feature
- Added Fast Forward Feature in Battle
- Added Mython Element Chart
- Added Radiant Mython
- Added Teleport System
- Added Storage System
- Added Icons for every Item
- Added New Icons for every Mython
- Added New Icons to Battle Menus
- Adjusted Battle Damage Formulas
- Adjusted Stat Growth for Various Mython
- Adjusted Skills Learned for Various Mython
- Adjusted Healing Item Potencies
- Adjusted frequency of certain events in Survival Mode
- Added 200+ Variable NPC Battles
- Added Post Game Quest and Boss Fights
- Increased Amount of Save Files to 8
- Implemented Auto Save Feature in Island Adventure Mode
- Fixed various Lighting Issues in Game
- Fixed issues with Shadows not displaying properly.
- Fixed issues with volume changes not saving globally.