This week the focus has been mainly on experimenting with new weapons. But before we get to that, I'd like to show the result of what I started working on last week: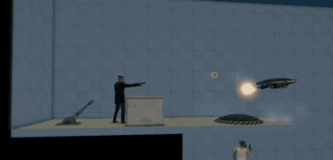 It's a drone-like-thing which roams around until it sees you. When it does it follows you and tries to kill you. BUT! The cool thing is that if you manage to get underneath it you can grab on to it and use it's weapon against other enemies!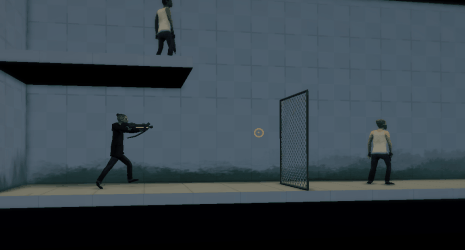 Next I started playing around with some new weapons, like this short range impulse-gun-shield-combo. You can use it to launch you a bit further in the game, or vaporize an enemy at close range. Holding down the right mouse button activates a time limited shield which bounces back the enemy bullets. It's pretty good fun!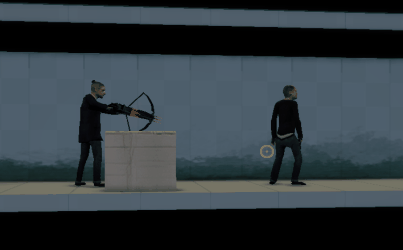 "I used to be a bad-ass like you, but then I took an explosive arrow to the knee."
This is a "double cross bow" which fires an arrow that you later can explode by pressing the right mouse button. Firing it is silent, so you can use it to set up some traps, if you feel that's how you'd want to tackle the situation.


This is a rifle which is quite powerful and can be shot rapidly. Holding down the right mouse activates the long range mode which allows you to take out unsuspecting fools from a distance.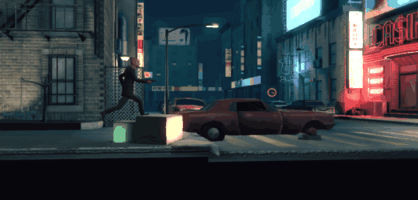 And lastly, I just got a little idea of making it so you can open a car door in the background to turn it in to cover. Which makes me think there should be more things you can interact with in the environment. Will have a think about that later...

Aaaand, that wraps it up for this week. There could potentially be less updates from now on, since I might shift gear a bit in to actually putting all of this stuff together in to an actual game. Would be cool to release some gameplay videos showing these things in context.

Until next time,
Piece out, bruv!