Things have certainly changed since the last one was released 3 weeks ago. This post should be get everyone up to speed with what is happening with the game and where we are going from here. Let's start with the most visible changes: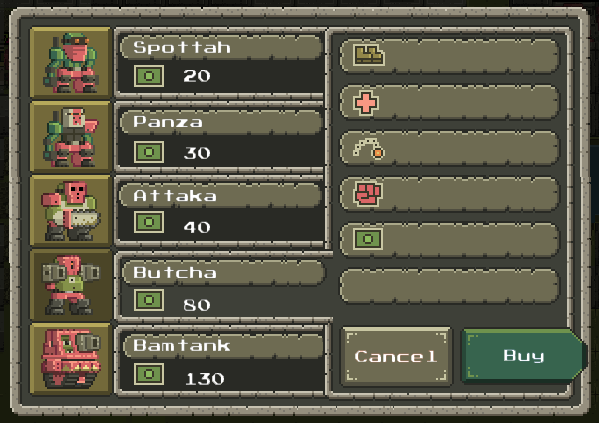 User interface 2.0:
We have received your suggestions and feedback and we have listened. It has been done. After a few weeks of playing with the user interface we have found a good balance between beautiful and usable. The ui matches the tone of the game and it works well with both a mouse and finger (having a blast playing it on my 'droid tablet). All the UI elements positions and images are stored in a layout file (screen_name.lua) and can be changed at will, in order to support custom skins.
Commanders and balancing:
Commanders play an important role in the outcome of a battle: They act as a profile for the player, with strengths and weaknesses. Some allow for huge damage output but lack defense, some are more balanced in all aspects while others rely on a high income to create stronger units. Further down the line we plan on introducing commanders as physical units on the battle field (think of Heroes in Warcraft 3). Once the campaign kicks in the commanders will be unlocked as the game progresses. Local multiplayer is also supported. On the commander screen in free battle mode players can choose between playing a game against the AI, a player or just spectate a battle between the AI.
Early Access release:
We planned on releasing the game as a sand box TBS. The idea was to design and make a turn based strategy game that could be played in short bursts anywhere: On the train, while commuting, at work or in-between classes. Scrolling through the comments on indieDB, messages on twitter or suggestions from other sources (devsofa, emails, twitch) we noticed one thing: Many were asking about a campaign mode and you know what? We will add it. It will take more time than anticipated but it's worth it. As such, we will release the game in an early access-fashion on the 28th of January for all platforms in it's current state, alongside a road map of planned features and release schedules.
But that's not all: Not only will the game be released DRM free, we are also open sourcing it for non-commercial use. This opens up the following possibilities for those who purchase it:
You are free to mod it and make derivatives
You can compile/build the game to work on platforms I cannot support (for example, you can get it to run on a Windows Phone Device)
You can improve it or certain aspects of it. Hey, if you plan on making your own TBS, you might as well use mine as a prototype.
That's it for this update post. More to come as we approach the 28th mark. Thomas is hard at work at improving the tiles and animating them while Grace is rocking up some new sounds.