As you may have guessed the mod team has been working harder then ever to get as much work done to make up for the 7 months lost time, I've been working on the level design For our first demo (Planned release June) the demo is actually a open ended game where you get the capability to walk through a soviet Base as a soviet soldier, You will be capable of touring the facility and talking to many of the dedicated clone workers under soviet control, another thing you will get to do is go to the indoor firing range, were you will be able to test an array of different weapons. Debilz has been working hard on some music for the level (may I say propaganda Field music) while Our concept artist though is one to be proud of, he is one talented person, The screenshot below are just some of his work, Oddly enough the first one is his first concept for the mod, and the 2nd on his latest. he even made the 2 faction logo's.
Oh and happy day The site is now 80% done, and can be considered a regular site. I've added a lot of new things to the site, such a brand new list of game features, and tons more over information. I also want to announce that I will soon be opening a completely different site and moddb page for sole survivor 2, So expect to see that up soon.
Oh and since I promised a screen shot: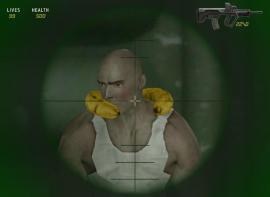 This one will just keep screwing with ya and screwing with ya and never let go!
(We do realise this is a re-post, some errors due to my part, with the new v4 layout, this is not to be posted on the main page)