"Animation is different from other parts. Its language is the language of caricature. Our most difficult job was to develop the cartoon's unnatural but seemingly natural anatomy for humans and animals."
- Walt Disney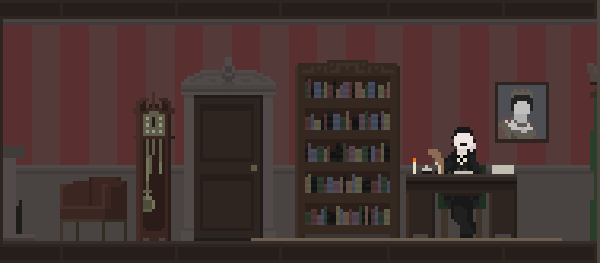 Let me preface this post by saying that I am not an animator. I have very little experience in animation, and have been picking up this side of things in order to give our artist more time on creating content. That said, lets talk a little about some of the things we've been doing lately.


Above you can see a portion of the animation for one of an early level Foes - the Whiskey Tosser. This is a ranged enemy who harasses Poe from afar by chucking bottles of whiskey at him. He doesn't have much health, but when the player's focus is on closer enemies, he can be a constant annoyance until he's taken care of. Though the image above isn't complete, it gives you an idea of what the attack animation will look like. The Whiskey Tosser reaches into his coat, procures a bottle and hurls it towards the player. He'll occasionally take a swig from the bottle as well. The bottles will be independent objects, hurled through the air, in engine.

We've also been working on getting some animations prepared for cutscenes, as well as our Kickstarter video. These animations are currently being played as gifs created in Photoshop, but once they are added to the game, we will be able to control the speed of the individual frames to a much greater degree. As you can see in the animation above, a lot of our animations require us to create the illusion of movement with very little room. Her face is only 6 pixels across, and the parasol doesn't look very good unless its perfectly level, or perfectly diagonal. It's a fun challenge, and we are quite happy with the results.
So that's just a portion of what we've been working on this last week. Our testing build is coming along nicely, and we have a handful of new sounds we plan on incorporating soon. In the meantime, check out the video below for more animations, as well as a sample of some of the loot.
As always, thanks for reading! Let us know if you have questions!
- Wrought Iron Games