??? wrote: It is a wonderful morning in Violet Land. Standing on one of my team's new towers, looking down at the enemy's kingdom and planning my next journeys to terrifying dungeons.
... Wait, you haven't seen the towers, yet? Then let us tell you about this new feature of the game!
The two teams are now able to build towers that benefit the whole team in some way (by providing money boosts, say, or in any other way, really). But in Dungeon Deities there is, of course, always a chance for your enemies to sabotage. Of course, you can pay to attack the construction of enemy towers. This service is provided by Violet Land's only bank, and its boss Gérard is right at your service: He offers two Towers for the players to collect blueprint parts for. Each tower needs a specific set and amount of blueprints. Sometimes, you'll find blueprint parts in some dungeons you traverse - and you'll have to decide for which tower you want a part. As soon as your team has collected all the necessary blueprint parts for one of the towers, it'll be built (and the other tower is out of the race).There are at maximum five tower construction places in each team. You can then start to build the towers higher and higher - Aim for the stars! The closer they are to the skies the more powerful they are.
When will you be able to play this game? Well... there is no simple answer. We have a roadmap that we are trying to follow. Of course this will not work out as planned, and of course we'll miss the target, but we thought we can give you a short idea of when we want to start what.
There'll be a (presumably short) private beta, before we launch the huge public beta. Afterwards, it shouldn't be too long before we launch the game. This structure is the result of us learning after optimistically starting right into a (somewhat) public testing session last time - the game was full of bugs, some of them quite big (players getting stuck, for instance). With the private beta, we want to make sure that this time we've fixed those huge issues, and to give us time to implement features that we see are needed when many people play. In the public beta, we want to see just how many players can play at once, and to optimize the code for that. Of course, we'll still fix bugs, and perhaps add some new tiny little things here and there.
Currently, we're not too far from those beta sessions. We need to add more content, but all the big features are there, mostly. So we're thinking that you'll be able to try the game yourself this summer (but imagine these words to be spoken while the words "DISCLAIMER: We might not make it" flash in bright red letters).When exactly we'll launch strongly depends on how this beta will go. If all goes according to plan, then that'd mean launch somwehere in the last quarter of this year. Just in time for Christmas, which is a great time, as no other game ever launches on Christmas!
There is a second big question: Will it be free? Let's cut to the chase here. The current plan is: It won't be entirely free, but you'll be able to play as long as you want without ever being forced to buy a subscription. The current idea allows you to play the game entirely for free, for as long as you'll like, but you'll stop gaining new levels after a certain point. This will prevent you from entering high level dungeons and using more high level items, as well as from buying some tiles and items (but we'll try to give you a lot of variety even at lower levels).
To stress this fact, this will not prevent you from playing itself or building high level dungeons. The subscription will be monthly and can be cancelled and reactivated at any time. We think that it'll be only a few dollars per month. We're sorry if this payment model disappoints you - feel free to give us feedback on this! It's very important to us to find a fair payment model, so if we've missed something that in your opinion makes this a poor choice, we're VERY interested to hear about that.
This is not yet set in stone, so if you have issues with that, please share that (here or on Twitter or via email at support[at]dungeondeities.com)! (And to adress this in advance: We're not huge fans of the micropayment-model, and it's doubtful there's a fair, fun variant of it that works for this game - but of course, if you can think of a way, we're eager to hear it!)
Now that this has been said, here's a video of a new dungeon, with new decorations, and some gear. We hope you like it!
Music by James Flamestar.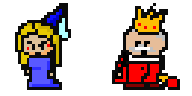 Want us to notify you once we start the next alpha test?
Subscribe to our one-time-newsletter at www.dungeondeities.com - or watch us on IndieDB or Twitter for the news!