Hey everyone, Alpha 0.6 of Monocle has been released. This version has several new features and bug fixes, including an all new on-screen user interface for the toggling of lenses. In addition to that, it also includes quite a few changes based on the feedback that I got from the players at Boston FIG, as well as things that I'd observed as the players were playing the game. If you'd like to read in more detail about the list of changes, feel free to continue reading. Otherwise, you may play the build by clicking on the link below.
---
---
On-Screen GUI for Buttons/Keys
One of the biggest things I've noticed was that people were making mistakes with the keys/buttons they were pressing during the game. On way that to help remind the users of which buttons to be pressing is by introducing the on-screen buttons overlaid on top of the screen. As you can see in the above animation, the buttons in the bottom-right corner both expand/contract and come in/out of focus as the user chooses to toggle the lenses. We'd love to hear if this helps in any way.
Crate Pushing Bug Fix for Level 08 (Previously Level 05)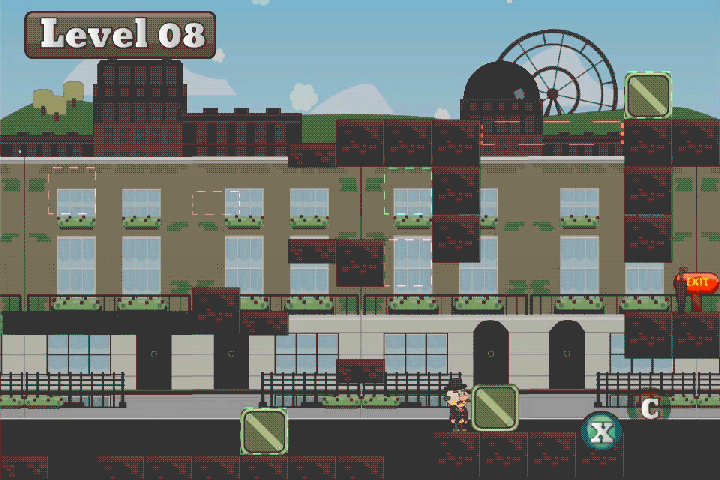 There was a slight issue with the crate pushing on what was previously Level 05, which has now been moved to Level 08. The crate would seemingly encounter bumps along the ground, making it difficult to get it into place. This issue has been fixed, as the image above shows.
Other Changes
The list of other changes made are:
Added Shift+H debug key as a way to skip over the level immediately.
Added G debug key to toggle between on screen GUI having keyboard/controller labels.
End screen added. No more looping back to first level for no rhyme or reason.
Re-arranged level 05 to be level 08. All levels maintain same relative order.
Introduction cutscene added at the beginning.
Main Menu screen added.
Total of 8 levels to play.
Level completion panels added.
Gameplay Video of Level 1
The video above showcases the new in-game UI in action.