Hello everyone! I'm back for another update and I hope that all is well with you and yours!
Last week was quite busy and crazy! Of course I am a little on edge given the game is going to be releasing in the next few months. There is still a lot to do and a LOT of polish to add to the game. Either way, plugging away as usual and excited by what I see. It is coming together nicely. With that said, I want to share with you what I will be working on this coming week.
So, the AI is in the game and being testing daily and I am now working on the UI interface for some of the very, very important windows you the player will need for all of your executive decisions. This week I want to share with you 1/3 of the complete employee picture. I want to share some of what you will need to know about each employee, what they can do and how they go about doing it. Also, you might want to know the different tiers of employees and how they function. Well this week I will share that with you.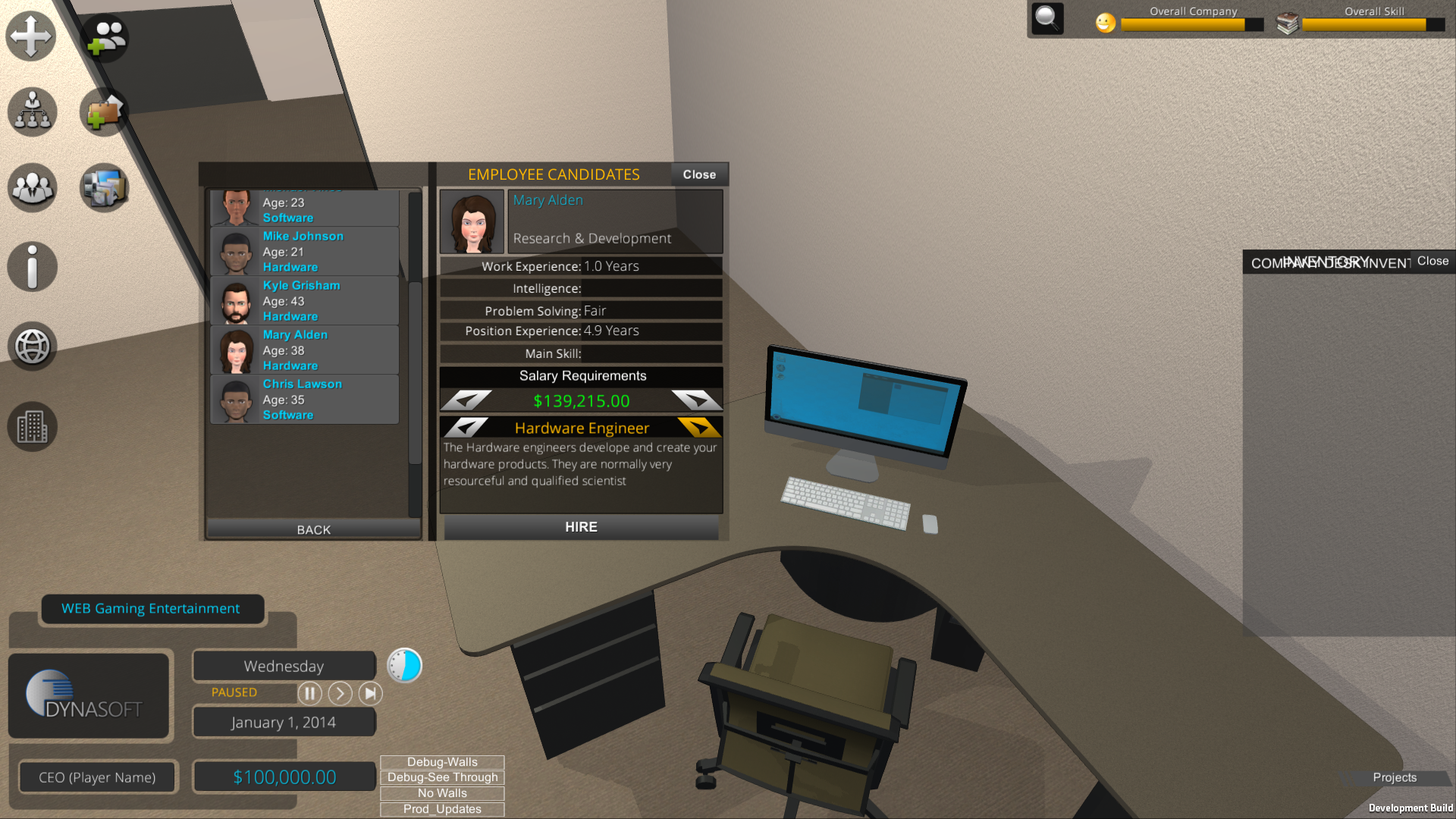 Let's begin. Tech Executive Tycoon is at its heart a simulation game filled with plenty of different strategies to achieve the results that you want. I want to call it a grand strategy game and I might be correct in doing so. In this game, there are many actions you the player can take, many decisions you can make that have consequences. You are literally in control of your own virtual company. There are a lot of decisions to be made. This game can be very detailed to the point that you can micromanage to the very minute detail. For example, if you want, you can hire every single employee for your company, but that could be very intense as some of the satellite offices can house over 400 employees. However, the freedom is there to do just that. Also, you can then manage each of those employees, trying to make sure your workload demand never exceeds your supply of capable employees. However, in the game, you can hire Executives and Managers to handle the mundane daily tasks for you. Let's talk about each employee group.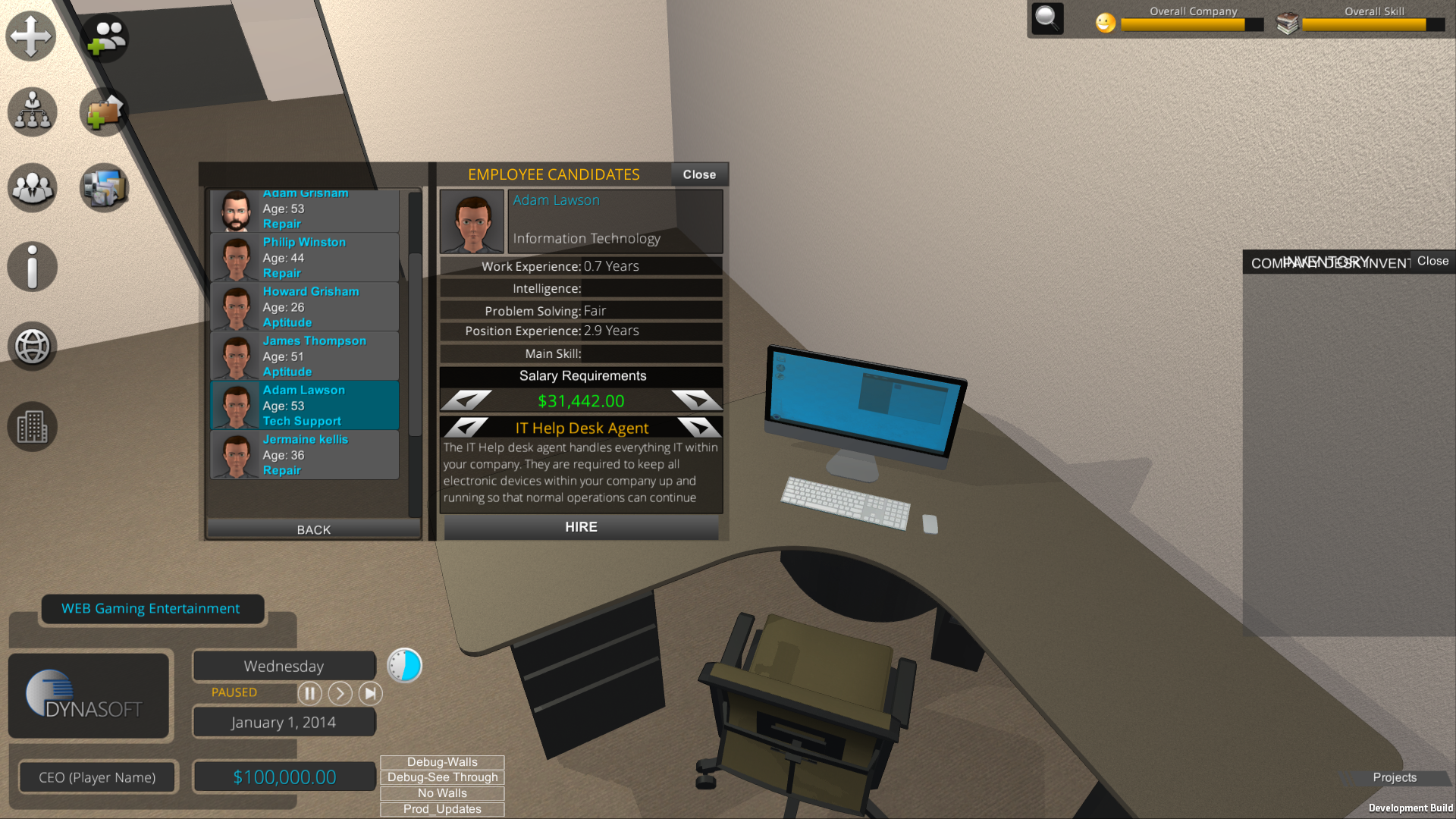 What differentiates each employee group is how they function and what they do for your company. The Base employee fills a role with other individuals generally working together to achieve a mundane daily task like accounting or HR paperwork. Then we have specialist or skilled positions like Engineers and Scientist. Next we have Managers who manage teams of the aforementioned groups. Lastly, we have the Executives which are central to this game and have an interesting purpose. Let's break each of them down and we'll start this week with the base level employees.
The Base level employees: Base level employees typically fill a generic role that is quite important to the function of the company.
Let's start with the Human Resource department.
HR Generalist: The Generalist generally are the middle men between you the owner of the company and each employee. The Generalist in this game's main function is to augment employee happiness. Each employee has many factors that affect their happiness. Generalists purpose is to effectively provide a buffer (minimal buffer, but quite effective). So they create and facilitate employee programs to help each employee deal with life at your company.
HR Recruiter: The recruiters do exactly that. They are responsible for creating enticing and engaging documentation and recruitment programs to attract talent to your company. You will be able to designate where they concentrate their search for talent. Once you do, they begin their work and every month you will see fresh talent in your candidate pool to select new hires from.
HR Trainers: The trainers purpose is to orient each new employee and facilitate training for existing ones. When you designate an employee or an entire office to be trained, the HR trainers at that site jump into action to facilitate the process. However talented they are will have a direct effect on the overall effectiveness of the training program you've selected.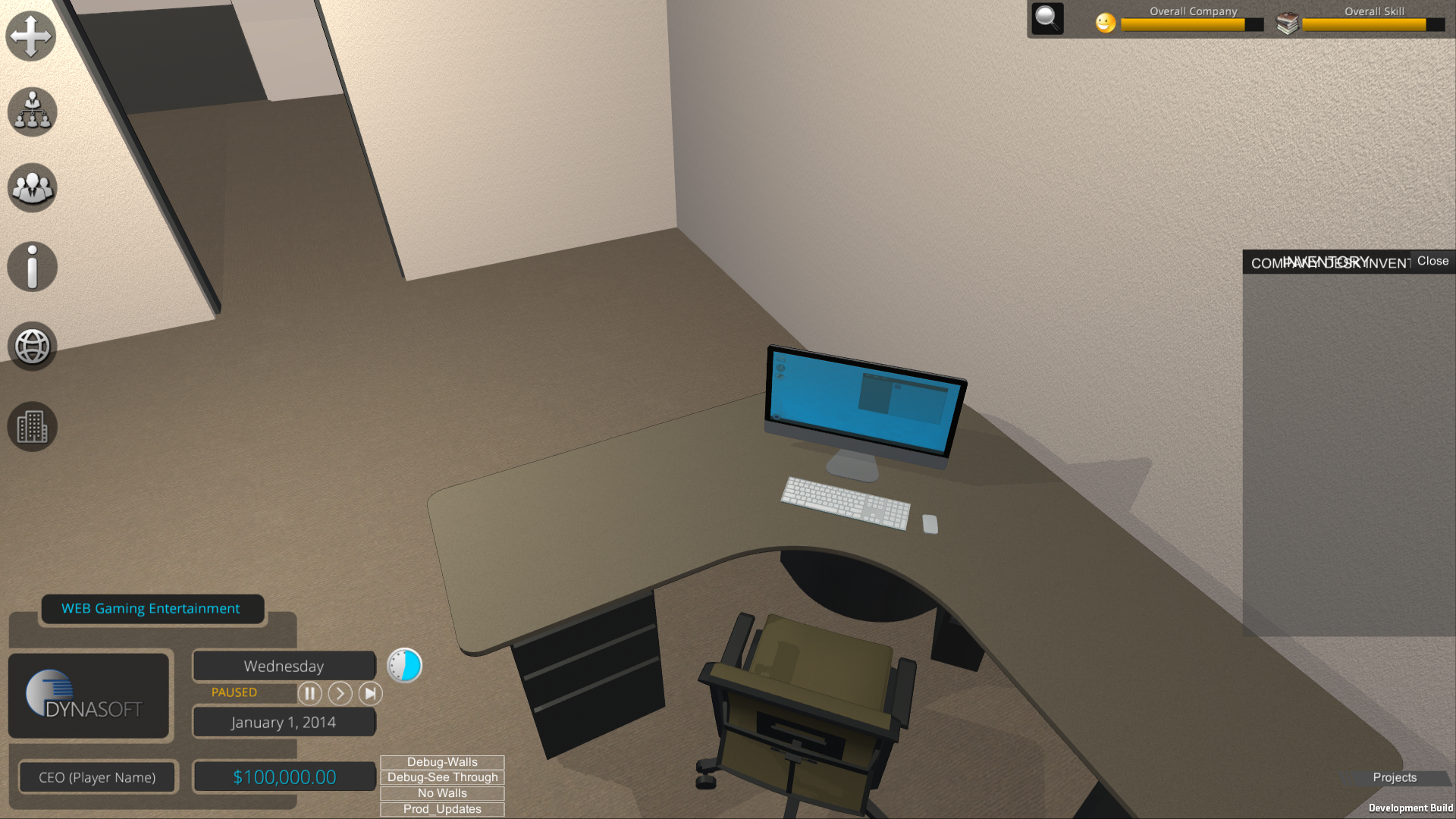 Finance Department
Finance Accountant: The accountant is responsible for balancing the budget while accounting, recording and reporting accurate financial information throughout the company (To you the player if there is no CFO…) and outside of the company (investors if you have gone public). If they are adequately staffed for the amount of funds flowing through the company, they will generally be successful. However, each employee has attributes that can manifest in many beneficial ways for you the player. Normally there are fees associated with operating the finance department, but sometimes given the makeup of your team, some talented individuals may find deals on a regular basis or negotiate their way out of some normal operating fees saving your company money.
Sales / Customer Service Department
Customer Service Agents: Once you have released products, or if you've picked up some call center contracts, you will need these employees. They take calls for your company (for your products, and others) and they are the direct point of human contact between you and your customers. They have to learn products before servicing them though, so make sure if you have a product releasing soon, you designate your call center to start training your customer service personnel on it. However, you can delegate processes like this to your Executives and managers to handle. More on that later.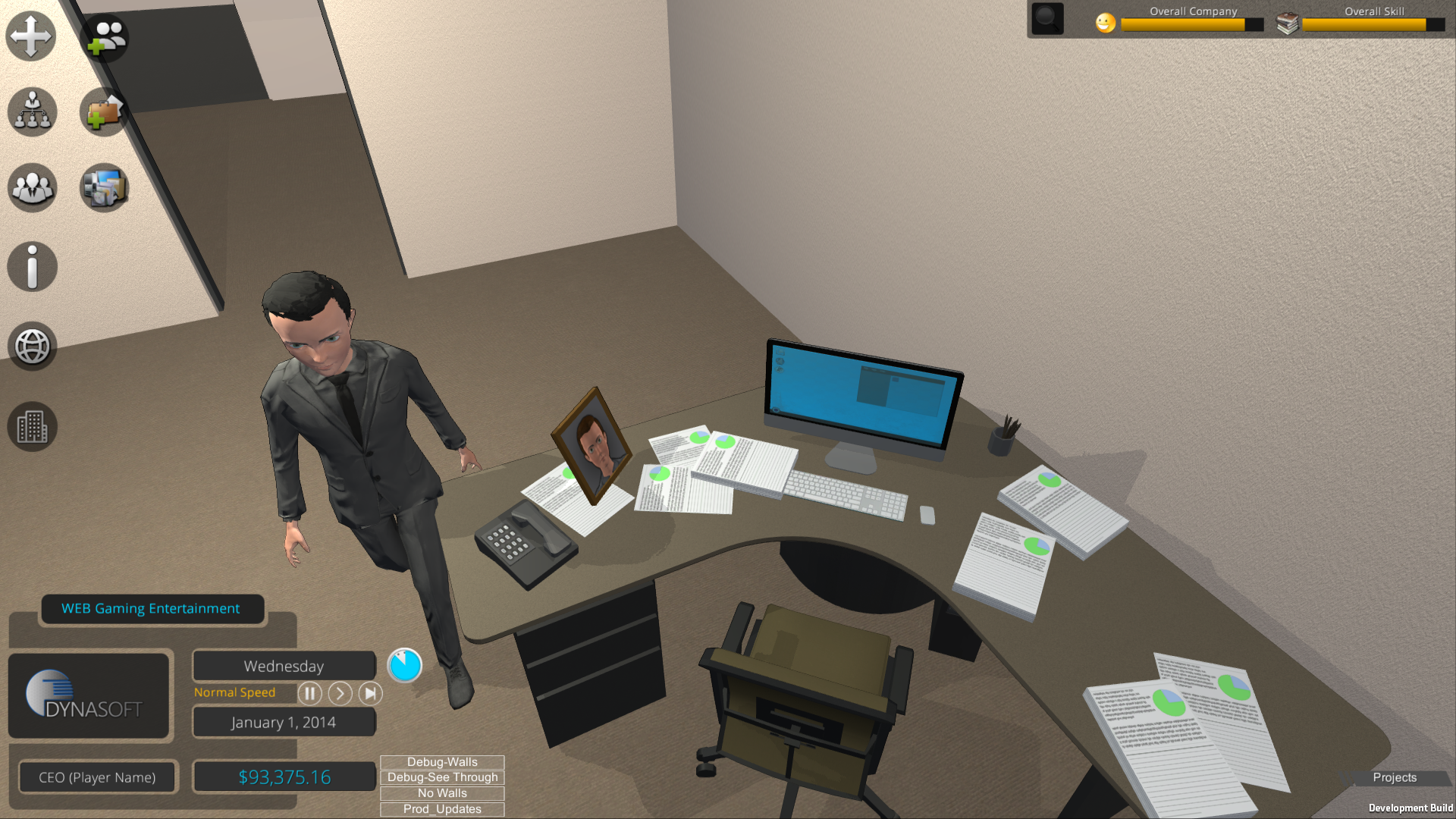 Information Technology Department
IT Tech Support Agent: Just like Customer Service, your tech support agents help walk your customers through technical related questions. These employees are also housed in the Call Centers of your Corporation.
IT Help Desk Agent: The help desk agent is quite similar to the Tech Support agent except they focus internally. In the game, your company equipment breaks down and when it does, so does production in any department. So it will be important to keep a few of these individuals around, because they can keep downtime to a minimum.
IT Repair Technician: The repair technician receives broken or faulty product back from customers or stores and are tasked with repairing and resending them where they came from. What is important to know is that although the repair technician skill is central to their abilities, there is one stat on every product that has a direct effect on how easy repairs can or cannot be for your products: Reverse Engineering. During the creation phases for your products, depending on your designations and your Engineers skills they will take care to engineer the products so that they can be easily repaired. If this fails, repairing your products will become infinitely more complicated, elongating repair times and angering your customers.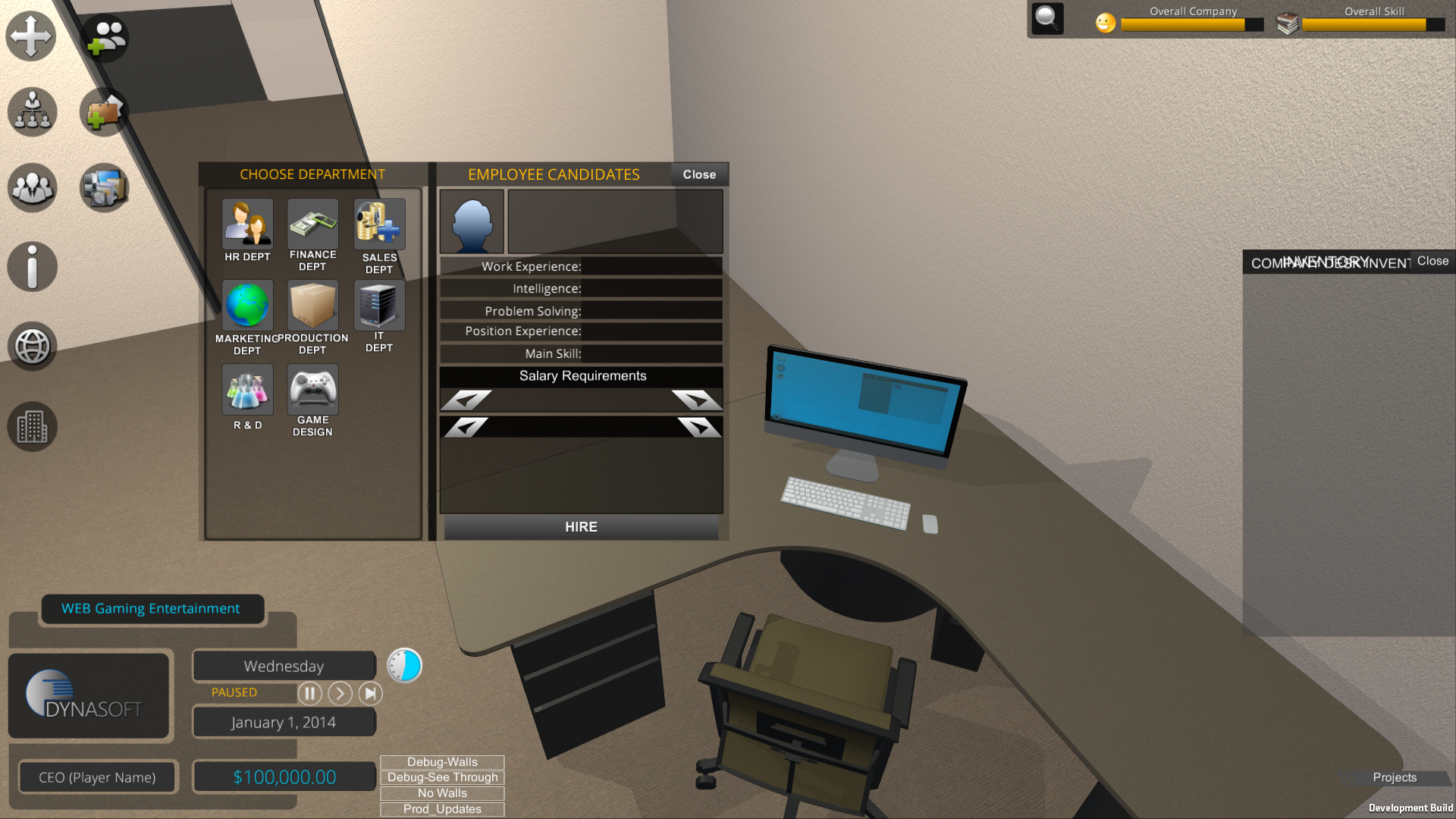 Marketing Department
Marketing Analyst: The analyst role is to make sure the company has as much accurate market information for products and services. This includes the average price ranges of any product you create to just updated information regarding any industry you might be in. You can do a lot of this yourself as the player, but why when you can hire others to do it, right?
Marketing Specialist: The specialist are the ones that actually design campaigns, materials and strategies to market your products.
Operations / Manufacturing Department
Production/Warehouse worker: The warehouse worker is the guys and gals that manufacture, package and ship your products worldwide. They are responsible for safely handling your products, and keeping faulty product to a minimum. They also handle returns to get them to your IT Repair technicians.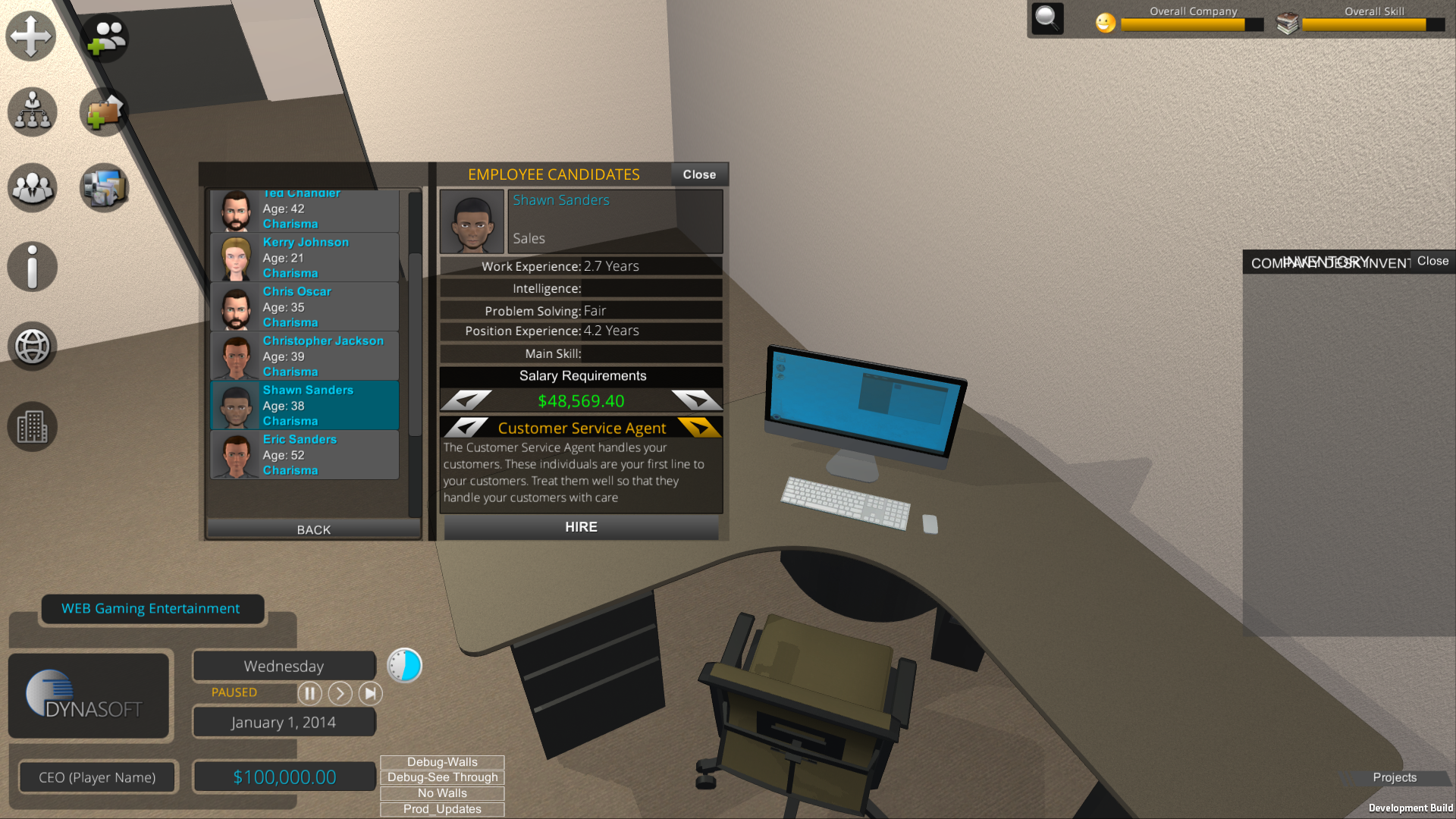 So that was the first set of employee introductions. There is more to come. Next week we will discuss the Specialist and the detailed way in which they work to operate within your company. However, there is a part two to the base employees as well which will break down the relationship between Manager and Employee when we get around to the Managers. Thanks for reading and I will see you next week!