Today is the day we've all been looking forward to, today the first part of the saga that is Momento Temporis will go into full release. During these past four months in Early Access, a ton of feedback and ideas for the game has been collected from the community. A big thank you to all of you who have contributed.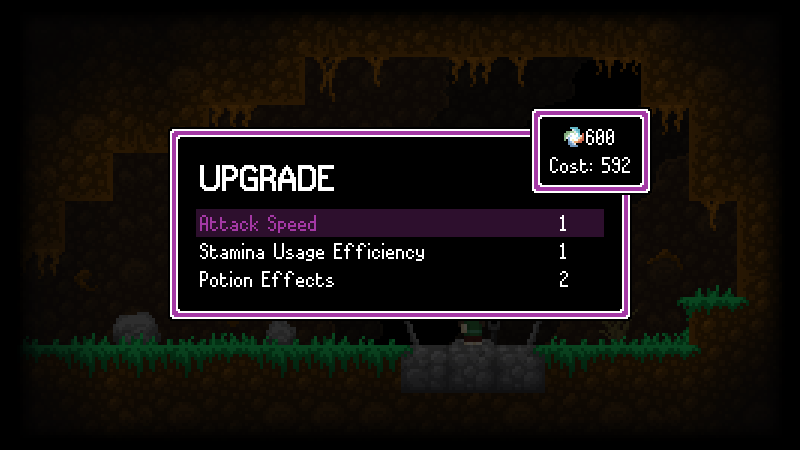 Image: Stat Upgrades
This is the first complete part of the game to be fully released into the community. This will give you many many hours of fun (and frustration) as you find your way through the three existing regions and all their secrets, challenges, enemies and bosses.
For the release, the community has helped out with translations for the following languages; Swedish, German, French, Polish, Chinese, Russian, Ukrainian, Italian, Czech, Portuguese, Spanish and Hungarian.
A few pointers for when you play the game:
Don't just dodge your enemies, finishing them off can earn you many different kinds of perks.

Don't forget to check the inventory and map regularly as you progress through the world.

Don't forget to keep an eye out for secrets, that seemingly solid wall might not be so solid after all...
Here's a list of the changes since the last patch was released.
Added:
Spirit Essence, a currency used for upgrading some of your stats. Can be found in chests or be dropped by enemies.

Stat upgrading stations.

Challenge rooms.

Crystal keys which unlocks said challenge rooms.

A final challenge at the end of the current game.

Long distance teleporter in Cold Mountain.

Power cells, which powers up inactive long distance teleporters.

More icons to the map.

Some missing sounds for monsters and spells.
Fixed:
Crash involving spell casters' homing projectiles.

Some texts missing in some languages (English is used as fallback language for not yet localized texts).

Some letters showing incorrectly in some languages.
Changed:
If you encounter any bugs or glitches when playing the game, please get in touch through support@501Industries.com or log the issue in the sub forum in the Community Hub. 501 Industries also has a brand new group where all their games can be discussed, check it out here: Steamcommunity.com.
Happy gaming!