As we are moving closer towards our release, we would like to update you all on some of what we are working on right now! We are, of course, continuing to polish game mechanics and fix any bugs that may arise - we would actually like to give a shout out to Doğan Kuray Güler, Malus, Derek Cassady, Airborne - these people have helped us a lot with fighting a very elusive bug that prevented some players from interacting properly with objects within the game. Many thanks to these guys and their effort. This bug has been identified and fixed and will be introduced in the next patch!
On the other front, we are working hard on our exciting DX11 graphics, but this is pretty complicated work, involving both programming and art aspects, so we probably will not be expecting it to be ready in the next few patches - but we will keep you updated. We are definitely going to provide you guys with more customization options for your characters later on, as well as different localization languages (thanks again to our awesome community) - so we'll let you know as soon as they're ready to be implemented.
Also, we are excited to announce that we've taken a big step in making our character animations come alive using motion capture technology. This transformation will take a bit of time, but we have started taking our first steps down this path; we've already completed the capture part (and totally had fun doing it!). So we'd like to share our excitement with this not-so-short "behind the scenes" video we put together for you
Mocap animations, together with our newly-designed character turn mechanics, should further add to the sense of realism in Life is feudal!
Last, but not least, as some of you may remember, we've promised to implement a couple of the Top Voted player suggested features (Lifeisfeudal.com ) to LiF:YO. So from now, we have officially announced that the voting is over! Thank you to all of our players for getting involved. The final standings look like this: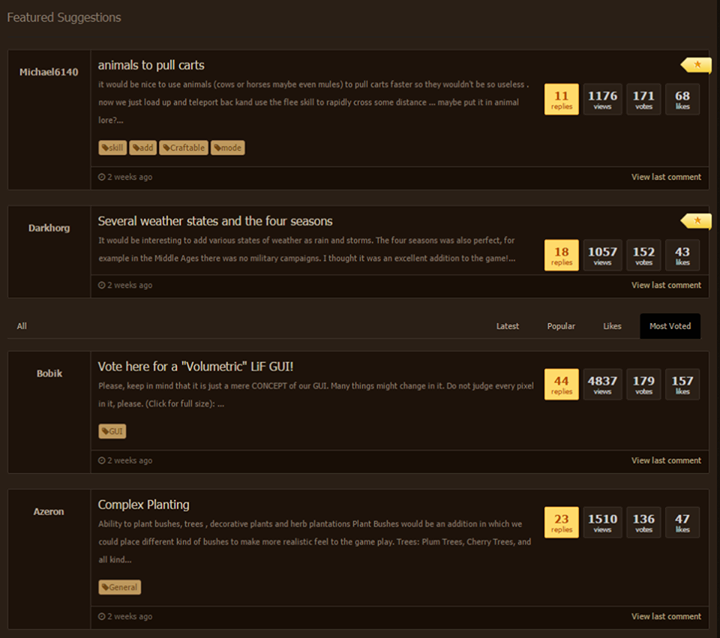 So the most voted suggestion is: Lifeisfeudal.com
The second place goes to: Lifeisfeudal.com
We will do our best to implement these features to the game, however we do reserve the right to modify and alter the ideas expressed in these posts to better fit the overall concept and playability of Life is feudal, as well as the limits of our own humble abilities.
We would also like to note that the third voted was an idea of complex planting: Lifeisfeudal.com We definitely like this one, and agree that herbalists should have the ability to grow herbs, we will thoroughly look into this suggestion and will likely implement it shortly after the release of LiF:YO
P.S. We received a number of questions regarding making character identification possible at a long range. This can be done, but first we would like to know your opinion: should you be able to identify a player ingame from a distance, by moving your crosshair over their character to be able to read their name, or do you prefer the realistic, old-fashioned way, where you have to be close to another character to look at their face in order to know who is in front of you. You can answer by simply commenting on this post!