Hey all,
Hope you're doing okay through this pandemic the world is going through right now. (Never thought I'd say that in an update.)
MMA Simulator is also 30% off at the time of this post.
Here's a run down of what's new in version 1.18, it's a big one!
Changes to simulating time progressing
To sim forward in time, there is only one button now instead of the previous three (day, week, month) - once pressed it will automatically sim 1 day each second. There's two reasons for this:
It was easy to miss mail messages before, which could mean missed fight contracts / fighter departure warnings etc.

Now you will be able to see fighter skills going up in real time (in the training screen and profile)
The only downside I can see to this method is getting to the next event - maybe you don't need to watch your fighter skills changing for a while.
If that's the case, you can go to the event preview screen and click 'Sim to Event' to simulate each day up to the event.
New art!

It's been a while since anyone has mentioned it, but when the game was released the fighter art was often regarded in a not so positive light. I didn't disagree, some of the 3D models looked like they'd cooked too long in the microwave.
I hired an artist to replace all of the portraits with more stylized fighters. I really like the new look, and it gives the game a unique style that works way better than trying to look realistic like before.
Skill indicators
If you simulate days while in the training screen, skills will now turn green briefly as they raise. Injuries will show up in red both here and on the fighter profile screen.
Fighter profile screen improvements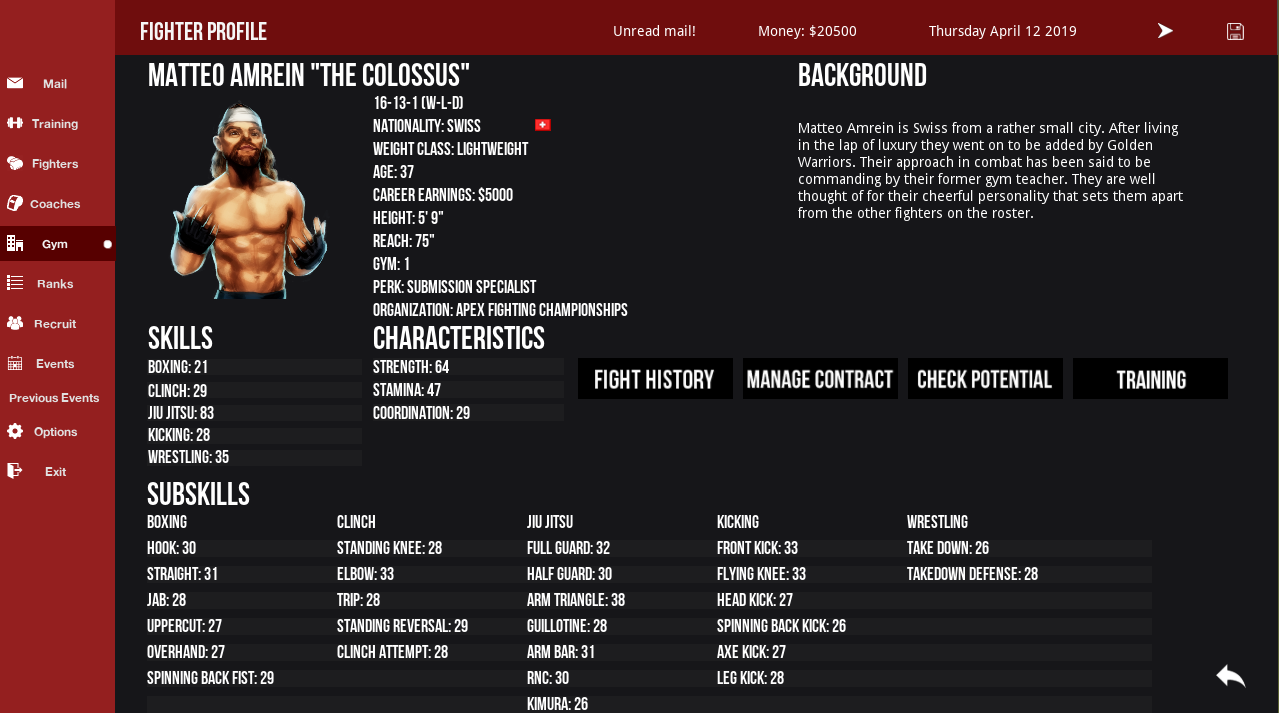 The fighter profile screen has had some minor improvements. I will probably revamp this screen entirely in the future, but for now it's a start.
There's now a training button here to take you directly to the training schedule for the fighter you are currently viewing.
Mail screen improvements

The mail screen has been completely revamped - it still functions the exact same, but looks much better than when I originally created it.
Event preview screen improvements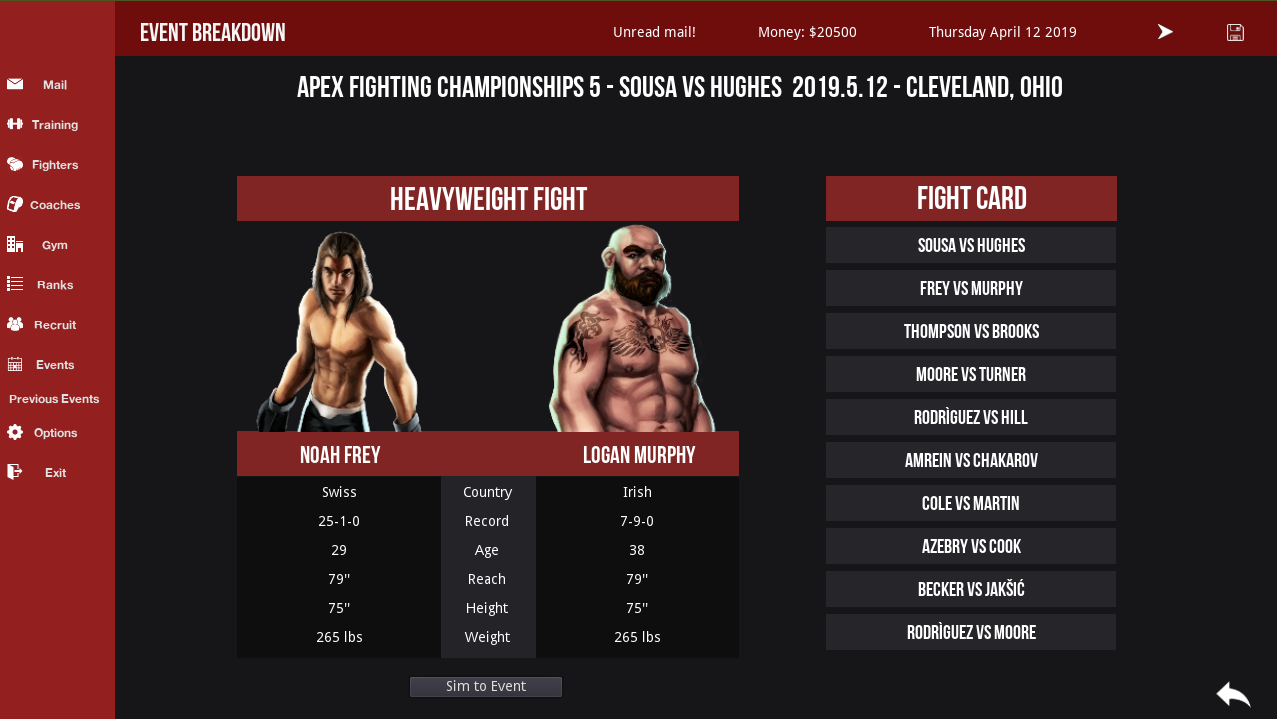 Not a total revamp, but similar to the mail screen I replaced some outdated elements I relied on when it was made.
Balance changes
Fatigue now reduces while a fighter is injured.
Bug fixes
Fixed possibility of gym initially starting with 0 fighters
What's next?
My next priority is improving the fighter database - adding retirement for fighters along with new ones coming up through the ranks. As always I'll be improving the playability where I can too.
Any feedback is greatly appreciated and helps me out a lot. Right now aside from the Steam forums, there is a subreddit you can post to at Reddit.com
All the best,
Nick