And we're finally here! I'd like to go over a few changes that I've made since the last post. Specifically the interface has got a face lift:
I've also added a bit of a narrative to the game. The game tells the story of a young man as he tries to chase his dreams. You'll get bits of the story depending on how well you'll do in the stages. The better your score, the more of his story you'll see:
This is how you'll be scored. I went with a traditional golf formula based on moves and par. This score card is a little incomplete. I want to do more with this before full release: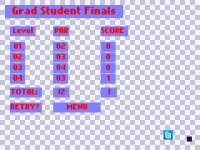 So, now that you've seen Missense, what is it again? Missense is a gene swapping puzzle game about a young man trying to live his dreams. In the current alpha, there's at least 10 puzzles to solve. But that's going to go up to about double or more come final release. There's going to be a strong narrative as you go through the story mode levels. And at least a couple more modes to follow including Emergency Room with timer based puzzles and Mad Doctor with smaller and more genes to swap. The Missense public alpha includes:
-2 stages
-10 story based levels
Currently for full release is planned:
-4 Main Stages
-28 story based levels
-Nerve racking timer based 'Emergency Room' mode with 9 levels
-Twisted and illogical 'Mad Doctor' mode with 9 levels
-A strange mix of both timed and illogical in 'Elimination' mode with 9 levels
-A grand total of over 55 levels
-Score based level ranks
-Follow a young man throughout his life as he chases his dreams.
Here is a trailer for the game:
And here is the download:

Let me know what you think of it so far everyone! And please tweet your score! I want to see how you do! I'll keep you posted in alpha changes as they happen! But until then, laters and have fun!