Well folks it has been a few months since we posted an update regarding the game. Great news: we're on Steam's Greenlight. Please help us there by going to our Greenlight page and up-voting and favoriting the game. We're about 10% of the way toward the top 100 on Greenlight, so we can use the support. If you're not on Steam, it's a great place to get great downloadable versions of hot titles, and many free games if you haven't got the clams.
So what have we been up to? Well, comments on Steam have been both informative and harsh, but we wanted to release some new screenshots to show you where the visuals are headed. New textures grace the surfaces of both custom-made and computer-generated spacecraft. All station components, ships and the like will now have rivets, nodules and other detail textures automatically selected and colored to your liking. (See below)
We're also working on improving combat, making sure all the weapons work and the AI is tough but beatable. We recently improved conventional weapons, and now they work with 'pixel-perfect collision', a method of detecting impact that is unsurpassed.
Also, we're working on a side-scrolling planet encounters part (the 'phase II' of our engine, which generates side-scrolling adventures on the planets you land on). This has proved a daunting task, but we've been making good progress so far. We have a month haitus planned and we'll pick up development again in November. We'll keep you posted as the year ends on our progress.
Also, we wanted to announce an upcoming support release on Desura. So, if you want to buy into our game early and help the project grow, that time will come with a pre-release available starting in December. This pre-release will allow us to give you the full version in its current state and we will keep it updated as we proceed toward the finish line.
---
Check out our latest screenshots!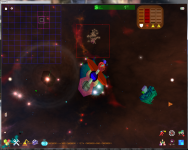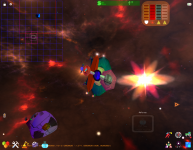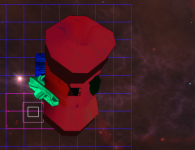 ---
If you haven't played the demo yet, it's free, please do! We're also announcing a little contest:
What should go into a game like this?
We have our plans, but want to hear more-- maybe there is something we haven't thought of to put in the game that you absolutely love and want to see in it. We've played a lot of games, haven't we? One user suggested the feature of a "rogue AI", what do you think should be a part of this experience? Send us an idea and we'll consider it for its originality and depth. You can post in the comments below if you have something you think would be a really neat addition.
Over the next months, we'll be collecting these, and will put them to a vote for popularity. All submissions that aren't obscene or too expensive to develop will be considered. If yours falls in the top 5, we'll send you a free T-shirt with Lost Astronaut your name and our artwork on it! Expect a vote coming toward the end of the year. All ideas we use will be credited. We'll post here about it in advance so you can tell your friends to help up-vote your idea.