Hello friends,
Happy April Fools' Day!
For April Fools' Day this year, I played a little trick on the players of Mine Blocks 2. Read more about this further down in the article. For now, let's talk about the real features of the update.
The first noticeable change in the game is a new menu screen. While it is not official, and I plan on making it much more professionally-designed in the future, I needed a much cleaner layout.
Here's a before and after image of the title menu:

As you can see, texture packs, and info buttons were added.
Texture packs are an important feature because it adds another way to customize your world. I feel like customization is HUGE for any game, and since the original Mine Blocks lacks this ability, I will surely try my best to make up for it here.
Frame rate and performance is high-priority for me because I want as many people as possible to enjoy the game. If the game has lag, the experience isn't as engulfing.
So I went ahead and added chunk-rendering. Now, graphics of the world are saved as the game is being played, so the blocks are no longer rendering every frame. While this is a step in the right direction, it is only phase 1 of 3. After I reach phase 3, I don't believe there is anything more I can do to reduce lag.
Here's an "after and before" of the changes. You'll notice that rendering each tile is harder on the engine.

So that's the main part of the update; nothing much.
A few bugs, such as flying and block update bugs were fixed. Stone now breaks into cobblestone, and trees break into 4 wooden planks.
Now for the April Fools' Day joke.
After seeing how good Google, YouTube, SoundCloud, Imgur, and Minecraft's jokes were, I wasn't going to stop at a simple website prank. I had to do something bigger.
As most people already know, I've been working hard on getting multiplayer to work in Mine Blocks 2. I have posted numerous screenshots and updates on it on various sites. It is completely true. That's why it's not hard to believe that I'd release a sampling of multiplayer.
Due to server costs, security issues, account systems, and other big problems, multiplayer will not be released in alpha. However, despite this fact, I went ahead and told people that I added multiplayer to Mine Blocks 2.
This is what it looks like (pardon the frame-rate. It lowers when more than one window is open):

I edited quite a few things in 'multiplayer mode' to make it convincing.
The primary thing I did was add a few dozen lines of code meant to mangle and destroy the world, just how kids would in any open world game like this. Of course, what would multiplayer be without other people? So I set the game to spawn zombies with the character graphics, over time.
I tricked a lot of people! Normally I'd feel bad, but after seeing people truly believe YouTube was going to shut down... all I can do is laugh.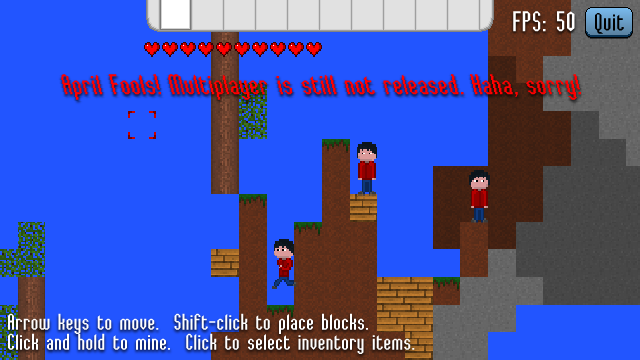 But don't worry, and I'm not joking when I say this, multiplayer is under development. I've made considerable progress, however there is still a lot of work to do and issues to fix. Please stay tuned!
Thanks for reading!
Zanzlanz