Exclusive new art, our interview at TechZwn and another closer look at the voice of the mentor are going to be showcased in this article. In addition, there are new information about our recruiting phases and the future of Mindworld: Shattered Dreams.
---

There are currently positions open for the following jobs:
• VFX Artist
• Texture Artist
• Graphic Designer
• Programmer
• 3D Hardsurface Modeller
• Concept Artist (Weapon Design)
• Concept Artist (Character Design)
• Concept Artist (Environment Art)
• 3D Character Artist
• Sound Designer
• 3D Organic Modeller
• Male Voice Actor
---
In the last article we presented you Adam Clark, who was responsible for all of the current concept art pieces for the transition level. Now, we want to present you not only a small hint at level 03, but also another voice demo by David Bodtcher, who is the voice behind the mentor.
Plus, Joshua Philipp, Chief Editor at TechZwn, has asked us for an interview. On the their page you can read about our approach on the development of Mindworld: Shattered Dreams and the psychology behind game design in general. Leiste and I are sharing big insights into our ways to create atmosphere and how one can successfully grab the player's attention and emotion.
---
You can read the full interview right

here

!
---
Changes to the team roster!
We are constantly looking for new talented individuals who are interested in the game development cycle. Our toughest challenge yet was to find highly skilled experts in the field of 3D character design. People, who are working in the professional industry as a 3D Character Artist usually don't join unpaid projects. It was tough for us to find one, as it is a lot of work to create a full character and can't just be done on the side, while working full-time. But, luckily the long search for such a person has just ended. I don't want to make any promises, but it's likely that we can soon present you a great looking character model, as we have found an artist, who is currently between jobs and wants to lend us a pair of hands.
The last article also mentioned that Adam Clark has finally gotten a great position in the industry. Unfortunately, a few days after that announcement Markus Lovadina had to be put on hold, as he is blocked with a big commercial project at his full-time position. We did everything we could and managed to find a new Senior Concept Artist. His vision for the game clearly is on the same level as ours and the quality of the work is a lot more than just presentable.
We could also connect with more people and have just recruited a professional Sound Designer from Paris today.
Changes to the workflow!
We enhanced our workflow in some areas and put some more effort into professionalizing. We are now working with master design in concept art and development logs in almost all areas. Weekly schedules and analysis of each week is still a standard.
Also, we decided to not only recruit experts in each field anymore, but also offer internee positions. Currently, there are 3 people listed as internees, who all come from the concept art fields. There is still a certain amount of quality required for each position, but recruiting not only professionals, but also aspiring amateurs is a big plus for both sides. Not only do we help them grow with guiding and teaching, but we also get some fresh and creatives approaches that professionals wouldn't have thought of usually.
And, last but not least, we are now working with specialized fields. This means that we don't just recruit one concept artist to do environmental art, character design, weapon design and illustrations for us at the same time, but we are now working with experts of each field. This helps us to push the quality of each field in concept design even further.
The future of Mindworld: Shattered Dreams!
There are still positions open in the team, which we would like to fill. As there is stated above, we are now working with experts for each field. Currently, we are in need of aspiring Concept Artists, who are specialized in Weapon Design or Character Design. If you fulfill the requirements in the recruiting threads below and would like to join our team, don't hesitate to write me an e-mail.
---
The mentor - improved!
There has already been a demo with a sample script to show you guys the voice of the mentor. However, David Bodtcher, Leiste and I have been busy to get the voice just perfect. After a lot of back and forth, we have now finally arrived at the fully directed voice, which you are going to hear in-game. There has been some editing by Alex Michajlow, who also composed the background music.
Spoiler Alert!
(The following material contains information, which are likely going to be used in-game)

---
Level 03 - Sneak peek!
We are already in pre-production for the third level. Our new senior concept artist Robin Lingmerth wasn't careful enough and one of his sketches has slipped into this article, how unfortunate!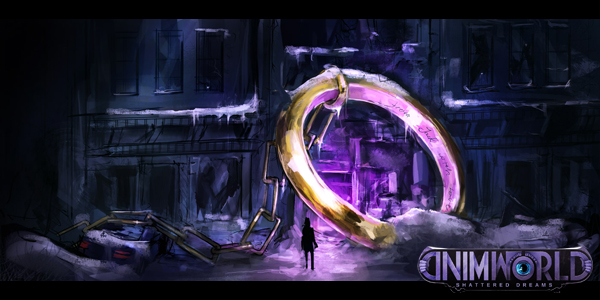 ---
We hope you have enjoyed the interview on TechZwn and all of the presented art.
- Kjell 'iQew' Bunjes
(Team Leader and Art Director)