More than a month and a half have gone by since the announcement about the change to the Source Engine, but now we are finally back with some great news. This update contains information about our progress in development, beautiful artwork and a demo to present you our newest voice.
---
There are currently positions open for the following jobs:
• Programmer
• 3D Character Artist
• Concept Artist (Environment Art)
• 3D Organic Modeller
• Texture Artist
• 3D Hardsurface Modellers
• Graphic Designer (Company and Game Logo Design)
• Male Voice Actor
---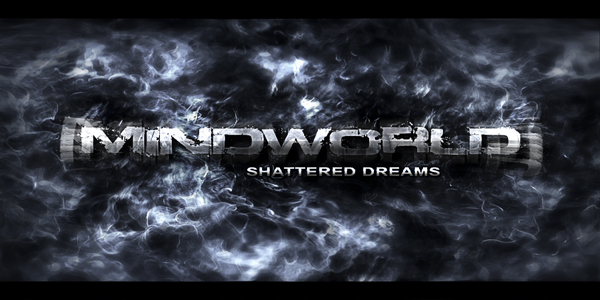 First babysteps into the world of modding!
We are still having some complications with the Source Engine, but we are slowly getting used to it. There are new ways found to work around existing problems and our Level Designer Hugh Riegel is the right guy to talk to, if there are technical problems arriving.
New engine, new applicants, new possibilities!
Because of our move to the Source Engine and change of plans in development, the team rooster needed a good glaze. Some people were taken off the project and we had multiple waves of new job advertisements to find the talent, which this project requires. There are still positions open, you can click on each open position in the list above to get taken to the job advertisement directly.
We are growing into a beautiful phoenix - the new quality standard!
With the new talent on board we did not only fill the gaps in the team from the jump to the new engine, but we increased the project's quality standard greatly. One of the key characteristics of the new members is flexibility. I can't mention it often enough, I'm so thankful for every team member, who is always responding quickly, understanding constructive critism and motivated to push the quality to the limits.
With Adam Clark (Concept Artist), David Bodtcher (Voice Actor), Hugh Riegel (Level Designer/3D Artist), Shiloh Steinhebel (3D Artist) and Markus Lovadina (Concept Artist/Illustrator), we have those very members, who are not only multi-talented, but also so experienced in their field of specialization that they have an incredibly fast workflow.
What we have accomplished in the last 6 weeks!
Our main concept artist Adam Clark has finished a complete paint-over of an existing level design shot to help our level designer Hugh Riegel to make the final adjustments for the prologue level. We are very proud to present you the starting point of the game, Katherine's room.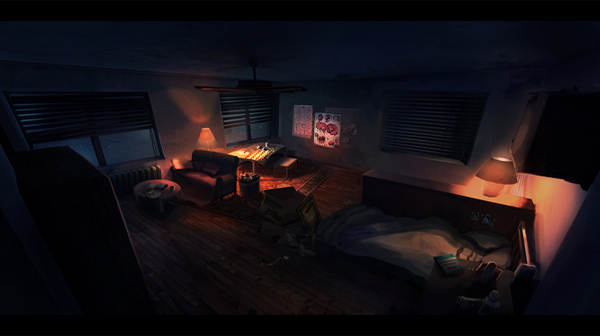 In addition, he has developed everything from initial sketches to final model sheet paper and illustration for "The Mentor" (a main character in Mindworld). There have been multiple variations until we arrived at the final design and we are more than happy with the endresult. Due to the format, we decided to show a design sketch in the news and the final illustration in the meda section.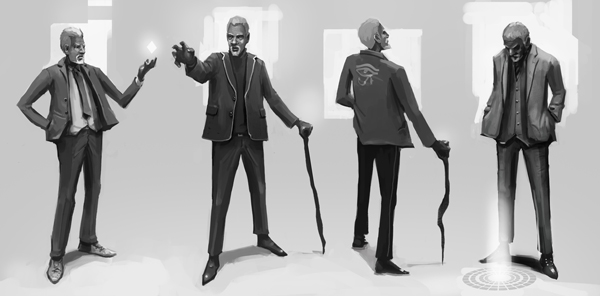 Are you amazed already? He created over 12 designs with multiple variations for some of the weapon ideas until we had the final design in our hands. Here you can see the full model sheet for our 3D artist to aid them in their process of realizating the gravity gun model.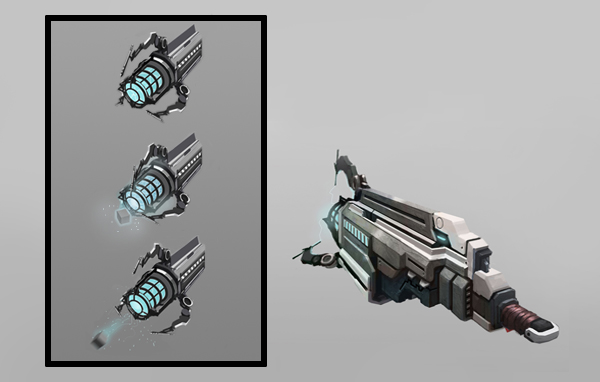 He has also begun with multiple pages of sketches for the first surreal level, but we are not going to speak any further about that in this article.
---
After a bit of bad luck with male voice actors, we have found one highly talented individual to voice all of the mentor's lines for the game. His workflow and motivation is very similar to Adam Clark's, it is all a game designer could ask for and a bit on top of it for dessert.
I have written a sample script that shows a possible dialogue between the mentor and Katherine when they meet for the first time. Please have in mind that this is not representing any in-game quality, as it's just a demo for you to enjoy.
All of the background music was composed by Alex Michajlow and he is also responsible for all of the sound engineering. Voice acting was done by David Bodtcher and Sonya.
---
Last, but not least we want to show you an art test (a sample task for any artist he or she has to succeed before he or she is allowed to join the team), because it is of a especially high quality. With just a few little information given, Markus Lovadina created this beautiful piece of concept art for us and succeeded in meeting our quality standards.
He is going to help Adam Clark set the art style of the game with concept art and also create beautiful and fully detailed illustrations for you guys to enjoy as eye-candy.
The mentor ... gravity gun? Did I miss something?!
Yes, you certainly have, but let me explain. The mentor is a key figure in the game and was planned to be in Mindworld ever since the time I took notes with pencil and paper to plan out the game. Because I don't want to spoil anything to you, I can't give out too much information about the character. But, he is going to appear very often in the game and creates a lot of the atmosphere with the way he behaves and acts.
Now to a bigger revelation, the gravity gun is going to be the one and only weapon you are going to have in the game. It does not mean that there is not any combat at all, it just means that you are not going to have any gun fire. When playing the game, you are going to have to make clever use of the functions to either shield yourself from bullets, push and pull objects to solve puzzles or throw objects at enemies to kill them.
A little sneak peek at the next update!
For the next update you are finally going to see the first in-game screenshots you have all been waiting for so long. And that's already enough new information about what is coming next.
We hope that you are as excited about the news and media updates as we are and enjoyed reading this article!
---
- Kjell 'iQew' Bunjes
(Team Leader and Art Director)