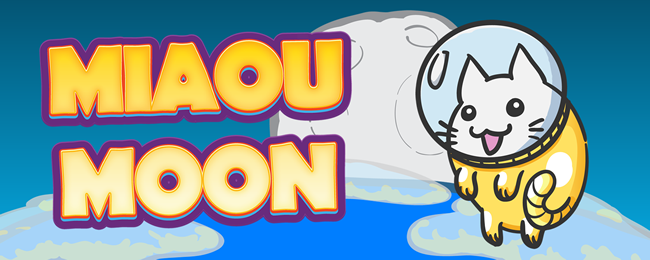 Our new game Miaou Moon is now available on Itchi.io (PC, MAC, Linux).
[Paifu.itch.io]
Don't be fooled by the game's cute look. This is a long and deep full scale 2D physics plateformer. Many challenging trials await you.
Playing with gravity when you can only propel in two directions is often tricky.
This unusual plateformer is slow paced and sometimes close to a puzzle game. You really need to plan and time your moves to complete the levels.
Best way to get a good feel of the gameplay and test different parts of the game is to try out our DEMO !
[Gamejolt.com] :)

STORYLINE:
You are Captain Miaou, traveling back to your planet with a cargo full of high energy food. Hit by a meteorite, you're ejected and your food scattered all around the 5 orbiting moons. How will you survive, lost in space?
GAMEPLAY:
Your only chance of survival is to grab energy food to propel yourself forward. Too few energy and you'll starve to death, too much and you'll explode! When you eat, your cat gets stronger and bigger, but deflates each time you propel. A bit of strategy is involved: you can't spam your control buttons.
Make way through 5 moons displaying different physical properties, adapt your gameplay and tweak your catsuit to survive!
FEATURES:
60 levels to explore.
5 moons with different gravities and bounciness factors!
Extensive Upgrade system: armor, energetic capacity, reactor, claws, visor, health pack.
Find Hidden levels.
Challenge Huge bosses!
Overcome obstacles as you progress: pikes, bumpers, magnetic winds, glue, teleports, flaming rocks, laser beams, stalling zones, various monster types, etc.
Deep gameplay.
High difficulty.
Lenghty game