Meteoroids!, a game inspired by the original Missile Command, has been released and is now available.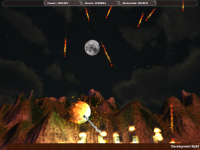 Target the path of the Meteoroids and fire your missiles to intercept; the primary goal of this game is to keep your Resource building intact. Resources can be built and help you to upgrade your missile firing capabilities and Workers can be obtained to help maintain and repair the Resources.
A ton of frantic firing and a tiny bit of resource management mingle to create a fun and addictive game. Mouse and single button controls keep it simple and easy to play, for a few levels anyway.

Meteoroids! is also available online at Kongregate, with leaderboards, via the Unity web plugin.
Meteoroids! on Kongregate