Well its been a while since the last update, but fear not we are still around working to bring you a decent mod. So what has the NND Team been up to, why have we been so quiet and what can we tell you? Today we present a smaller update to tide you over until our larger update is ready.
We've had a few setbacks in the recent months including those caused by the team's real lives, the delay of Quake3's source code, a leaking incident and most notably the disappearance of our sole animator, diesel, who had completed an entire animation set that was crucial to our progress.
After all that we can now say that we're back on track as most of the issues have been resolved in one way or another. Right, back to some worthwhile news:
1) New forum members
After a number of threads asking about release dates, progress reports, etc. were started by newer forum members we must urge members to please read the FAQ, ABOUT, STICKIES and to make use of the SEARCH? function before asking their questions.
Nobody wants to have to reprimand new forum goers because they've asked the same question as the one dealt with two threads below. However after so many instances of new members asking for release dates or updates it tends to become a bit frustrating especially when its clear that they have not bothered to read the information we took the time to provide.
2) Quake3's Source
After such a lengthy delay in the release of Quake3's source the team played with the idea of switching to another engine in desperation, but all of this was not needed after the source code was released recently. The experience has however given us a few ideas on what needs to be implemented.
We are currently testing some of those ideas which will make a number of game elements far easier, most notably: getting new characters ingame.
3) New additions to the team
NND would like to give a warm welcome to our 3 newest members:
Warmachine - Eccentric and possessing demonic map building skills, our new dedicated mapper joins us to bring laughs to the team and the locations in Naruto to life.
Redmoon - After the disappearance of diesel we were left without an animator for far too long. Broli went hunting and found Redmoon, a guy who had not even watched Naruto but promptly did so in order to trial for us. He has been pumping out animation after animation since.
Japieja - A well known refugee from other forums, Japieja joins us to fill the "2d guy" position. He'll be producing some high quality sprites and textures for us.
4) Team openings
NND is always on the lookout for new team members and would benefit greatly from the following:
- A secondary mapper to assist in map creation, creating smaller or more basic map details so Warmachine can concentrate on what he does best.
- A dedicated texture artist to deal with the large volumes of map textures that are needed currently.
5) New content!
As a fun little promotional activity we've decided to release a new wallpaper or two every 2 weeks until our larger update is ready for posting.
This week: D-Boy's Sasuke and Rock Lee renders!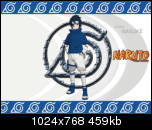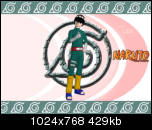 6) Finally
Look out for more core game progress and media in the big update which will hopefully not take too long. Until then keep an eye on the forums.