We're excited to announce that we have implemented @mentions across the network to make it easier for you to notify your friends! Whenever you are now mentioned in a post, users will receive an update informing you who mentioned you, as well as where it occurred and a direct link to the mention.
How to use it?

Similar to Facebook, Twitter and other networks that support @mentions, when you type @ followed by a relevant name on our site, beit a member, game, group, engine, etc you will be prompted with an autocomplete list where you can find the listing you are after. Once that's done your mention will be highlighted in blue and will become a new link once you post your comment.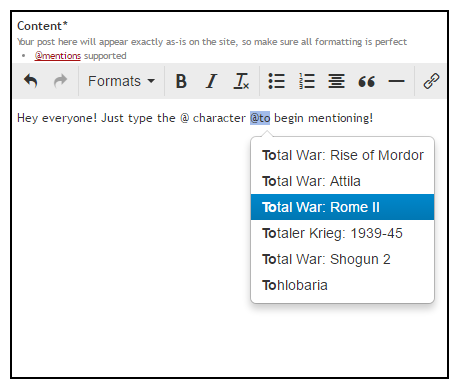 Notifications of mentions
If you mentioned by a user, you will be notified the by the regular updates area the same way you'd be notified if a game you were following published an article.
Where can I use this?
This feature has been designed to be used throughout the site however on forms, if it's not an editor field (ie description) the mentions functionality will not be supported. Articles, comments, reviews, game pages, forums, etc all support @mentions.

As with any new feature we roll out, a pesky bug can always slip between the cracks so if you do come across any issues (especially compatibility issues) with the @mentions feature please do get in touch or join us on Discord with us as we will endeavour to get it resolved as soon as possible. We hope you like this new feature and that it helps you keep in touch with members of your community.