All videogames can be played by everyone, but a good videogame is designed thinking in a specific audience target, not for everyone.
Choose a specific audience target is a way to determine how our game will be, because we can show in the game what these audience demands in games, what are their interests and pleasures.
In general I design games that I would like to play, because this is a way in that I feel emotionally involved in the development of the game. I can only develop a game if I like the game I have to make. Some developers create any videogames only because they think they will make money with these, but wouldn't play their own games. I can't make this, I don't make games for money, to make games is my way to show my artistic expressiveness, a artistic expression with I want to make money, but without a personal expressive interest I can't make a videogame.
Shopping Day is a game created for me, but me as a part of a audience target. Shopping Day is a game for millenials, a game for the people that is growing with internet, people that is watching how the World is falling apart and wants to make something to change it, people who question how the things works. Shopping Day is a game for the people that alives with a smartphone together with they, people that lives in the social networks. This is a game about millennials worries, about lack of money, about mental health, about sexism…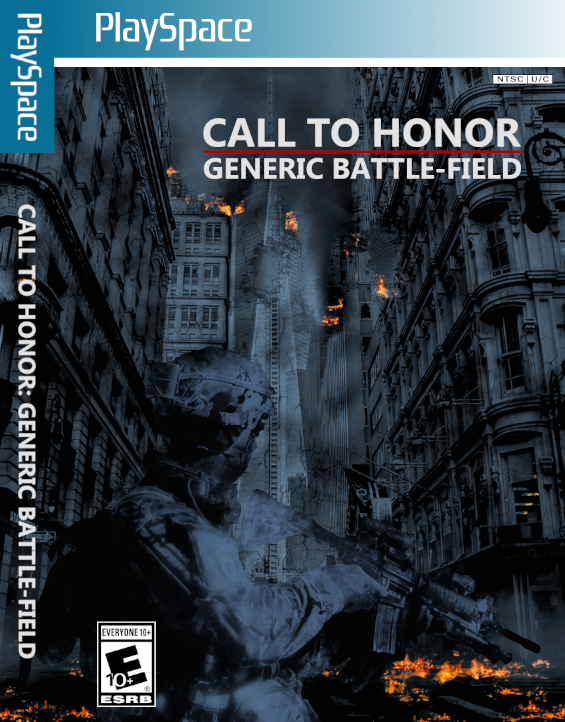 Just a fake game cover is also a reflection about the shooter games and the blue and red only cover
But if Shopping Day is a millennial game, it has to be too a game with memes and acid humor, the humor as a performance, as a way to survive to a horrific reality. The apparently simple and superficial jokes are a important element to show a reflection about things we are worried, but also a way to feel a part of a community, jokes that we understand because we are a part of something in a world where traditional beliefs, as the religion or nationalism, are fairly judged and questioned.
The last of jokes that I have included in game is the "you can pet the dog" meme. Pets doing cute things, specially dogs and cats, are a important part of the internet culture and the "you can pet the dog" is a cute and funny way to judge a game, depending if we can pet the dog or not (understanding dog in a VERY wide spectre) we are making a good game or not (in a joking meaning). Obviously Shopping Day will be a "you can pet the dog" approved game.
Another joke and reference in game are the fake videogame covers in the gamig shop. To avoid copyright problems I'm not using real game covers, instead I have created a lot of covers based in free copyright art. In the game we can watch any of this covers and listen our character's thoughts about this. In this twitter's thread I talk about the covers I have made until now: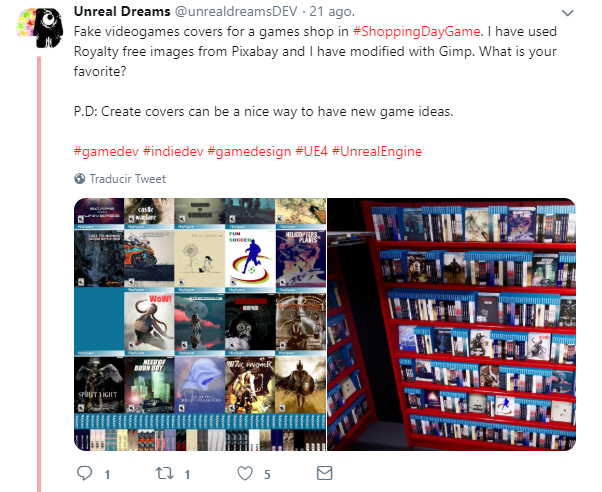 One last small reference I want to mention is a hand plane tool near to one of the mannequins in the clothing shop, this is a reference to one of my favourites cartoons, The Simpsons. In the chapter "Sleeping with the enemy", Lisa feels fat and when she goes to a clothing shop she feels angry about a really thin girl mannequin, the a worker try to make her even more thin "planing down the thighs" of the mannequin.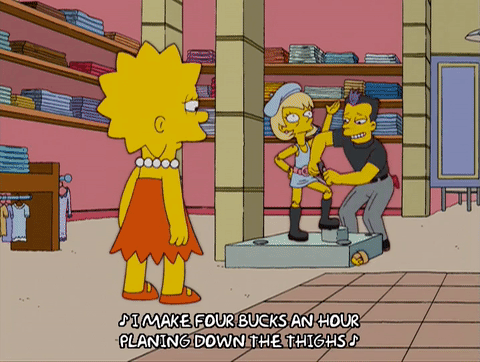 Finally I want to mention a thing that is not a meme, a reference or even a joke, but is one of the most important elements that connects my game with the millennial culture, the smartphone. In the game I have implemented a smartphone as the options interface, but not only, it works as a real smartphone with various utilities. We use the integrated map to orientate us through the map and see the most important quest we have to do to complete the game. But also we can make photos as if a real smartphone it would be, also selfies. The smartphone also includes access to social networks as facebook or twitter through a web browser and we can share our photos of the game on they. I want to add even more utilities, one of them is a fake messaging service (like whatsapp), the UI will not only a simple utility, it will be a important portion of the gameplay.