It's time for round 2 of our Melon Quest feature updates! Be sure to track Melon Quest on IndieDB for Pt 3, coming soon!
Towns, Villages & Quests
Throughout your adventure you will stumble upon safe towns full of quirky characters, and merchants to interact with. Some towns might be dangerous, filled with bandits and foes that will put your combat skills to the test.
You will have the option to take on branching quests from characters that you meet throughout your adventure. Some quests may lead you off the main path, while others might be just in your sight.
You could be passing by a camp with helpless creatures that need saving from terrifying beasts. Maybe saving the helpless creatures will get you into more trouble, and they are in fact the real threat. There are plenty of things out to kill you in Melon Quest.
Small town - Pre-alpha in-engine concept
Cute, But Disturbing Enemies
In Melon Quest, you'll encounter cute but disturbing creatures and terrifying bosses to slay. Some creatures might look harmless, but appearances can be deceiving. There are many predators in the world that can transform from cuddly to killer in an instant.
Enemies can have unique attacks and defensive skills that you must adapt to during combat. Powerful elite and champion enemies are also scattered through the world. Elite's and champions are more difficult to kill, but doing so reaps greater rewards.
Here's a few early concepts of some of the enemies that inhabit the world: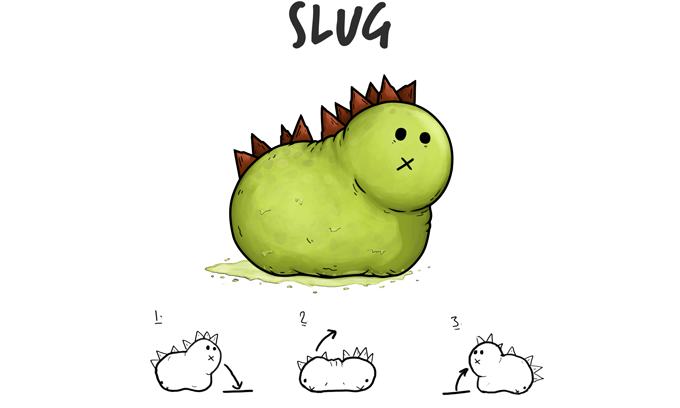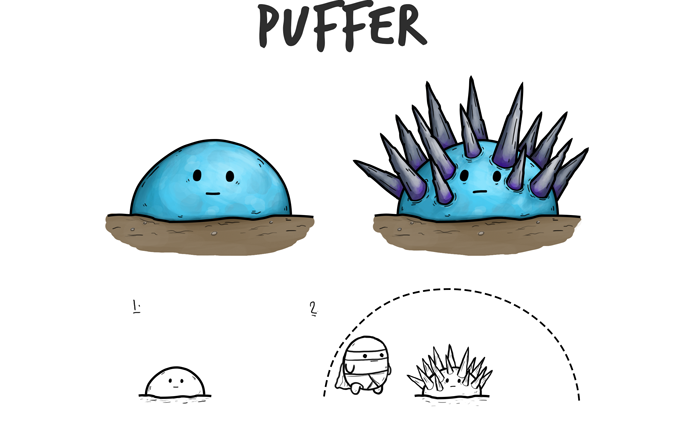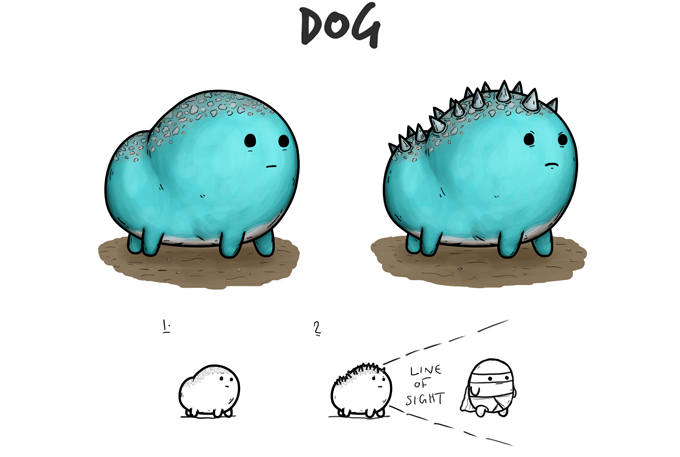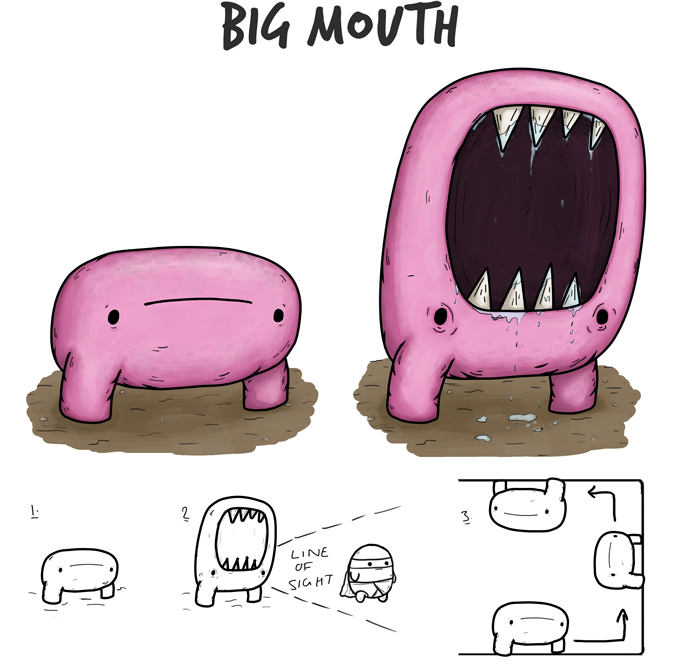 Area Conquest & Achievements
The world is filled with hidden secrets and challenging bosses to slay. Find all secrets, complete all quests and slay the bosses in each region of the world to unlock special area conquest underpants and achievements.
Some secrets, quests and enemies might be hidden behind blocked areas. Can't get past a blocked path early on in your adventure? You can travel back to past regions with new skills or items to unlock these areas.
Combat
Core combat skills in Melon Quest include pip shooting, melee attacks, dodge and ground pound to bring down your enemies. The Melon Quest combat system also includes an array of RPG features. Both you and enemies have in-game health bars and indicators for various buffs and de-buffs.
To counter enemy abilities, you will need to use a combination of your core combat skills, alongside spitting crafted pips that act in similar ways to spells found in other RPGs. Use the right crafted pips for a particular situation and you can poison, freeze, stun or slow down enemies, along with inflicting regular damage. Consumables can grant you short-term buffs and healing, while enemy attacks and skills may de-buff you temporarily.
Latest gameplay videos
Enjoy an extended look into gameplay in the Mountains from the Melon Quest pre-alpha gameplay demo as showcased at AVCon 2015.
Haven't already seen our AVCon demo highlights video? Witness the tutorial and highlights from the Melon Quest pre-alpha gameplay demo as showcased at AVCon.
Narration is humorously performed by Aaron 'Maz' Nassau, Youtube content creator & Independent short film maker. You can check out some of his other work/creations at Youtube.com.
Haven't seen Pt 1 of our Melon Quest feature updates? You'll find it here: Indiedb.com
Follow us here on IndieDB for the latest updates on Melon Quest. Alternatively you can follow us on Facebook, Twitter or signing up to our mailing list here.