Phew! Releasing the demo took a lot out of us. This week, we are back at it again, making new content. Even as we go forward, though, we're constantly looking back and improving old work. This past week I had the chance to update the Megaturret.
Out with the old
The old Megaturret design was… functional? It was actually an amalgamation of several bits and pieces from other art that I made. Our scrappy enemy designers have been cobbling together prototype versions of enemies using old art from me and occasional online clip art. These days, though, I finally have a chance to dig in and apply real art to their creations. Updating the Megaturret is a bigger deal than just making it look good: it is the beginning of making the enemies fit in the world better.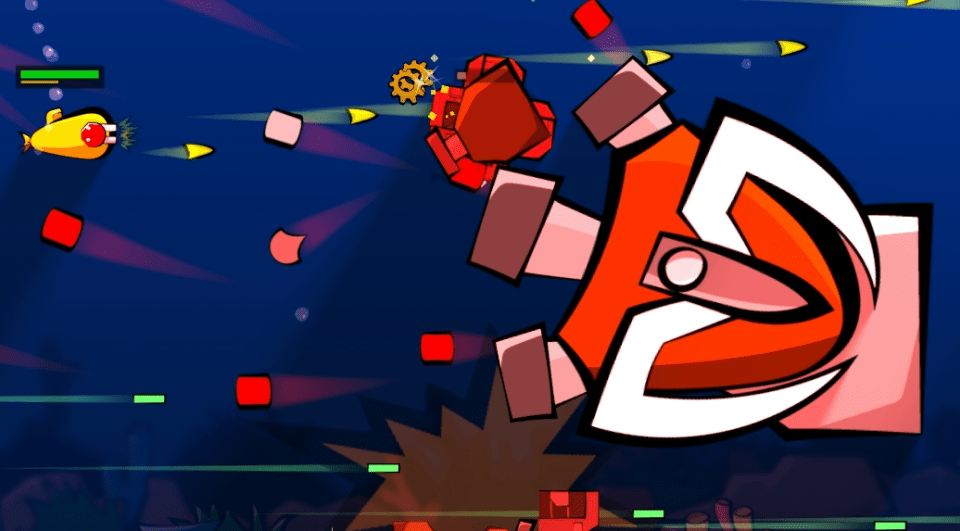 One of the key problems with the old Megaturret's look is that it wasn't all that threatening. There were a lot of round edges and curved surfaces, which classically evokes a friendlier, less aggressive attitude. The other problem is that — since it was lego'd together from a bunch of re-used sprites — it looked a lot like all the other turrets in the game. It was obviously a cheap stand-in, and it was time for it to go.
As I began sketching, I kept a few goals in mind. First, I wanted to make it look sleeker and more high-tech than the run-of-the-mill turrets littering the Reef. Second, it had to look aggressive, to signal its high threat level. Finally, it had to do a better job of signaling its attacks. The old design didn't really adapt as the boss changed attacks. Sure, Lane put in some particles and sounds to signal its bigger shots, but nothing about the design hinted at the Megaturret's arsenal. My top goal was to match the look of the Megaturret to its functions. As you'll see, animations helped me win here in spades.
Rising through the ashes
With those design goals in mind, I started sketching out the new design trying to keep the same overall structure of the turret: three cannons on a fixed pivot. Everything else was fair game. I ended up with a design like this:

First thing to notice is that there are two designs. I wanted to have the Megaturret transform between its normal attacks and the freezing attack. When the freezing attack happens, the background becomes darker to raise the tension. I also wanted to emphasize this tension in the body itself. As the turret prepares its devastating blizzard, it physically transforms from three cannons to one, suggesting the massive attack to come. As you can see, the turret also adjusts the color of its lit panels, giving a clue to the nature of its next mode.
To tackle the " bigger version of a standard turret" problem I made the Megaturret resemble the Biggest Baddest Turret more. The central cannon in particular looks like the cannons on the Biggest Baddest Turret. Lots of hard edges and angles and more intricate parts litter the design of the Megaturret. Here is the final inked design: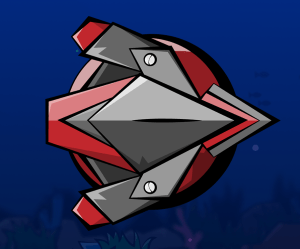 Moving the Megaturret
As I've mentioned in a previous post, I haven't really done much animation work before we started working on Fingeance. Luckily, since then I have been making a ton of animations for all of the menus and UI, and for other projects that I have been working on (ah shameless plugs). Here, though, I was faced with something truly complex. With a large number of moving sprites and a futuristic transformational identity to sell, I dug in for some hard work.
Think that sounds hard? You haven't heard the half of it. A giant turret needs a feeling of weight, and yet the Megaturret's gameplay was balanced around quick, distinct transitions between attacks, offering players limited time to rest. During the animation process, I added a lot of forceful and deliberate movement, using acceleration and follow-through to sell the inertia of a big metal object moving quickly into place.
The Start of Something Bigger
Overall, I think that the updates to the boss have been wildly successful. In comparison to the older version of the turret, it is LEAGUES better; it has much more character and is far more memorable as a design (though I am biased, I guess). There is still a bit more work to be done on it, but as I said before: this isn't just about making the Megaturret look cool, it is about updating the art throughout the game.
I hope you enjoyed this more in-depth look into the my design process. Let us know if you want more art-centered posts in the future by hitting us up this blog, or on Twitter, Facebook, or IndieDB. You can also ask me questions directly via my Twitter (@DarkaysTG). I may also be posting up some work in progress shots on future designs!