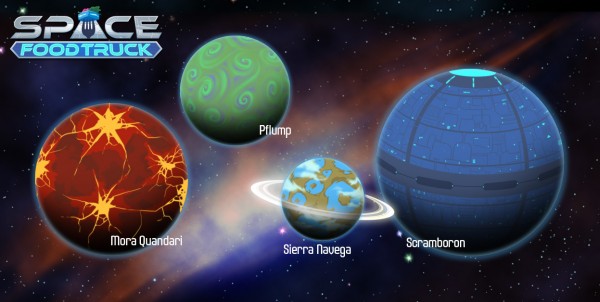 New stuff is added to Space Food Truck every day, and we're just finishing up our planet generation system for the upcoming beta release! We've been slowly pouring all of the "world-building" content in, and it's kind of magical to see our galaxy start coming to life.
When you launch a game, our system procedurally generates a galaxy of 100 planets, hides all of the traps and ingredients among them, then determines what each planet looks like. Scramboron may be a tiny ringed gas planet one game, or a huge cybernetic planet the next!
It's been even more fun generating volumes of flavor text to attach to each planet. As you rollover planets on your map, the Captain has attached notes that make everything feel more alive. We plan on adding as many of these as we can think of, so you guys can have fun poking around the galaxy just to see what's there. You'll find stuff like:
Hyrune
My homeworld of born leaders. Captain is actually the lowest rank we have.
Uma Flux
Population: 5. Wait, now it's six. Five again.
Arachnia
A sylk rich planet mostly overrun by giant spiders. We're arming the resistance with full bellies.
P'lanett
I don't recall anything interesting about this planet.
Gena Hex
Their population dwindled to one, so the last Hexling turned to cloning. He wasn't their finest specimen, but I guess he is now.
We're aiming for at least 200 different planet descriptions, and we're determined to get there for the release version. If you have a good planet text idea AND we have your permission to use it in our game, post it in the comments. If we like it, we might add it in!
Thanks to everyone who's supported our Space Food Truck Kickstarter so far! There's only a few days left for us to reach our goal, so we'd appreciate it if you'd consider sharing or liking our facebook posts, or favoriting and retweeting us as we approach the big deadline. This game is going to be our best yet, and it'll be even better if we can reach our funding goal!