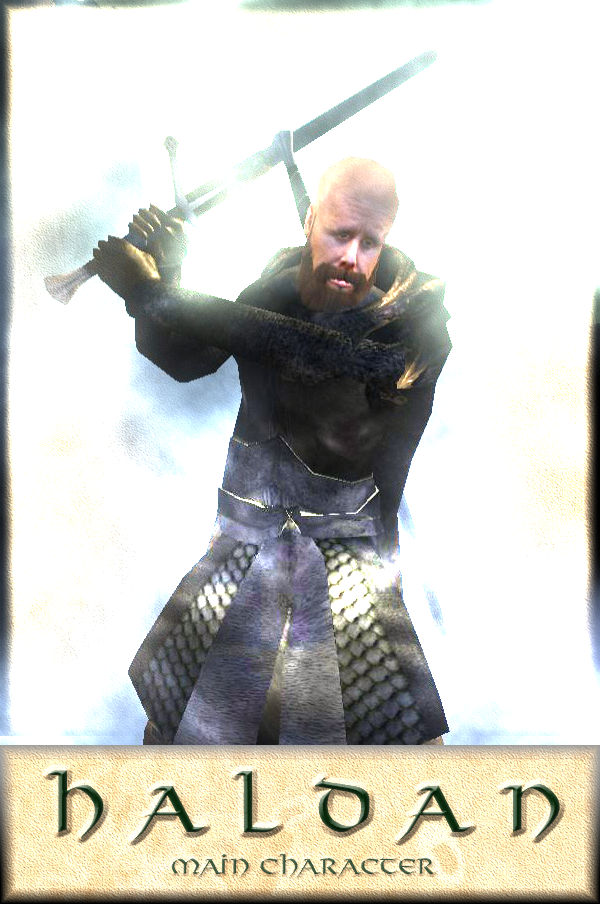 Meet Haldan!
Greetings, everyone. Welcome to read the first character blog of our project, and of course as first character; what better option but than to introduce YOU? The main character of the project. You won't be able to create your own character at start and play this badass ranger.
---
Haldan is an old warrior who happened to have discovered Vyrn through one of the Shallow Gates, aka "Nesil Domin" in vyrnian language. Robbed of his family, title, reputation, land and life; he finds himself in the lands of Vyrn after travelling in wilderness from land to land.
---
~ BACKGROUND ~
In the past, Haldan used to be the right hand of King Adelmoth of Mothrands who was at war with Kingdom of Mensir rivaling for the Unseated Throne. Haldan was in charge of advising the King in times of war as a seasoned general of the army. Such was the times...
All around the Orfes; the groups of Mothrands and Menrands were fighting, shedding the blood of the sons of their ancestors who once stood together united around a legendary King and fought together against a vile tyrant. After the death of "the One King", such alliances started to shake.
Orfes was filling with blood. Haldan thought the same. He gave his final advise for his king, which would be somewhat a downfall of the Kingdom of Adelmoth. King heeded this advise, what would the last advise he would ever hear.
Adelmoth rallied his army, blew the horns, raised the banner of his reign with pride and marched upon the fields of Orfes. There, he was going to meet the armies of Mensir and one grand battle was going to take place.
Armies kept their promise, but there was one more keeping their own promise for Mensir. The forces of Axes Magitrand appeared on the shores of the ever-green fields of Orfes, kept their promises.
Haldan's final advise...
Forces of Adelmoth were crushed down, butchered severely and annihilated. Their blood turned the land into a feast of massacre. At one final moment, King was just about to blow his horn to retreat back to his city, Axes Magitrand's spear appeared on the horizon; impaled on his head crushing his brains out.
The King was dead, Mothrand Forces were scarred deeply. Haldan took the King's sword and blew the horn of Mothrand. Only but, it was too late...what remained of such a spectacle army was not only outnumbered and but now being chased to the last man to the gates of Mothrand.
Who could make it to the Mothrand, did just delay their final moment. The city was already warming itself with the fires lit all around. What began in the fields now was about to end in the city of Mothrand. Mensir and Axes marched and striked for one final assault to the city...
The king's head was impaled on the spear of Axes...
Everything was lost.
Haldan and a group of soldiers gathered in the Throne Room for one final stance, but that was then Haldan was shakened with a scent far to him...he wasn't going to let his family be touched, torn and damned by these savage. He instead ordered to rush, he ordered the gates to be opened and striked down the invaders. The rush was so unexpected and strong, those who were at the gates to the throne room were no more in a matter of minutes. Haldan gave the horn to one of the men and ordered them to preserve this relic of the King.
Then he rallied up to what left of his home...his family. Through the entrance, that entrance...when gave up. His sword was too heavy to carry anymore, the armor he was wearing was making it hard to breath.
A dead wife.
Haldan stood by the body of his wife for days, in their own house. Children were missing, as Elwyn urged them to do so. She had sacrificed her life for their children.
It was the 4th day now, since Haldan found his wife's body; he still didn't let her go for a second, was holding in his arms. But, that was all. He let her go, he still had a family to find. But, where he was going to look?
Thoughts were arisen until Haldan gazed upon the Ruined Kingdom, the remnants of Mothrand. He left everything behind, ran to wilderness far from Orfes. He never looked behind, followed any trail of his children.
The necklaces. He had found the necklaces. Covered in blood. For last time, he kept going on...searched and searched for any sight of his children.
his children were dead. Haldan assumed them dead after months of search. He had lost his everything now. Noone to see, nowhere to live and nothing to do.
He was, however, still wielding the sword of Adelmoth and preserved the relic of Horn. He had honored his duty, but there was no future for him or any Mothian in Orfes, if any of them to have survived at all.
He drown to tears and decided to go on. He was going to be a prison of his memories, a memoir to what happened. To the kingdom, to the family...to the advise given. With such thoughts, he walked into the forest.
6 month past by now. Haldan travelled far far away from Orfes and lived in wilderness. His only concerns now turned into from where the meal was to be found. And, that moment! A game appeared, was running as fast as the eyes can see, huge as a bear; ran past the Haldan!
Haldan followed along. He was still fast for an old man. Went after the game for several hours, he had already missed all his arrows until such moment came and he shot the beast from his back.
There it was, lying dead. All this hunt, he lost the sands of time and place. He had no idea where he was, but there he was standing in front of what would be a mountain side. They were so tall, the peak was out of sight and impossible to see. First time, he had seen a mountain for over the months.
He began nearing to his bounty. And, as he was; memories were appearing. Of his family, of what was once his life. The memories were getting stronger, began to smudge Haldan's mind. He fell to his knees. The very air he was breathing was poisonous now...until he came to his senses and raised like a mad beast with his children's necklaces on his hand, threw them upon the mountain wall.
Necklaces did go through! Haldan...was speechless. He began walking closer to the wall, and passed through it! He was completely in darkness now, he walked forward but he couldn't find the necklaces.
There he left them behind in Nesil Domin! Upon the sight, a light emerged. Haldan felt as he was following through the light; he was no more the the failed right king who led his kingdom to annihilation and doom, nor he was a wife or father to anyone. He was noone.
He was now...a Risfor!