Hello dear reader! Were you expecting just a segment on Random Number Generation? Well, today we have this special segment in addition to our already planned RNG piece which we will release in the Design Table series next week. Without further ado, please welcome the glue of the team, our fantastic Community Manager!
Have you ever wondered who is behind the social media pages of big companies? Who is the person posting as "Hearthstone" on Facebook, or as @PizzaHut on Twitter, really? Well, that job at Strategy Mill is done by the very person typing the words you're reading right now... Allow me to introduce myself! My name is Gabriel Sanchez. I am the Community Manager/PR Director for Strategy Mill. In today's special segment of Design Table, I'll take you behind the stage and show you what an average day looks like for me.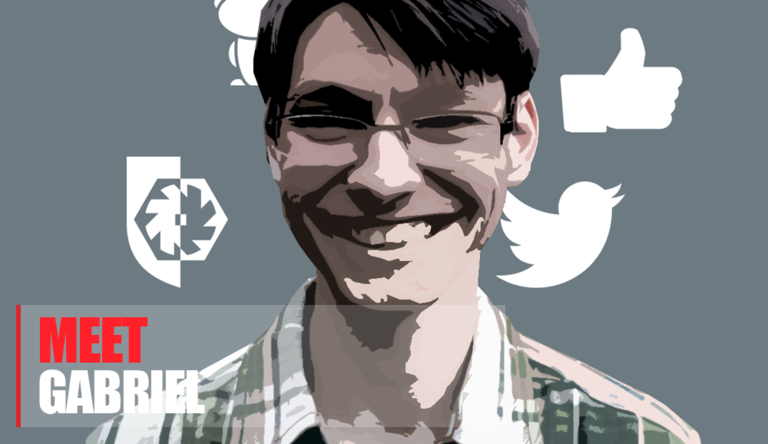 To start things off lets time travel back to 1993. I was born in Miami, Florida, USA. Being raised in Miami, all I know is the warmth of the Sunshine State. I've never seen snow before, can you believe that? But I've been interested in games for as long as I could remember... scratch that. I don't even remember the first game I played to be honest because I was so young when it happened. I know I played a lot of Donkey Kong Country on the Super Nintendo. After that, N64, Playstation, Gamecube, Xbox 360, and PC in the midst of it all. Being in the gaming industry is something my friends and I dreamt of when we were young, and as we got older, the reality of the world shifted the priorities in our lives. I was not popular but I was definitely well known and got along great with all types of people. I really had a genuine interest in building relationships as well as organizing groups and bringing individuals together thus my nickname as the "glue" in my group of friends.
I was thinking about being a psychologist because I would find myself counseling users on the Bungie.net forums around the golden years of Halo 3. Dubbed the "Forum Psychologist" due to my activity in threads when people were having bad days, I would get into really long PM's trying to get strangers out of a negative state of mind. Fast forward a couple of years, I went to college for Computer Science but decided to switch to Business Administration - At the time, wasn't feeling the college life, so I took a break and got a job at a grocery store (which is currently my day job). Working there would improve my Customer Service skills while allowing me to do more side projects and explore my passions.
One day, while browsing the Steam Early Access page, I noticed this game that looked interesting. I was mightily impressed with Magicka Wizard Wars, a PVP version of the Magicka series by Paradox North. I joined the forums, and played the game relentlessly on Early Access. I even went as far as opening up a training academy to train new players to help with the on-boarding of the game. That dedication grabbed the attention of the developers and from then on they invited me to join them at PAX East to showcase their game. What a dream come true. We went to PAX, I helped them out, had an awesome time and that's when I realized, hey! the gaming industry is where I want to be!
When I returned, I was given access to the Social Media pages as well as promoted to Moderator of the Paradox Wizard Wars forums. Today I'm working as the Community Manager/PR Director for Strategy Mill on a new and exciting project.
To further expand on what a Community Manager does, put simply, the CM is responsible for the development and management of the community. This includes gathering a following of fans together and attentively listening to them. The Community Manager is the direct communication channel between the Company and the fans. Imagine me as an icebreaker! Additionally I am also in charge of the Social Media side of things working on platforms like Twitter, Facebook, Emails, forums and so forth.
So what does a day in my life look like? After a daytime shift at the grocery store, I get online and research Communities and forums. Right now I'm trying to find relevant venues to meet up with people like you! Twitter profiles, sub-reddits and forums as well as having afternoon meetings with the team is what I'll be doing. Yours truly also edits the content to be presented every week and I make sure to proofread the newsletters such as the Design Tables. I also tweet, update statuses, and play some Fallout 4 or Hearthstone. As you can see, it's quite a busy day, but it's worth it!
I hope you guys enjoyed this little segment. You've gotten a sneak peak into who I am and what I do. You can find me on any of the Strategy Mill social media platforms or if you wish, you can email me at gabs@strategy-mill.com. Hope you all have a great day!