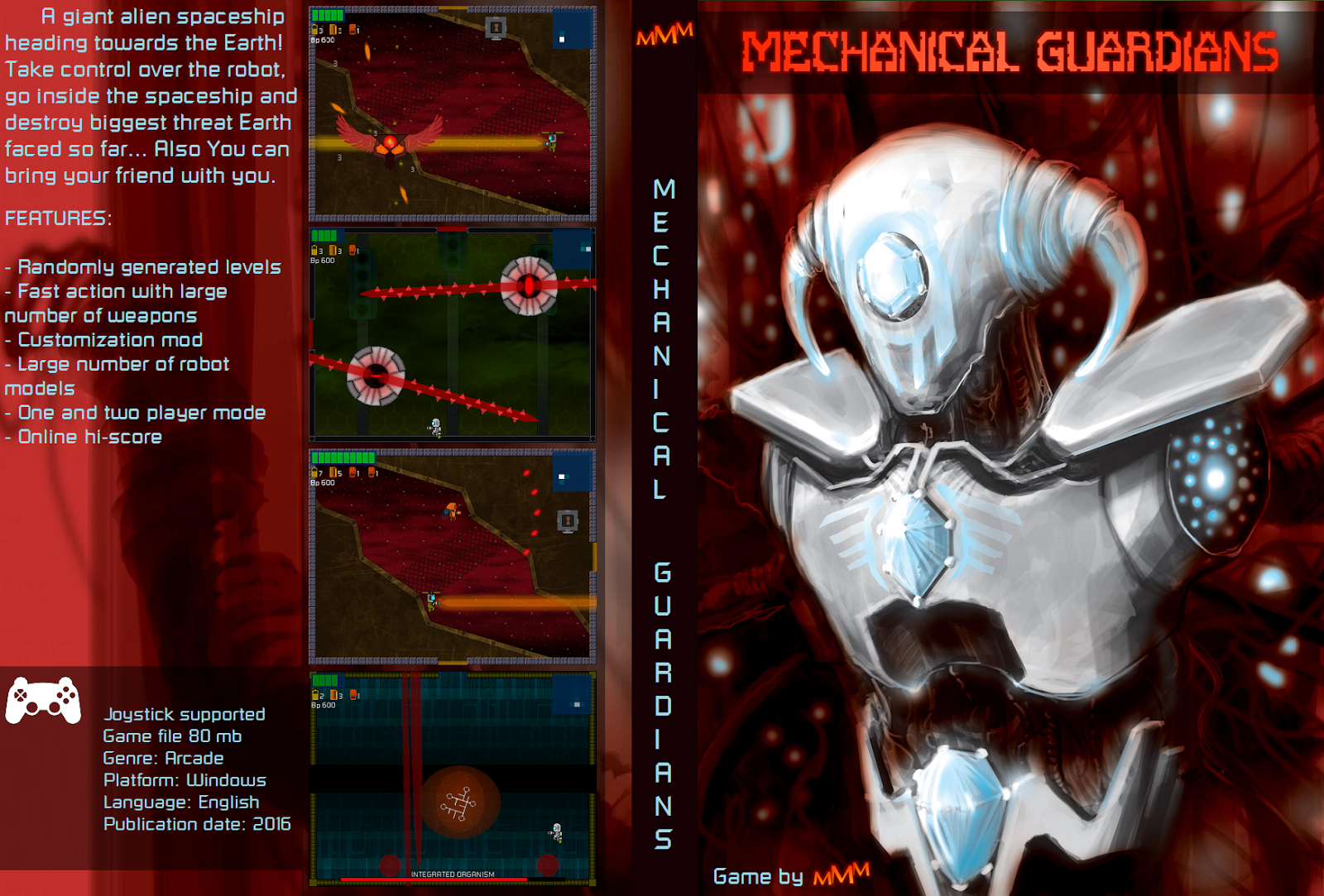 ============= EN =============
Mechanical Guardians will be released next month so now I'm making additional stuff. In the mean time you can check out Mechanical Guardians game trailer on Youtube.com or try out demo.
As for the bonus stuff, almost everything is done. The only thing left is Mechanical Guardians poster :) Since the programming part is done on Mechanical Guardians I am working on new projects. One of them is almost done! Small puzzle Browser/Android game called UNNAMED. Check out short gameplay trailer on Youtube.com
I'm also secretly working on Windows game but it is still not ready for announcement. In total MMMgames year 2016. will look something like this:
Mechanical Guardians:
- Supporter version: May 2016.
- Free version: 3 weeks after supporter version
Unnamed
- Free Browser/Android game: June 2016.
??? Secret game
- Supporter / Free version: September 2016.
That is all for now and see you all soon :)
============= SR =============
Igra Mechanical Guardians ce biti zavrsena i otpremljena sledeceg meseca tako da trenutno zavrsavam radove na dodatnim stvarima. U medjuvremenu mozete pogledati Mechanical Guardians game trailer na Youtube.com ili isprobati demo.
Sto se bonus stvari tice, sve osim postera je zavrseno. :) Obzirom na to da je programerski deo na Mechanical Guardians igrici zavrsen krenuo sam sa radom na novim igricama a jedna od njih ce uskoro biti zavrsena! Mala logicka Browser/Android igrica pod nazivom UNNAMED. Kratak snimak ove igrice mozete pogledati na Youtube.com
Takodje sam tajno radio na jos jednoj Windows igrici ali je jos rano da bi o njoj pricao. Ukupno govoreci MMMgames 2016. godina ce izgledati otprilike ovako:
Mechanical Guardians:
- Supporter verzija: Maj 2016.
- Besplatna verzija: 3 nedelje posle supporter verzije
Unnamed
- Besplatna Browser/Android igra: Jun 2016.
??? Secret game
- Supporter / Besplatna verzija: Septembar 2016.
To je sve za sada i vidimo se uskoro :)