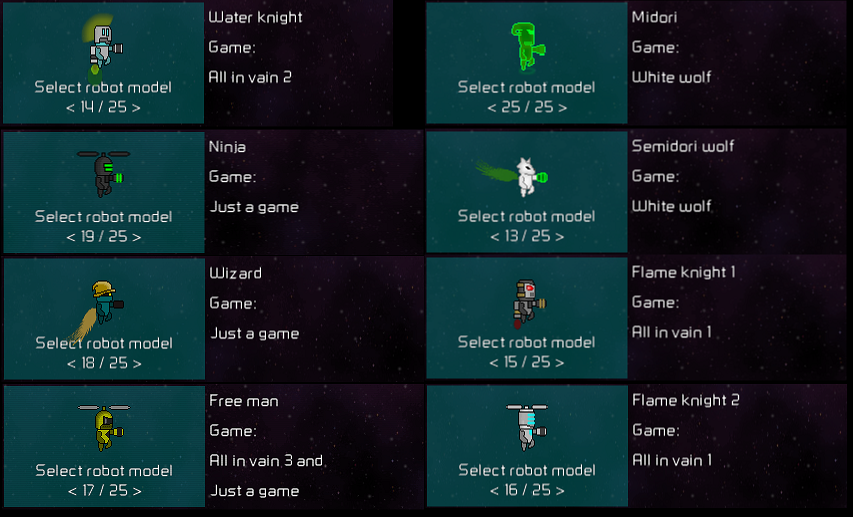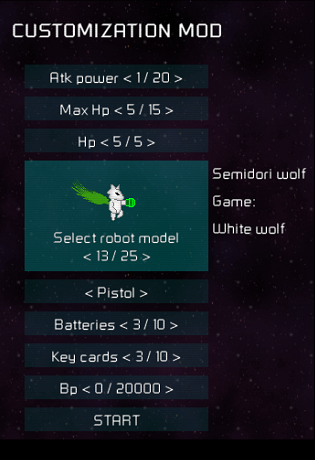 ==========EN==========
For those who follow "Mechanical Guardians" developments knows that I talked a lot about SUPPORTER version of the game. Almost all stuff will be free (1p mode, 2p mode, user manual, cover, poster, arcade cabinet print...), but there will be one thing that you will have to pay. Customization mod. After getting a lot of mails with questions like: What is Customization mode and how much will cost... I realized I never sad anything about this mod. So now I will answer those questions :)
CUSTOMIZATION mod will be automatically unlocked in SUPPORTER version of the game. You will be able to buy that version by the end of May on itch.io for 1$.
What is the CUSTOMIZATION mod content ? Well... I can say it's a trainer (status booster) build up in the game but it is more than that. You will be able to set starting Hp, Atk, Bp .... value but that is not all. In this mod you will have a selection of 25 robots (13 new ones)! Who are those new robots? They are all the characters form previous "MMM" games. You want to play as White Wolf or someone from "All in vain" series? Now you can :) This additional character will be playable only in CUSTOMIZATION mod.
Hope this cleared up some of the questions and just to remind you - SUPPORTER version of the game coming out by the end of the May and 3 weeks later free version will be uploaded. For now you can check out DEMO on Gamejolt.com Have fun and see you soon with more news :)
==========SR==========
Za sve one koji su do sada pratili pravljenje "Mechanical Guardians" znaju da sam dosta puta pricao o SUPPORTER verziji igrice. Skoro sve ce biti besplatno (1p mode, 2p mode, user manual, cover, poster, arcade cabinet print...). Medjutim Customization mod ce moci da se otkljuca samo kupovinom SUPPORTER verzije igrice. Posle mnogo dobijenih mejlova koji su sadrzali pitanja u vezi Customization mod-a shvatio sam da nisam bas puno pricao o tome sta Customization mod zapravo sadrzi. Tako da... red je da to razjasnim :)
CUSTOMIZATION mod ce automatski biti otkljucan u SUPPORTER verziji igrice koja izlazi krajem Maja i koju cete moci da kupite na itch.io za 1$. Za ljude koji nemaju PayPal i zive u Srbiji a zele SUPPORTER verziju igre jednostavno mogu poslati mail (markovic.martin887@gmail.com) sa sledecim podacima:
-Naziv igrice, Ime i prezime, Adresa (ulica i broj), Grad i Postanski broj i za 100 dinara + PDV dobice narezan disk sa "MECHANICAL GUARDIANS supporter version" igricom. Ovo vazi samo za ljude koji zive u Srbiji.
Sta CUSTOMIZATION mod sadrzi? Pre svega u ovom modu igrac ce moci sam da odredi svoj Hp, Atk, Bp ....vrednosti (takoreci sifre ugradjene direktno u igricu) ali to nije sve. Pored regularnog izbora od 12 robota igrac ce imati prosiren izbor od 25 robota! 13 novih robota (kojima ce igrac moci da upravnja samo u CUSTOMIZATION modu) su ustvari svi likovi iz mojih prethodnih igrica. Zelite da igrate kao Semidori Wolf ili neko iz "All in vain" serijala? Sada to mozete :)
Nadam se da je ovo rascistilo neka pitanja i samo da vas podsetim da SUPPORTER verzija igrice izlazi krajem Maja dok ce besplatna verzija igrice biti upload-ovana 3 nedelje kasnije. Za sada mozete probati demo na Gamejolt.com i vidimo se uskoro :)