Hey Everyone!
Sorry for the slight delay in posting up an update, but we've been changing some things internally to help with our work flow. Having started completely from scratch, I think we have come a long way, but we still got farther to go.
To that end, I would like to make a shameless plug for our company before I get to the news. We are in great need of programmers and 3D character artists. If you or someone you know needs some experience and wants to be a part of our team, please email us and let us know!
Down to business...
We've already shown you one concept piece of the Mech Shooting Range, but we have 3 more pieces for you to look at!
First up, we have a wonderful isometric view of the area. You can see the amount of damage that has been done to the buildings in the area. Training is contained within the fence perimeter to avoid unnecessary damage to the surrounding town. This type of concept will really help us envision the area as a whole.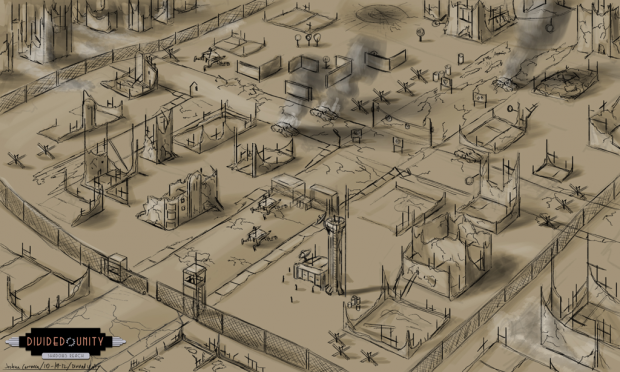 But what about the details you say? Well we've got you covered.
Our next concept piece really shows just how barren the land within the Mech Range has gotten from all the explosions and trampling from the mechs.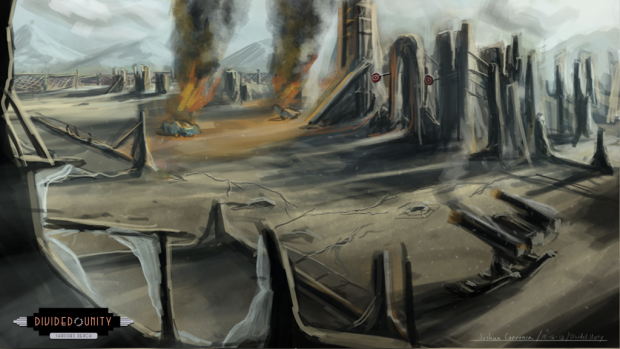 And our final piece to share with you today, shows that although most of the Mech Range is barren, there are still places where the overgrowth still exists or has recovered. Remember, Solace had been abandoned and forgotten about for many years, so it's not surprising that nature has taken over.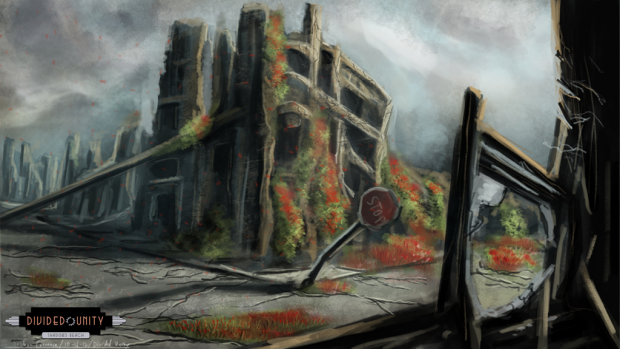 Fortunately for you, that's not all!!
We want to go ahead and highlight one of the key features of the game. Of course, we cannot reveal exact details (don't want to spoil things before you play), but nevertheless we can give you some general ideas.
The key feature we want to highlight this week is: Freedom of Choice.
Obviously, we have a story to tell and so there will be certain objectives you have to do to progress through our story. BUT, how you get there can take a number of routes.
Let's give you an example. (NOTE: all information is just an example and not necessarily actual gameplay)
Let's say for one objective, you must uncover the location of a secret base.
So you set out and find the base. At which point, you may go back to camp, load up some heavy artillery and blow the place apart.
OR
You locate the camp, then infiltrate it and uncover some new technology that you can then use for your own mech.
OR
You locate the camp, get into your mech and go wreck havoc on the place until you feel satisfied. At which point, you may or may not be able to uncover the new technology (depending on if you accidentally destroyed it).
That's not all!!
Before you take on this objective, you may encounter a side quest that changes how it plays out.
Such as:
You may encounter a side quest, where a person has experimental technology that can find the base, without you having to go look for it.
OR
You may encounter a side quest, where you save the life of one of the people from the secret base. In return, he gives you his uniform. So when you start the main objective, you are able to walk into the base and explore around unscathed and then when you are ready, you can cause the mechs in the base to go haywire, destroying it.
No matter how things unfold, we want you to enjoy doing it and enjoy playing our game.
Excited yet? We are. But if that's not enough, keep checking back for more updates where we will reveal more gameplay features.